Guide to Greek Myth Retellings
Grew up loving Percy Jackson but don't know where to find Greek myth retellings now?
Having grown up reading Percy Jackson, we are of course incredibly excited for the TV adaptation. But while we are waiting for the post-production (yes, Season 1 has wrapped filming!), we decided to look for the newest Greek myth retellings. There are quite a number of them in recent years but we will focus on the newest here.
Children's and YA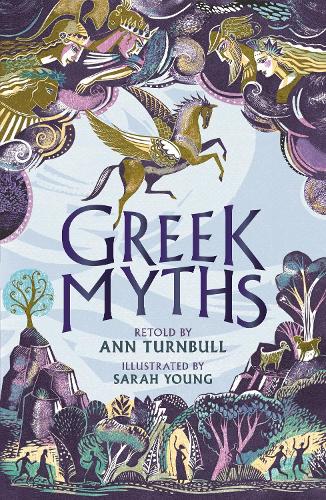 Greek Myths by Ann Turnbull; Illustrated by Sarah Young
This little collection has 17 Greek myth stories that range from those that relate to the nature, ones that feature the heroes, and ones that illustrate the complicated dynamics between gods and humans. The stories chosen here are definitely unique enough that many adults might not even know all the stories well. Each story is retold wonderfully by Ann Turnbull – short and brief yet the message is never lost. And what's more, Ann Turnbull tries to link the stories whenever possible, which is not an easy feat.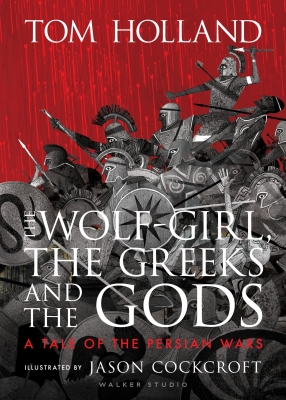 The Wolf-Girl, The Greeks and the Gods by Tom Holland; Illustrated by Jason Cockcroft
While the Persian war is an historical event, Tom Holland (the historian, not the spiderman) cleverly weaves in elements of mythology, making The Wolf-Girl, The Greeks and the Gods a spectacular reading experience. And of course, Tom Holland is an incredible storyteller, so all readers will be enchanted by the events in the book. The book also has a gorgeous bind-up, and Jason Cockcroft complemented this epic tale wonderfully with his gorgeous illustrations. This definitely makes a perfect present for anyone interested in Greek myths and historical retellings.

Gender-Swapped Greek Myths by Karrie Fransman And Jonathan Plackett
We start our list with an anthology. Karrie Fransman and Jonathan Plackett have used an algorithm to gender swap fairy tales previously, as an experiment to understand how our perceptions would change to read about princes being rescued by princesses. They have created another volume, this time on Greek myths such as Perseus and Medusa's story, though here they are called Persea and Medus after the gender-swap. We chatted with Karrie and Jonathan about the idea and execution behind Gender Swapped Greek Myths.

Lore Olympus by Rachel Smythe
Here at United by Pop, we love Lore Olympus. We have recommended it in our graphic novel listicle, and our gorgeous editions listicle. Just as a recap, Lore Olympus is a retelling of Hades and Persephone's love story. Aside from this particular story, Rachel Smythe also wove in other Greek mythologies, making Lore Olympus a great starting point for beginners. The visuals are gorgeous and the colours are used wonderfully. Volume 4 just came out in June, and we can't wait for volume 5 to come out in October.

Her Dark Wings by Melinda Salisbury
Her Dark Wings is another retelling of Hades and Persephone's love story, but instead of in the graphic novel format, this is a YA novel. The focus is less on the romance, but more on female rage and Persephone's journey to becoming Queen of the Underworld. Her Dark Wings is set in the modern age, which makes an incredibly interesting setup, and we have actually chatted with Melinda about imagining Greek gods in the modern world.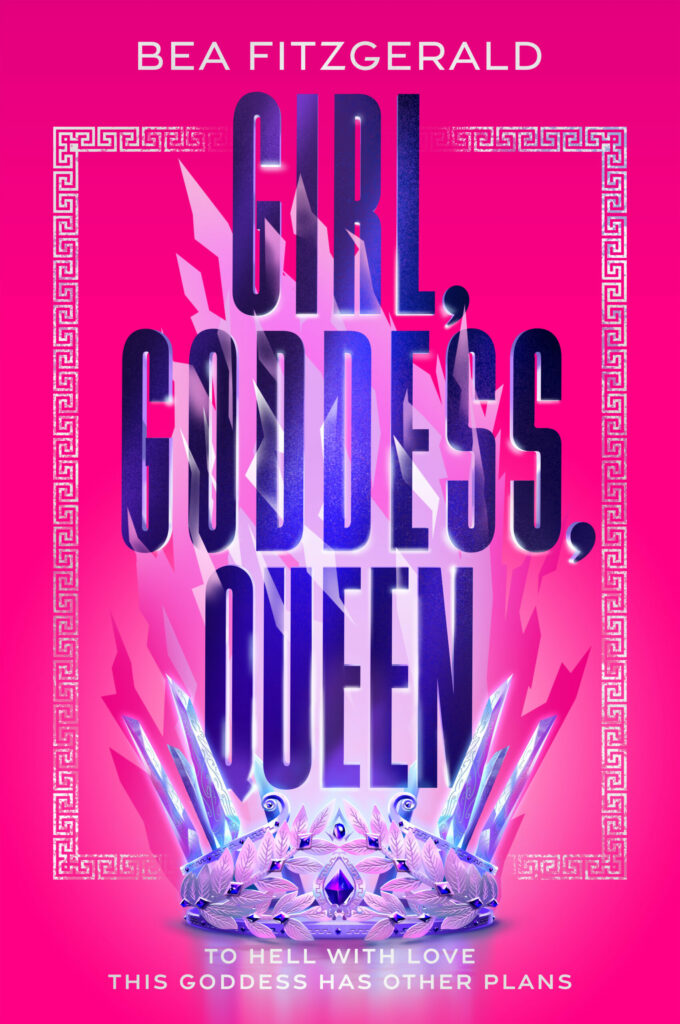 Girl, Goddess, Queen by Bea Fitzgerald
Another Hades and Persephone's retelling and this time it has a rom-com vibe to it (hello, fake dating trope?!)  so this is closer to Lore Olympus than Her Dark Wings. Girl, Goddess, Queen  is so funny — Persephone is witty and she takes it upon herself to provide home decor suggestions to Hades, and they have the best banter. We can't wait for everyone to discover for Bea Fitzgerald's amazing debut in July.

Medusa by Jessie Burton
Jessie Burton, author of best-selling The Miniaturist, penned a YA retelling of Medusa's story. While this is a heavy story with themes of rape and male dominance, Jessie Burton adapted it perfectly for the YA audience by molding it into a coming-of-age story. She also graced the pages with her beautiful writing style that Miniaturist readers are familiar with. The paperback edition of this book recently got released, with a completely different cover, so it's the perfect time to get your/another copy if you haven't already.
Lies We Sing to the Sea by Sarah Underwood
First of all, can we just mention how gorgeous this cover is?! This is a story inspired by the Odyssey, in particular the story of Penelope's twelve maids who are condemned by Poseidon to be hanged. However, it is set in a different century and there is great bisexual rep. The writing is also elegant and Sarah Underwood created a great atmosphere throughout the book. The ending will definitely surprise you and (spoiler alert!) Sarah Underwood actually chatted with us about walking the fine line between "bury your gays" and having a tragic ending.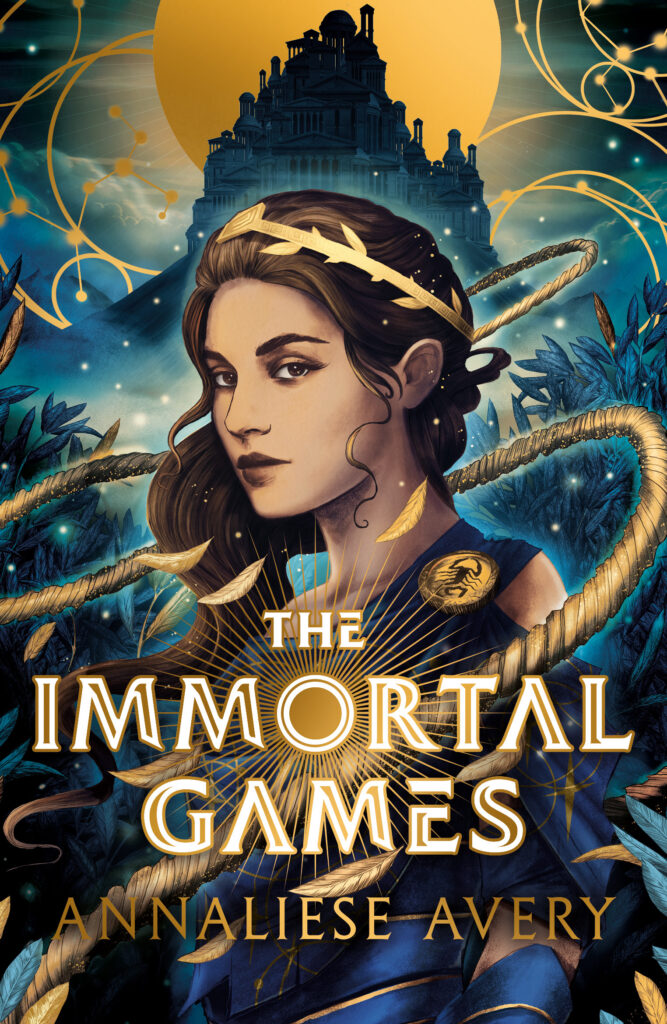 The Immortal Games by Annaliese Avery
Okay, so. We love Percy Jackson growing up (hence, this list) and we also love The Hunger Games growing up. So when there is a book that is a mix of Greek gods and The Hunger Games, we are so excited for it. And The Immortal Games certainly does not disappoint. Set in a world where the Gods of Olympus pick random humans as their Tokens in the games, this book is fast-paced, and filled with references to the Greek myths. Annaliese also made sure that the characters, while borrowing from Greek myths, are unique, especially giving Hades a fresh new take.
Adult fiction
Stone Blind by Natalie Hayes
Turning to adult retellings, we first start with the latest Medusa retelling written by Natalie Hayes. Natalie Hayes has written other Greek myth retellings before, such as A Thousand Ships, which retells the Trojan War from women's POV, and Pandora's Jar, which explores 10 female mythological figures. Stone Blind's exploration of Medusa's childhood years leaves an impactful mark but Natalie Hayes uses her usual humour and wit to elevate the story, relying on gods, demigods, and even a talkative crow to tell the story.

The Shadow of Perseus by Claire Heywood
Another retelling involving Medusa, but this time Claire Heywood chose to focus on not just Medusa, but three important women in Perseus's life – his mother Danae, his wife Andromeda, and Medusa. What's special in The Shadow of Perseus is that Claire Heywood made the bold choice of stripping this story of all the mythical elements, hence gods and 'magic' are removed. This thus makes the dark story even darker and Perseus even more insufferable.
Pandora by Susan Stokes-Chapman
This is an incredibly interesting and creative retelling. Unlike many other retellings on this list, Susan Stokes-Chapman did not set her retelling in the original ancient Greek era, nor the modern day era. Instead, the tale is set in Georgian London and centres around Dora, who lives in a once-famed antique shop, and Edward, an antiquarian scholar, who stumble upon a mysterious rare jar. The unique setting definitely sets Pandora apart from the rest of the books here and with the lyrically writing plus fascinating details about antiquarian trade, Pandora is a must read. The paperback just got released earlier this year so now is the perfect time to pick this up.
Ariadne by Jennifer Saint
First of all, let's take a second to admire the beautiful cover. Back to the book itself — if you are uncertain who Ariadne is, she is the daughter of king Minos and is known for helping Athenian hero Theseus escape the Labyrinth after he slew the Minotaur. Jennifer Saint did a detailed recount of Ariadne's life story, casting an important light on the role women play in the ancient world, making this book a great entry point for those who are unfamiliar with Ariadne's story. Ariadne is Jennifer Saint's debut title and she has since written Elektra, which focuses on the origins of the Trojan War and is now out in paperback. Atalanta will be released in April.

The Heroines by Laura Shepperson
Turning to Ariadne's sister, Phaedra, we have the story of this young bride of King Theseus accusing her stepson, Hippolytus, of rape. This is a story less known and explored in retellings. The Heroines does a great job in highlighting the different expectations put upon men and women, and gives a voice to women often overlooked in the palace. There is also an emotional scene between Phaedra and Theseus as she recounts the assault, which certainly tugs at our heartstrings.
Psyche and Eros by Luna McNamara
The title already tells you which myth Luna McNamara decided to retell. While Persephone and Hades' love story is definitely one of the best love stories in classical mythology (just look at this list!), Psyche and Eros' love story is equally amazing. Luna McNamara gives Psyche's story a fun twist, as she is portrayed as a warrior princess. And this twist is significant as Luna explores what it means to be a hero.
The Wolf Den by Elodie Harper
And finally, while not technically a Greek myth retelling but a historical fiction, there are elements of Greek and Roman gods and goddesses woven in subtly in The Wolf Den. Following the she-wolfs in a brothel, The Wolf Den does not shy away from depicting the brutal lives of slaves. However, this is also a tale of sisterhood and of hope, and is a realistic portrayal of the daily lives of people in Pompeii. The Wolf Den is book 1 of a trilogy exploring the lives of women being overlooked in Pompeii. The second book, The House with the Golden Door, is out in paperback now and the last title, The Temple of Fortuna will be published in November.