Grace D. Li talks fantasy heists and her phenomenal debut novel, Portrait of a Thief
"I think I'd make a pretty good getaway driver."
Get ready to meet the heist book of your dreams with Grace D. Li's truly sensational debut novel, Portrait of a Thief. 
Getaway drivers, romance, hacking and nail-biting heists, Portrait of a Thief, has everything you could want from a heist novel and so much more. This book will have you on the edge of your seat with stress, falling in love and wondering whether you'd have what it takes to pull of a heist of your own. It's fun, thought provoking, heartwarming, frustration inducing and, simply put, a really great read. To celebrate Portrait of a Thief's release, we had the pleasure of chatting to Grace about her fantastic debut, her fantasy heist team and more.
---
Hi Grace, I cannot tell you how thrilled I am to be able to chat to you today about your sensational debut novel, Portrait of a Thief, which I absolutely adored! For those just hearing about it, how would you best sum it up in one sentence?
I'm so glad to be here! Portrait of a Thief is a heist novel about Chinese American university students stealing back looted art from Western museums, about identity, diaspora, and art as power.
Portrait of a Thief has everything you could possibly wish for in a heist novel, plus a brilliant exploration of colonialism and its lasting effects. Can you tell us a little about what inspired you to write this story?
A true story, actually! Several years ago, a series of thefts occurred across the Western world, and all the art stolen had originally been looted from China. As part of the Chinese diaspora—and a long-time fan of heist movies—I wanted to write this into a novel, exploring art as power and how young, ambitious, adrift Chinese Americans might pull something like this off.
View this post on Instagram
I absolutely adored reading from the different perspectives of each member of the heist crew but what made you decide to write the story from multiple perspectives and was there a character you either particularly loved writing or one you found harder?
I spent almost two years stuck on the first five chapters, so it definitely took me some time to figure out the characters and their relationships to each other! But I knew I wanted all five of them to have their own arcs, and I knew I wanted to start with Will Chen, who is the heist leader and full of this overwhelming, aching desire for greatness. I also loved writing his younger sister Irene and the way the two of them clash with each other; as the oldest of three I have such a soft spot for messy sibling relationships!
Portrait of a Thief was optioned to be made into a Netflix series before the book had even been released to the public. Is there anything you can tell us about the plans for the show at all?
I signed many, many forms that likely prevent me from revealing too much! But I will say that I love the Netflix team, their vision aligns very closely with mine, and if all goes well there's going to be a lot to look forward to. This entire experience has been an absolute dream!
View this post on Instagram
If you had to cast five fictional characters to pull off a heist (not including your own), who would you choose and why?
I love this question! Honestly, anyone from Andrea Tang's Rebelwing would slot neatly into any heist of mine, and particularly Jay Park, the perpetually tired bureaucrat who will do anything to get away from paperwork. I'm also thinking of the capable, knife-wielding Juliette Cai from Chloe Gong's These Violent Delights, or the fiercely principled Margaret from Allison Saft's A Far Wilder Magic. Eliza from Not Here to Be Liked by Michelle Quach is another hypercompetent young woman who would keep everyone on track, and finally, Meddy from Jesse Q. Sutanto's Dial A for Aunties manages to somehow get her way out of any scrape (with a sense of humour!).
On that train of thought; if you were to take part in a heist, what would you steal, which part would you play and would you manage to pull it off?
Besides all the looted Chinese art still waiting to be returned, I've also been following news about the Elgin Marbles for some time now, so if anyone is planning something, feel free to let me know! You won't get anything too incriminating from me here, but I think I'd make a pretty good getaway driver.
Finally, for those of us already desperate for a new Grace D. Li read, are you currently working on anything and if so, is there anything you can share with us?
Still in the early stages, but I'm playing around with something set at Stanford Med, featuring rival graduate students. There may be some familiar faces in it, so maybe a glimpse into what life after a life-changing heist looks like…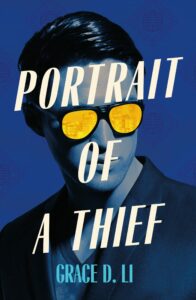 Get your copy of Portrait of a Thief by Grace D. Li here.