Jesse Q. Sutanto on her gripping new YA thriller, The New Girl
"I can promise my favorite formula: deadly girls + men/boys who foolishly underestimate them."
Jesse Q. Sutanto has a serious talent for keeping her readers reading and that talent once again shines through in her page-turning new YA thriller, The New Girl, which we had the pleasure of chatting with Jesse all about to celebrate its release.
---
Hi Jesse, it's so lovely to have you on the site again to celebrate the release of your gripping new YA thriller, The New Girl. In the year since we last spoke, you've seen not one but two debut novels released into the world. I can imagine 2021 was a bit of a whirlwind year for you?
It was actually surprisingly manageable! The events that I did have were mostly clustered around the months of release, and afterwards, things went very quiet. You know what was the real whirlwind, though? Online school. Lord save me from online school! I have morphed completely into my mom, just constantly nagging and snapping at my kids to pay attention.
For readers just now hearing of The New Girl, what would you say to entice them to pick up a copy?
The New Girl takes place at Draycott Academy, and while it is a standalone story, there are plenty of Easter eggs for fans of The Obsession. And I can promise my favorite formula: deadly girls + men/boys who foolishly underestimate them.
Both your YA debut, The Obsession and The New Girl take place at Draycott Academy. What was it about this school you just couldn't let go of (thank goodness you didn't) and do you think you'll return again in the future?
I grew up reading stories about boarding school, and I couldn't have enough of them! Draycott already had all the dark elements from The Obsession, especially the drug ring, and I felt like I'd already built this amazing sandbox to play in. I hope that I can return again in the future, maybe to see where Delilah ends up?
View this post on Instagram
As well as being an unputdownable thriller, The New Girl tackles some incredibly real topics such as racism, addiction and privilege. How do you go about balancing exploring such important narratives alongside romance, lies, murder and mystery?
Honestly, topics of racism and privilege came very naturally to me, because these are things I experience every day. Not writing about them would be harder to do.
Having just welcomed a new year, are there any 2022 YA thrillers you're highly anticipating?
Ahh, so many! The Depths by Nicole Lesperance. Nicole is one of my oldest writing friends and her writing is gorgeous. Just totally stunning. I got chills when I read The Depths. It deserves all the attention it's no doubt going to get.
With all its lies, murder, secrets and frankly deadly history, I have to ask, how do you think you'd fair at Draycott Academy?
Are you kidding? I would be the first to die. Bwahahaa!
Finally, are you currently working on anything new and if so, is there anything you can share with us?
I am currently working on my second YA romcom! The first YA romcom, Well, That Was Unexpected, will be published in August 2022, and I'm so excited about it as it's the first book I have written that's set in Indonesia. And once that's done, I will be writing my second Adult Thriller, because I've really missed tapping into that darkness!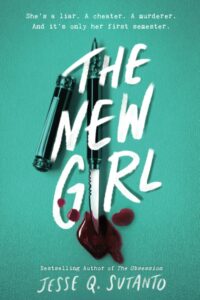 Get your copy of The New Girl by Jesse Q. Sutanto here.