Ginny Myers Sain on the inspirations for her supernatural YA thriller, Dark and Shallow Lies
"It's how we stitch those tiny moments together, day after day and year after year that makes each journey so unique."
This post was written by Ginny Myers Sain, author of Dark and Shallow Lies
I often get asked what led me to write DARK AND SHALLOW LIES, my debut novel. It's a dark, twisty story, and people seem to want to know where it came from. I know some authors can point to one single moment that shaped them into the writer they would become, but I can't narrow it down quite that far. I can, however, point to three things in my life that seem completely unrelated but eventually led to a book deal. And it's especially weird to realize that, without any one of these events, I might have written a completely different story.
First, when I was six years old, I got the best birthday present I've ever received. The Weebles Haunted House. There is no way to explain how cool this thing was. It was so intricately detailed in all it's haunted plastic glory. It came with a Weeble ghost. It made real haunted house sounds. And I was hooked. From that moment on, I was a lover of the macabre. That one gift sparked a life-long love of all things dark and creepy.
Years later, in my freshman year of college, I met two boys at the President's picnic on the very first day that I arrived on campus. They were both cute. Both theatre majors, like me. Both were talented and funny. I went out with them both a few times over those first weeks of school. One took me to a carnival and bought me ferris wheel rides and won me a stuffed frog. The other took me to dinner in the nearest big town and we tried Thai food for the first time together. It was all very magical, and I liked them both. But, eventually, I had to choose. I chose the boy who introduced me to Thai food, and we dated for most of my four years of college.
View this post on Instagram
His family was from south Louisiana, and it was with him that I first traveled down to that part of the country. For a girl from the dry and dusty plains of Oklahoma, it was like traveling to another planet. On that first trip down to the bayou, I tasted crawfish at a place where you ate it right off a table that had been covered in butcher paper. (It was to die for!) I danced to live Zydeco until I almost passed out in a stifling hot bar that was strung up with Christmas lights. And most important, I saw my first alligator crossing the road right in front of our car. I was in love. Yes, with the boy. For sure. And that was a first, too. But I was also head-over-heels in love with Cajun Country. In the end, that was the love affair that lasted. The boy and I broke up my senior year, and I haven't seen him since. But the state of Louisiana, the city of New Orleans, Zydeco, crawfish, and alligators…those things still call to me. I tell people all that time that I'm from Oklahoma, but it's the landscape of the swamps and bayous that is truly the landscape of my heart.
And then, years, after that, I was traveling across the state of Florida with my teenage son. We love to take road trips together, and we've seen a lot of the United States by car, but Florida is one of our favorite places to visit. On this particular trip, we decided to head up north of Orlando, where we were staying, for a trip to Blue Springs State Park. We had heard that, in the winter months, hundreds of manatees came in from the river to seek the warmer waters of the spring. Since we don't have manatees in Oklahoma, we wanted to see them. Wow! It was very cool! I think we counted over three hundred of them that morning.
When we'd seen all the manatees we could see, we still had a half-day to kill. Just out of curiosity, I dug our Florida guidebook out of the glove box. I wanted to see if there was anything else in the area that might be interesting, before we hopped on the highway and headed back down to the theme parks and miniature golf courses of Orlando. That's how I stumbled upon the tiny little town of Cassadaga. Cassadaga, Florida, calls itself the "Psychic Capital of the World," and that sounded like a pretty interesting stop on the way home. Plus it was only fifteen minutes from Blue Springs State Park, so off we went.
View this post on Instagram
I was immediately captivated by Cassadaga. Its charming little town square is lined with fortune tellers, astrologists, palm readers, and all sorts of interesting little shops. You can make an appointment with pretty much any kind of spiritualist or mystic you might be looking for. There's a sprawling old hotel, which is supposed to be haunted, and a lovely little park. I was standing on the front porch of the bookstore right in the middle of town when and a question popped into my head. "How do you keep a secret in a town full of psychics?" And that question became a story. Now the story is becoming a book.
Several times over the past whirl-wind of a year, it's hit that, if just one of those three things had happened differently, DARK AND SHALLOW LIES probably wouldn't exist.
What if my parents had gotten me the Weeble circus that year, instead of the haunted house?
What if I'd chosen the other boy?
And what if my son and I had seen the manatees at Blue Springs State Park, and then gotten on I-4 and headed back to our Orlando hotel, never knowing that I'd just passed the exit where I could have found the inspiration for my debut novel?
DARK AND SHALLOW LIES is a story about psychics, but, for most of us, there's no way to know what the future holds. Life is full of so many little choices, and it's both terrifying and wonderful to think that something like choosing to pull a guide book out of the glove box could totally change your destiny, but it happened to me. Honey, the grandmother in my book, would probably say it's fate. I'm not sure I believe that, but I do believe that our stories mostly come to us in the smallest moments of our lives, not the biggest. It's how we stitch those tiny moments together, day after day and year after year that makes each journey so unique.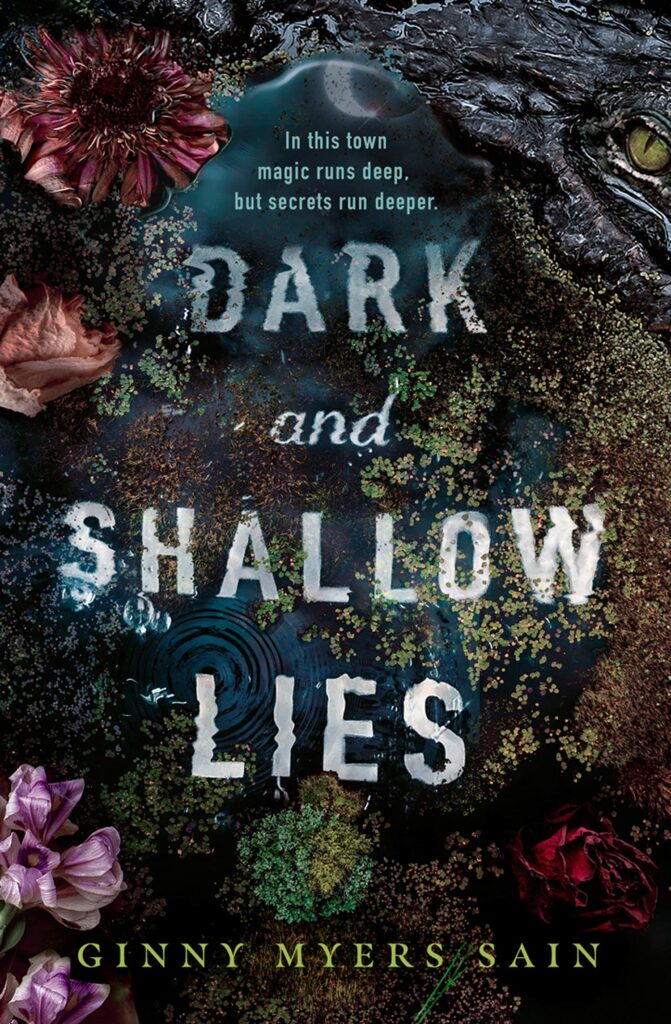 Get your copy of Dark and Shallow Lies by Ginny Myers Sain here.