YA playlist: Young adult books for Taylor Swift fans
Love Taylor Swift? Need a new read? Then you're in luck because we scoured our YA shelves to find the perfect titles to pair with some of T Swift's greatest hits.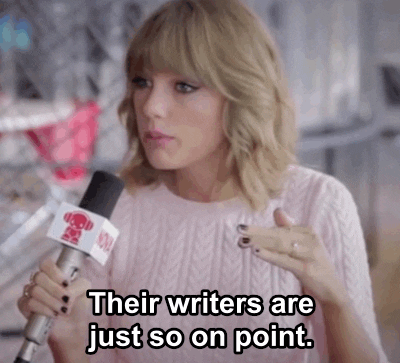 This post contains affiliate links, which means United By Pop receives a percentage if you make a purchase using these links. Thank you for supporting the brands that support this blog.
Love Taylor Swift? Need a new read? Then you're in luck because we scoured our YA shelves to find the perfect titles to pair with some of T Swift's greatest hits. So find your favourite song and discover your new favourite read.
---
"Our Song"
"I've heard every album, listened to the radio, waiting for something to come along, that was as good as our song."
Rumi Seto spends a lot of time worrying she doesn't have the answers to everything. What to eat, where to go, whom to love. But there is one thing she is absolutely sure of—she wants to spend the rest of her life writing music with her younger sister, Lea.
Then Lea dies in a car accident, and her mother sends her away to live with her aunt in Hawaii while she deals with her own grief. Now thousands of miles from home, Rumi struggles to navigate the loss of her sister, being abandoned by her mother, and the absence of music in her life. With the help of the "boys next door"—a teenage surfer named Kai, who smiles too much and doesn't take anything seriously, and an eighty-year-old named George Watanabe, who succumbed to his own grief years ago—Rumi attempts to find her way back to her music, to write the song she and Lea never had the chance to finish.
"I'm Only Me When I'm With You"
"When I'm with anybody else it's so hard to be myself and only you can tell"
Darius Kellner speaks better Klingon than Farsi, and he knows more about Hobbit social cues than Persian ones. He's about to take his first-ever trip to Iran, and it's pretty overwhelming–especially when he's also dealing with clinical depression, a disapproving dad, and a chronically anaemic social life. In Iran, he gets to know his ailing but still formidable grandfather, his loving grandmother, and the rest of his mom's family for the first time. And he meets Sohrab, the boy next door who changes everything.
Sohrab makes sure people speak English so Darius can understand what's going on. He gets Darius an Iranian National Football Team jersey that makes him feel like a True Persian for the first time. And he understands that sometimes, best friends don't have to talk. Darius has never had a true friend before, but now he's spending his days with Sohrab playing soccer, eating rosewater ice cream, and sitting together for hours in their special place, a rooftop overlooking the Yazdi skyline.
Sohrab calls him Darioush–the original Persian version of his name–and Darius has never felt more like himself than he does now that he's Darioush to Sohrab. When it's time to go home to America, he'll have to find a way to be Darioush on his own.
"Love Story"
"You'll be the prince and I'll be the princess"
Fiercely independent and smart, Zora Emerson wants to change the world. She's excited to be attending a prestigious summer program, even if she feels out of place among her privileged, mostly white classmates. So she's definitely not expecting to feel a connection to Owen, who's an actual prince of an island off the coast of England. But Owen is funny, charming…and undeniably cute. Zora can't ignore the chemistry between them. When Owen invites Zora to be his date at his big brother's big royal wedding, Zora is suddenly thrust into the spotlight, along with her family and friends. Everyone is talking about her, in real life and online, and while Owen is used to the scrutiny, Zora's not sure it's something she can live with. Can she maintain her sense of self while moving between two very different worlds? And can her feelings for Owen survive and thrive in the midst of the crazy?
"Mean"
"You, with your switching sides and your wildfire lies and your humiliation. // Someday I'll be big enough so you can't hit me and all you're ever gonna be is mean and all you're ever gonna be is mean."
Divya Sharma is a queen. Or she is when she's playing Reclaim the Sun, the year's hottest online game. Divya—better known as popular streaming gamer D1V—regularly leads her #AngstArmada on quests through the game's vast and gorgeous virtual universe. But for Divya, this is more than just a game. Out in the real world, she's trading her rising-star status for sponsorships to help her struggling single mom pay the rent.
Gaming is basically Aaron Jericho's entire life. Much to his mother's frustration, Aaron has zero interest in becoming a doctor like her, and spends his free time writing games for a local developer. At least he can escape into Reclaim the Sun—and with a trillion worlds to explore, disappearing should be easy. But to his surprise, he somehow ends up on the same remote planet as celebrity gamer D1V.
At home, Divya and Aaron grapple with their problems alone, but in the game, they have each other to face infinite new worlds…and the growing legion of trolls populating them. Soon the virtual harassment seeps into reality when a group called the Vox Populi begin launching real-world doxxing campaigns, threatening Aaron's dreams and Divya's actual life. The online trolls think they can drive her out of the game, but everything and everyone Divya cares about is on the line… And she isn't going down without a fight.
"Never Grow Up"
"Oh darling don't you ever grow up, don't you ever grow up
Just stay this little. //  I won't let nobody hurt you. Won't let no one break your heart. No one will desert you . Just try to never grow up."
With her daughter to care for and her abuela to help support, high school senior Emoni Santiago has to make the tough decisions, and do what must be done. The one place she can let her responsibilities go is in the kitchen, where she adds a little something magical to everything she cooks, turning her food into straight-up goodness. Still, she knows she doesn't have enough time for her school's new culinary arts class, doesn't have the money for the class's trip to Spain — and shouldn't still be dreaming of someday working in a real kitchen. But even with all the rules she has for her life — and all the rules everyone expects her to play by — once Emoni starts cooking, her only real choice is to let her talent break free.
"Holy Ground"
"Back to a first-glance feeling on New York time. Back when you fit in my poems like a perfect rhyme. // Spinnin' like a girl in a brand new dress. We had this big wide city all to ourselves"
Meet Anna K. At seventeen, she is at the top of Manhattan and Greenwich society (even if she prefers the company of her horses and Newfoundland dogs); she has the perfect (if perfectly boring) boyfriend, Alexander W.; and she has always made her Korean-American father proud (even if he can be a little controlling). Meanwhile, Anna's brother, Steven, and his girlfriend, Lolly, are trying to weather a sexting scandal; Lolly's little sister, Kimmie, is struggling to recalibrate to normal life after an injury derails her ice dancing career; and Steven's best friend, Dustin, is madly (and one-sidedly) in love with Kimmie.
As her friends struggle with the pitfalls of ordinary teenage life, Anna always seems to be able to sail gracefully above it all. That is…until the night she meets Alexia "Count" Vronsky at Grand Central. A notorious playboy who has bounced around boarding schools and who lives for his own pleasure, Alexia is everything Anna is not. But he has never been in love until he meets Anna, and maybe she hasn't, either. As Alexia and Anna are pulled irresistibly together, she has to decide how much of her life she is willing to let go for the chance to be with him. And when a shocking revelation threatens to shatter their relationship, she is forced to question if she has ever known herself at all.
"Out of the Woods"
"Are we out of the woods yet? Are we out of the woods? Are we in the clear yet? Are we in the clear yet?"
It's been eighteen months since the Raxter School for Girls was put under quarantine. Since the Tox hit and pulled Hetty's life out from under her.
It started slow. First the teachers died one by one. Then it began to infect the students, turning their bodies strange and foreign. Now, cut off from the rest of the world and left to fend for themselves on their island home, the girls don't dare wander outside the school's fence, where the Tox has made the woods wild and dangerous. They wait for the cure they were promised as the Tox seeps into everything. But when Byatt goes missing, Hetty will do anything to find her, even if it means breaking quarantine and braving the horrors that lie beyond the fence. And when she does, Hetty learns that there's more to their story, to their life at Raxter, than she could have ever thought true.
"Look What You Made Me Do"
"I've got a list of names and yours is in red, underlined."
Elle and her friends Mads, Jenny, and Summer rule their glittering LA circle. Untouchable, they have the kind of power other girls only dream of. Every party is theirs and the world is at their feet. Until the night of Elle's sweet sixteen, when they crash a St. Andrew's Prep party. The night the golden boys choose Elle as their next target.
They picked the wrong girl.
Sworn to vengeance, Elle transfers to St. Andrew's. She plots to destroy each boy, one by one. She'll take their power, their lives, and their control of the prep school's hierarchy. And she and her coven have the perfect way in: a boy named Mack, whose ambition could turn deadly.
"New Years Day"
"Hold on to the memories, they will hold on to you. //
Please don't ever become a stranger whose laugh I could recognize anywhere."
New Years are for fresh starts, but Jess just wants everything to go back to the way it was. From hiking trips, to four-person birthday parties, to never-ending group texts, Jess, Lee, Ryan, and Nora have always been inseparable—and unstoppable. But now, with senior year on the horizon, they've been splintering off and growing apart. And so, as always, Jess makes a plan.
Reinstating their usual tradition of making resolutions together on New Year's Eve, Jess adds a new twist: instead of making their own resolutions, the four friends assign them for each other—dares like kiss someone you know is wrong for you, show your paintings, learn Spanish, say yes to everything. But not even the best laid plans can take into account the uncertainties of life. As the year unfolds, Jess, Ryan, Nora, and Lee each test the bonds that hold them together. And amid first loves, heart breaks, and life-changing decisions, beginning again is never as simple as it seems.
"The Man"
"I'm so sick of running as fast as I can, wondering if I'd get there quicker if I was a man. // 'Cause if I was a man, then I'd be the man."
The country of Arketta calls them Good Luck Girls–they know their luck is anything but. Sold to a "welcome house" as children and branded with cursed markings. Trapped in a life they would never have chosen.
When Clementine accidentally murders a man, the girls risk a dangerous escape and harrowing journey to find freedom, justice, and revenge in a country that wants them to have none of those things. Pursued by Arketta's most vicious and powerful forces, both human and inhuman, their only hope lies in a bedtime story passed from one Good Luck Girl to another, a story that only the youngest or most desperate would ever believe. It's going to take more than luck for them all to survive.
"You Need To Calm Down"
"We all know now we all got crowns."
Perpetually awkward Nima Kumara-Clark is bored with her insular community of Bridgeton, in love with her straight girlfriend, and trying to move past her mother's unexpected departure. After a bewildering encounter at a local festival, Nima finds herself suddenly immersed in the drag scene on the other side of town.
Macho drag kings, magical queens, new love interests, and surprising allies propel Nima both painfully and hilariously closer to a self she never knew she could be—one that can confidently express and accept love. But she'll have to learn to accept lost love to get there.