The wait is over: All Of Those Voices, the highly anticipated documentary exploring Louis Tomlinson's journey through the past 10 years, is finally out and it's at the same time everything we could have expected and nothing we were prepared for.
Thank you for all the incredible support on the film! Feels amazing to finally have it out there! #AllOfThoseVoices

— Louis Tomlinson (@Louis_Tomlinson) March 25, 2023
Released in cinemas worldwide for a limited amount of time (and hopefully about to be available on some streaming platform soon because we NEED to watch it again and again), it focuses on Tomlinson's transition from a member of one of the biggest boyband ever to a solo artist, with all its ups and downs, challenges and achievements, pressures and – unfairly, too often too little – recognition. From 1D split to his UK No. 1 album Faith In The Future, everything is narrated by Louis himself, with the honesty and vulnerability that distinguish him and he's never afraid to show.
Can't believe today is the day the film is finally out! After years of filming I'm really really proud of it! Thank you Charlie for helping tell my story, you smashed it lad! Thank you to you the fans for making it all possible. Let me know what you think.

— Louis Tomlinson (@Louis_Tomlinson) March 22, 2023
Since his first audition for The X-Factor in 2010, following which he ended up in One Direction, he's never had it easy. The lack of solo vocals by Louis – and Niall – at the beginning of the band is not a surprise for fans who've been here for a while but hearing how he felt about it definitely hit hard.
Finding out he didn't get any verse on the 1D's No. 1 debut single 'What Makes You Beautiful' left him devastated, so for the second single he went in with a producer: "All I want is to sing a bit of this next song, and we're just going to stay here until I get it right." But, despite all his efforts, despite the promises and despite all the hours they spent in the studio, when the boys listened to the song, he still ended up hearing someone else's voice on the verse he had worked so hard on.
For the first two and a half years, he didn't feel in control and like he fit within the band, until he started to get more involved in the song writing process which led to his more than 35 writing credits across four albums.
"When I think about how proud I am of One Direction, I think of us as a collective. But if I think about what makes me the most proud as me, as an individual in that band, it's definitely having the most writing credits."
And remember if it's by one direction and it's a banger I probably wrote on it 😝 #8YearofOneDirection

— Louis Tomlinson (@Louis_Tomlinson) July 23, 2018
And then, right when he was finally feeling vital to the band just like the other members, the "hiatus" came to shuffle the cards once again. When Tomlinson said it was going to last about 18 months, he wasn't lying not to disappoint their fans; he believed it.
"I think the feeling I remember the most is a little bit of anger, because I didn't want to go on a break. It didn't just upset me, it shocked me. I wasn't prepared for it. I thought for me, it was the band or nothing." he states.
While he was in the band he'd never even thought about being a solo artist, not even once "because I was so obsessed with us moving as a unit and being part of this team" which didn't help at all when he started to accept the band was over and started wondering "what the f*ck am I going to do?"
As usual, his lovely mum Johanna Deakin helped convincing him he had to give the solo career a try because this is what he loves, what he is good at and what he should be doing. Louis and Jay have always shared a special bond, since she had him when she was only 19 yo, and she's always been his first stan. Other than The X-Factor audition itself, we have to thank Jay even for the audition for Grease at his high school; he didn't want to show up but she made sure he did and our Donny boy ended up landing the lead role of Danny Zuko. Not bad, uh? Especially because "that was the moment that maybe I allowed myself to start dreaming."
In December 2016, three days before his first solo performance of "Just Hold On" with Steve Aoki at The X-Factor final Johanna sadly passed away. Yet Tomlinson decided to perform anyways, not because he was particularly feeling like it – and everyone who's watched that clip knows what I'm talking about – but mostly not to disappoint his mum. "I didn't want me mum feeling like what happened to her was going to jeopardize my career. […] I got up on that day for her more than I did me." he recalls.
Not even two years later, he had to deal with the untimely passing of his young sister Félicité. And of course, everyone goes through some tough time because that's life but Louis himself started wondering "I've already had so much to deal with. When am I going to start winning?"
All these are reasons why he was the last out of the five to release his debut solo album Walls in January 2020. After that, he was finally ready to go back on stage – which is the thing he loves the most and missed the most from 1D days – and embarked on his first solo world tour. But after only two shows, the pandemic hit us and our lives were paused for a very very long while. Luckily, after couple years he was finally able to tour again, performing all over the world in a lot of bigger venues due to the huge demand while some promoters weren't even sure he could sell the smaller ones he had originally booked.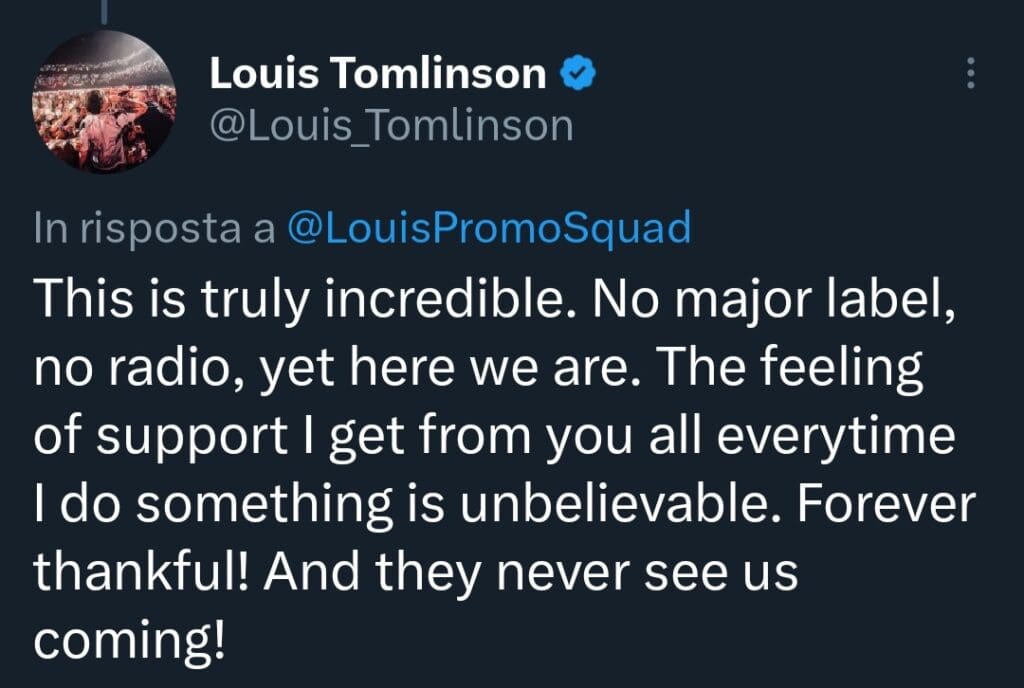 The footage from his sold-out first solo world tour included also shows how great his bond is with his band; all members have pointed out how he doesn't treat them like employees and tries to involve them all the time. Being a team has always meant so much to Louis and it still does, even if he's a solo artist now. On the tour bus he sleeps in the bunks with them, never before having fun all together after every show. And this synergy is palpable on and off stage, and it's beautiful to watch.
Unlike most artists who keep their lives out of the public eye, Louis trusted his Louies enough to let them take a look at his everyday life too: some of his family members – his precious grandparents, his sisters, his stepdad, and even his son he shared some very cute moments with for the first time in a while – and friends – Oli Wright I will find you and marry you! – gave us their perspective on his path. We even got to see him interact with Niall and Liam backstage at the festivals they happened to headline, Louis pointing out how watching them perform alone songs they used to sing together felt weird to him; he is proud when it comes to the verses that used to be his, yet "it's like, f*cking, out-of-body or something."
Every single person who has ever met Tomlinson, whether for personal or professional reasons, has only good things to say about him and that says a lot about him as a person and as an artist. Despite the fame, despite the stardom at only 18, despite everything life put him through, he's never changed; he's stayed true to himself, down to earth and humble. If you ask him, he will say it's all thanks to his mum and his beloved Doncaster!
As his vocal coach Helene Hørlyck said, he loves to act all tough and laddy-lad-chavvy-chav – and even when he doesn't, media still love to push that image on him – but he's actually very gentle and sensitive on the inside ❤️
As director Charlie Lightening shared, they picked the title because it works on so many levels: it's "all of those voices" – some in his head, some not – that have told him he couldn't do it or that he wasn't good enough; "all of those voices" he doesn't hear anymore. But it's also "all of those voices" of the audience in the crowds who've lifted him up and helped him get where he is now. The whole film, at the end of the day, is the umpteenth love letter from Louis to his Louies for all the love and support they never fail to show him no matter what. "I need you and you need me" and that will never change.
"It was important to me to kinda show all sides of me. It kinda builds on the connection that I have with the fans. It helps you guys kind of understand me on a different level, I think. So that's important to me, definitely."
💰| #AllOfThoseVoices money raised so far (Excluding Latam, Asia and part of Europe)

UK-Ireland $491,623
United States $1.208M
Australia $353,543
Italy $368,283

TOTAL: $2,421,449

— LTSTREAM91 (@LOUIESTREAM) March 27, 2023
The emotional rollercoaster that this film is, which proves once again how strength, determination and resilience are terms that best describe Tomlinson, ends with the Guinness World Record singer saying "It does kind of feel like finally the stars might be aligning for me. […] I finally feel worthy of where I am, what I'm doing, and the success that I'm having throughout this. I do feel like I deserve this, and that's probably the first time I've said that out loud."
And, hopefully, not the last.
As a Louie this is the best gift ever: it's been hard to watch him doubt himself so much over the past years, but it's also been amazing to see him become less insecure and more confident with time. Show after show, performance after performance, single after single he's finally understanding how talented he is and how proud he should be of himself and everything he's achieved so far.
And this is only the beginning, the best is yet to come: FAITH IN THE FUTURE!
faith in the future ⭐️ pic.twitter.com/EZ7kbYUdZT

— soft louis bot ! (@softltbot) March 26, 2023
Featured image source