After a week-long battle with none other than Bruce Springsteen, Louis Tomlinson can officially celebrate his first solo No. 1 album with Faith In The Future, his amazing second record released on 11th November 2022 that topped the UK Albums Chart.
"Thank you, thank you, THANK YOU!" ❤

The ✨most humble✨ lad Louis Tomlinson (@Louis_Tomlinson) sends a message to fans as Faith In The Future goes to Number 1 🏆

Congratulations, Louis – hope the arm gets better soon! 👑#LouisTomlinson #Louis #FaithInTheFuture #FITF pic.twitter.com/qvAC39yAbj

— Official Charts (@officialcharts) November 18, 2022
With over 35k units sold in the UK only, the record also topped the Official Vinyl Albums Chart, the Official Album Downloads Chart, the Official Albums Sales Chart, the Official Physical Albums Chart and the Official Record Store Chart.
It also debuted in the Top 3 on Official Charts in many countries, marking Tomlinson's highest debut in almost all of them: No. 2 in Germany, Australia, where it also was the No. 1 vinyl album, Netherlands, Scotland; No. 3 in Italy (*cries in proud Italian louie*), Sweden, New Zealand; No. 4 in Ireland and so on.
Faith In The Future is also set to debut in the Top 5 Billboard 200 Album Chart with over 40k units sold. If this isn't LOUIS TOMLINSON WORLD DOMINATION then I don't know what is.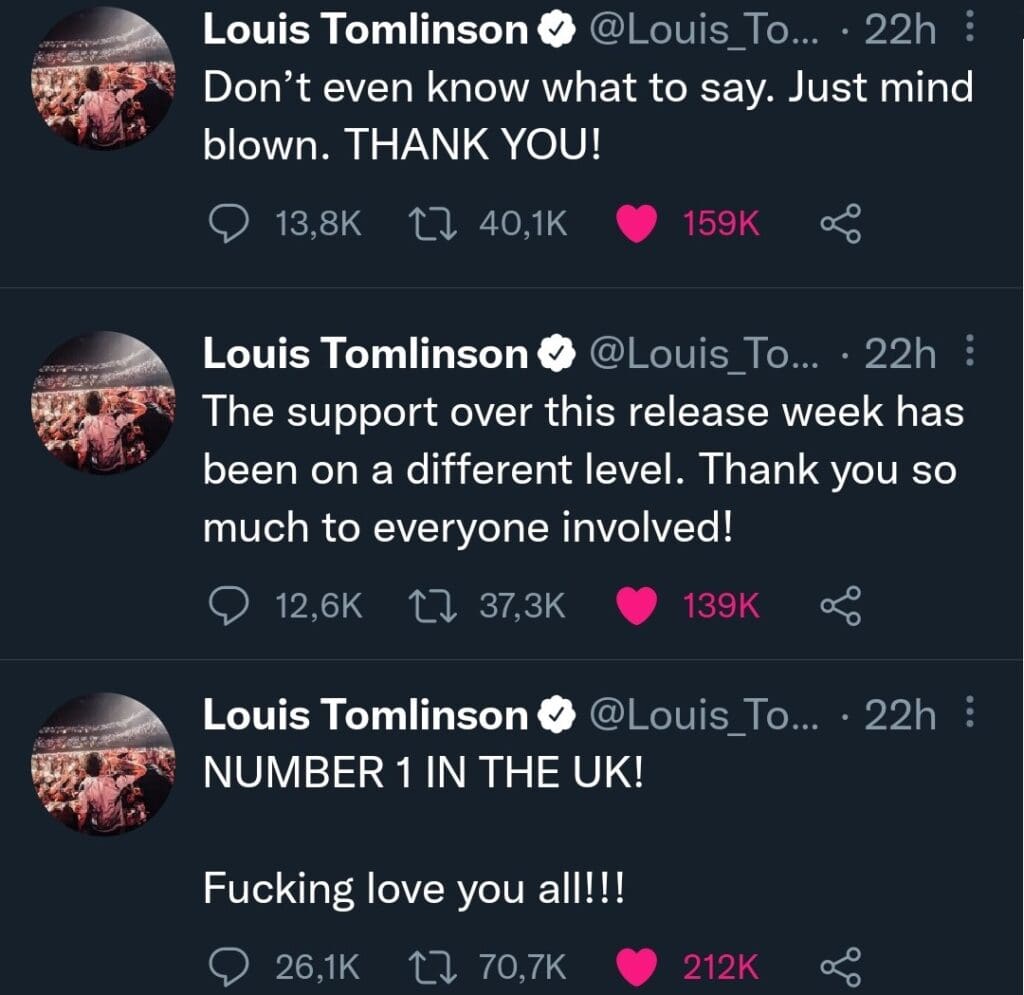 Louis welcomed the news with great enthusiasm, of course taking the opportunity to show his gratitude towards his fans: "My album is No. 1 on the Official Charts, I can't quite believe I'm saying that. I just want to say a massive, massive thank you for all the incredible support the fans have shown me in the last week and my whole career. This is an absolute honour and not necessarily something I saw coming. Thank you, thank you, thank you!"
He's stated that this achievement "means the absolute world" to him, leaving him "pretty mind-blown" since he "wanted to be really ambitious with this album" but he still didn't expect what's happening so far.
"Please just give me a chance." pic.twitter.com/w2CiDBweyS

— The Faith In The Future Era (@lt2countdownn) November 18, 2022
About his Louies, our Tommo has said "The fans have been incredible for me, you know, since the start of my solo career, really. But I really felt an extra kind of level of passion and love over the last week."
Speaking to BBC Radio 1 host – which makes it 369 times better – Louis said: "It's not like we had a massive promo opportunity (ed: breaking an arm on release day might have something to do with that) or had loads of radio support on this. (ed: 😎) This is all the fans."
"with these lot behind me, who the fuck is gonna stop us?" pic.twitter.com/DLB2zsuByl

— just louis (@t91loupics) November 17, 2022
And, to be honest, never as in this case, I think he's right. He's always said it's a teamwork between him and us and last week totally showed how true that is: Louies from all over the world came together to make sure our Donny boy got what he deserved.
Donating money, gifting albums to people who couldn't afford it at the moment, buying extra copies, "raiding" all UK stores: his whole fanbase really went overboard this time around.
the best team in the world pic.twitter.com/rssFSna1RW

— deivy. (@louiwillam) November 17, 2022
So, without taking anything from Louis' huge talent and from Faith In The Future's incredible quality, I think we can feel like this is a bit our achievement too and we can be proud of us as well.
As a wise man once said, WE MADE IT because: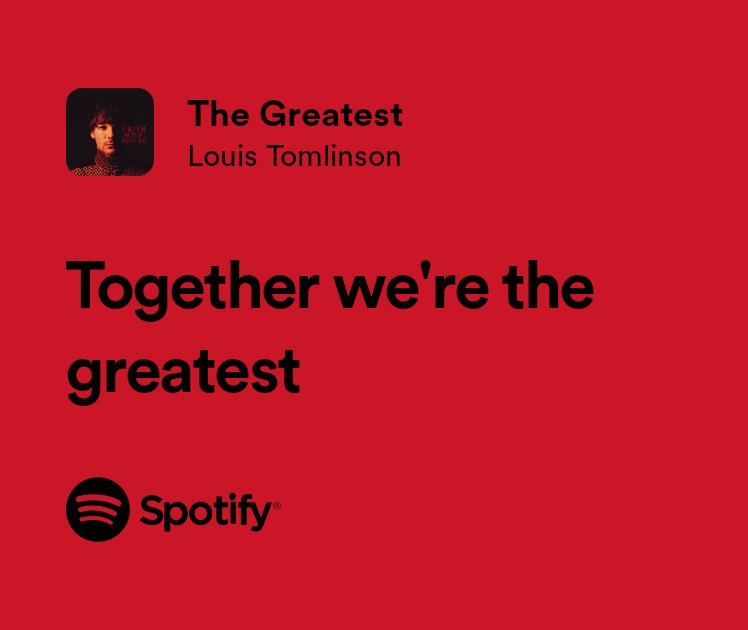 Featured Image source