When, following last year's huge debut at the Crystal Palace Bowl in the UK, a few months ago Louis Tomlinson announced the return of the 'Away From Home Festival' – the festival entirely conceived and curated by Louis himself – we thought we were kind of prepared for it. But man, did he blew us away (again)!
Let's start with the stunning venue he picked: the Marenostrum Fuengirola in Malaga, where over 17,000 fans (it went sold out, duh. And over 60,000 people were watching lives on Instagram only!) were able to have fun and watch so many artists perform surrounded by a picturesque castle – appropriate for our only king Louis Tomlinson – and an amazing sea view.
3 hours until doors are open and The Away From Home Festival 2022 is underway. Who's ready? pic.twitter.com/zxvFVXAhAQ

— The Away From Home Festival (@AFHFestival) August 27, 2022
Moving on to the line-up: other than Louis himself – obviously headlining at the end of the night – and the already announced The Vaccines, Hinds (again, to the delight of many Louies 🏳️‍🌈), Stone, and Sun Room, Spanish festival favourite Ley DJ and legendary Razzmatazz resident Maadraassoo joined (unfortunately due to a scheduling conflict Carl Barat was no longer be able to) alongside Scottish newcomers Voodoos, who won the contest Tommo and his team launched last week to give a new band this incredible opportunity.
We're offering the chance for an exciting new band to join this year's festival on Saturday 27th August to complete the line up. If you'd like the opportunity to join Louis Tomlinson, The Vaccines, Hinds, Sun Room, and Stone, follow the link: https://t.co/NVM2yPoEAl pic.twitter.com/4O2FwE9Vw5

— The Away From Home Festival (@AFHFestival) August 17, 2022
As usual, Tomlinson proved how much he cares about his Louies and how much thought he put into this whole project, trying to stay as environmentally conscious as possible: from opening a merch stand in the castle even to people who didn't get tickets, to giving FREE customized reusable cups for their drinks, to handing out FREE water bottles, to including vegan and gluten free food options, to making sure security kept the crowd hydrated – like, literally.💦💦💦
And I know most of this should be bare minimum, but trust me, IT. ISN'T. Louis just always manages to stand out, most of the times without even trying, and that's what makes him even more special.
Tommo's setlist consisted of many tracks from his awesome debut album Walls (R.I.P. 'Too Young', 'Two Of Us' and 'Perfect Now'. You will always be missed 💔), his still unreleased songs 'Change(s)' – yeah, I'm still not sure about the s, sorry not sorry – and 'Copy Of A Copy Of A Copy' (which we still hope will make it to LT2), the '7' and 'Beautiful War' covers he's loyal to and some revised One Direction bops.
Since he's been teasing us hiding LT2 tracklist in pictures he's posting on his YouTube community – subscribe to his channel! – we all thought he could sing some new tune and when right after 'Change(s)' his band started playing a different melody we ALL thought we were finally right.
Of course, we weren't.
Louis asked the crowd to sing with him and gifted us a beautiful indie-rock version of 'Night Changes' no one was expecting, that joined the regulars 'Drag Me Down', 'Little Black Dress', and 'Through The Dark'.
MY 'HD VERSION' DE LOUIS CANTANDO NIGHT CHANGES #AFHF #AwayFromHomeFestival2022 #LouisTomlinson😭❤️ pic.twitter.com/TOmrHmDNi0

— NOE ✨×͜× LOUIS POINTED AT ME 5 TIMES (@guys1dloveyou) August 28, 2022
We might have not heard anything new last night, but we will sooner than we think. Tomlinson keeps dropping hints and snippets all over his social media – it's called overstimulation, innit? – so LT2 is DEFINITELY coming and it's also closer than what we're ready for.
Today, Tommo didn't miss the chance to thank everyone for the success the Away From Home Festival was, including fans and every artist he shared the stage with.
Yesterday absolutely blew my mind. Woke up today so proud of what we've created! What an incredible day! THANK YOU!

— Louis Tomlinson (@Louis_Tomlinson) August 28, 2022
He also said he can't "wait for next year" so buckle up fam! Also, bets on the location?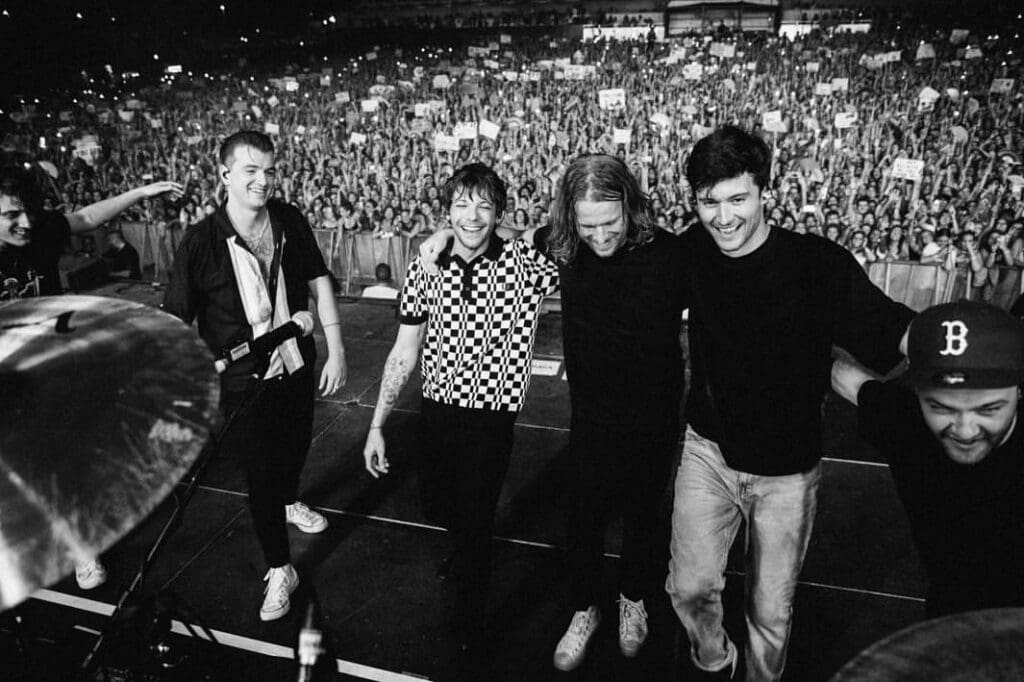 "To put on a show like this has been a dream of mine for a long, long time. This is the second year I've done 'Away From Home' and I have to say, it's as simple as this, this would not f*cking exist if it wasn't for all of you." Louis said in his speech. And last night, it finally became reality.
He went from thinking he wouldn't be able to even perform at a festival as a solo artist when he was younger to actually creating and curating his own. Because Louis Tomlinson is the living proof that when you work hard, never give up and follow your dreams, while also staying humble, genuine and true to yourself, NOTHING can stop you.
louis tomlinson saying who the fuck is gonna stop us? pic.twitter.com/fncKjpOBmA

— louis tomlinson reaction vids (@louistreactions) September 7, 2021
Featured Image Source