Ticketmaster
Ticketmaster has been a topic of conversation all week and nowhere near in the best circumstances.
After the successful release of her tenth studio album, Midnights, Taylor Swift announced that she would be touring in 2023, sending all her fans into a frenzy. Cleverly coining it 'The Eras Tour,' the excitement surrounding the singer's new tour has been at an all-time high. Fans quickly registered for Ticketmaster's Verified Presale once it became available. And as more and more fans signed up, creating such high demand, additional dates were added.
But a day before presale tickets would go on sale, problems slowly started to arise.
Selected or Waitlisted — You Can Only Be One
"Ticketmaster Verified Fan is committed to getting more tickets into the hands of fans fairly and at the prices set."
This is the information posted on Ticketmaster's website explaining their verified fan system. The company also shares that Verified Fan does not guarantee that every fan who is 'verified' will receive a ticket but that it does "level the playing field" so that tickets go to fans instead of ticket bots.
But on Monday, as fans eagerly waited to receive an email from Ticketmaster informing them whether or not they were selected for the TaylorSwiftTix Presale, some worry began to set in.
me refreshing my email all day, waiting for ticketmaster to decide my FATE pic.twitter.com/ZcAmBfjJWS

— cardiganless lannah (@everlorefolk) November 14, 2022
Early in the day, many fans began to share their excitement online that they were finally receiving their emails. Still, others shared that they had to wait almost the entire day to receive any news (I didn't receive my email until nearly 11 PM). And for those fans who had to wait for hours, once they did receive an email, the news was either good or bad: they were either selected or waitlisted (I was the latter).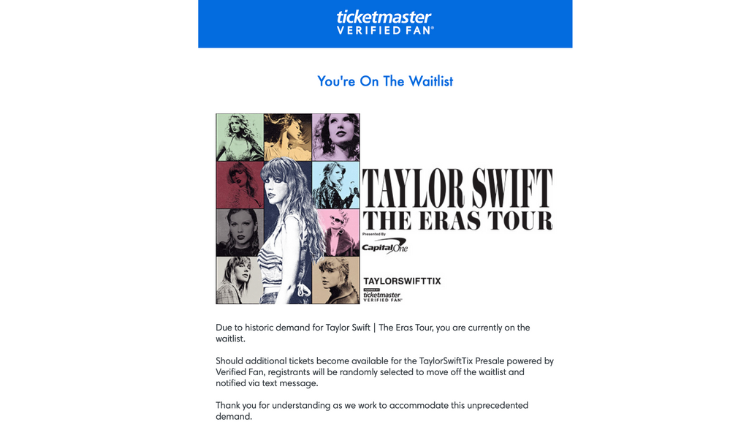 But not all hope was gone.
Some fans (like myself) had backup plans. For example, having a friend receiving the golden ticket that was the 'You've Been Selected!' email and now becoming the designated leader to buy tickets when they were to go on sale the following day. And with this, things were looking bright. But of course, only for the night because the next day, when tickets would go on sale, things went downhill.
Website Glitches, Paused Queues, Rescheduled Presale, and High Resale Prices Create Disappointment
As Verified Fan Presale arrived on Tuesday, selected fans waited for 10 AM in anticipation. But even before the time came for fans to buy tickets, Ticketmaster crashed. Online, fans expressed their concern and frustration, sharing photos that the site had an error.
But once the site began to run again, more problems occurred. Ticketmaster's website began to glitch. After waiting many hours, fans who had reached the front of the queue, with over 2000+ people waiting, were tossed back to the lobby, creating even more frustration.
And if it wasn't the queue glitching, it was the checkout process once fans were ready to pay for their tickets. Fans began to experience a malfunction once they selected tickets and added them to their cart.
Thinking they had scored the seats of their choosing, they were then notified that their order could not be processed. This glitch had fans losing their seats after multiple attempts to secure tickets.
Fans also experienced problems when it came to receiving access codes. A day before tickets went on sale, Ticketmaster shared a tweet informing fans to look out for codes that would be sent via text message.
These codes would give fans the ability to buy their tickets. However, while some fans were still waiting to receive codes on the presale day, others were told that their access codes were incorrect. This left some fans watching as seats disappeared before their eyes and others to be shown a seating chart completely greyed out.
Ticketmaster made me wait 4 hours, told me it was my turn in queue. Made me put in my code and then showed me nothing but greyed out seats. @Ticketmaster hell is dark and hot and speaking to my ancestors tonight about you pic.twitter.com/kv5GYqL8iX

— Mo ( rich white coochie mountain) (@exilehive) November 15, 2022
To say frustration was the only sentiment fans were experiencing on Tuesday would be an understatement. Fans took to social media, expressing their anger and sadness not only at Ticketmaster but resellers as well. Tickets being resold on StubHub reached prices as high as $12,000 and more.
Still, things didn't get any better. At around 1 PM EST, Ticketmaster shared a statement on Twitter explaining that "unprecedented demand with millions showing up to buy tickets" was the cause of their website crashing and creating problems.
— Ticketmaster (@Ticketmaster) November 15, 2022
The statement also informed fans that the Capitol One presale would be rescheduled for the next day, creating more stress. And with many fans thinking that things would run more smoothly the second time around, they experienced the same problems on Wednesday. Before the Capitol One presale began, the website had already crashed, and when they finally managed to get on Ticketmaster's website, they were again met with a queue of 2000+ people and glitches.
But fans still had some hope left in them. After all, the general sale was still scheduled for Friday, or so they thought.
On Thursday, Ticketmaster took to Twitter to share that the public on-sale would be canceled after the high demand they experienced.
Due to extraordinarily high demands on ticketing systems and insufficient remaining ticket inventory to meet that demand, tomorrow's public on-sale for Taylor Swift | The Eras Tour has been cancelled.

— Ticketmaster (@Ticketmaster) November 17, 2022
Fans were once again left saddened and confused, leaving them to wonder what would happen next and if it was still possible to secure tickets. So many who hadn't been able to purchase tickets during the Verified Fan or Capitol One presale were counting on the general sale to score some seats. And with that option no longer accessible, this left fans to ask: what now?
Government Officials Call Out Ticketmaster
Ticketmaster has always been the go-to when it comes to buying concert tickets. Still, the ticket sales company has also made a name for itself regarding its many fees and further creating the large conversation that the company isn't in the interest of fans but of itself.
And during the problems many fans faced during both ticket sale days, discussion surrounding Ticketmaster even got lawmakers like Rep. Alexandria Ocasio-Cortez to call on the Justice Department to investigate. Even Sen. Richard Blumenthal, D-Conn., stated that Swift's tour sale was a "perfect example of how the Live Nation/Ticketmaster merger harms consumers by creating a near-monopoly."
Daily reminder that Ticketmaster is a monopoly, it's merger with LiveNation should never have been approved, and they need to be reigned in.

Break them up.

— Alexandria Ocasio-Cortez (@AOC) November 15, 2022
But aside from government officials, many others pointed out an interesting fact: this wasn't the first time Ticketmaster has received heat.
Ticketmaster's Past and Future
Ticketmaster's problematic fees have always been around.
In 1994, Pearl Jam took on the company, calling out their extra fees/charges and boycotted them for 14 months. The rock band even took the issue to the Department of Justice but sadly, their attempt failed, and Ticketmaster continued with their ways.
If you're interested in learning more about this piece of music history, both The Washington Post and Rolling Stone covered this news in 1995.
However, just yesterday, as The New York Times reported, the Justice Department has opened an investigation into the owner of Ticketmaster. Some fans believe the same thing that happened with Pearl Jam will happen again. Others hope Ticketmaster will finally be held accountable for abusing its power over the live music industry.
But of course, only time will tell if anything occurs with the DOJ's investigation.
'The Eras Tour' Continues As Planned, But The Battle Of Trying To Get Tickets Lives On
As for 'The Eras Tour,' it seems as if the tour will still go on as scheduled.
During the creation of this article, Swift shared a statement on her Instagram story voicing her thoughts on the matter (you can read that statement here). The reception to her statement has received different opinions from fans.
But for those who had an eventful week trying to secure tickets to a show, the one phrase that almost every fan expressed was that the battle they had with Ticketmaster was like the title of Swift's song, "The Great War" and its one they'll least likely to forget.