The final of Eurovision Song Contest 2021 took place last Saturday and saw the award go back to Italy after many years – and some robberies – thanks to Måneskin, the rock band from Rome consisting of lead vocalist Damiano David, bassist Victoria De Angelis, guitarist Thomas Raggi, and drummer Ethan Torchio, that has bewitched the public.
https://twitter.com/Eurovision/status/1396238130991321089
In 2015, few years after a first collaboration between the singer and the bassist, Damiano reconnected with Victoria in order to start a band; Victoria involved her school friend Thomas and Ethan joined them through a Facebook ad.
Måneskin ("moonlight" in danish) was chosen as their name in 2016 when they registered for 'Pulse – High School Band Contest', a local music contest for emerging bands they ended up winning. It has not much to do with the band itself, it's more of a tribute to Victoria's half Danish origins. That same year they had their first official live concert at the Meeting of Independent Record Labels for an audience of approximately 30 people and some live shows in Denmark during a trip.
They kept performing as buskers in the streets of Rome and spent more and more time playing together to get better.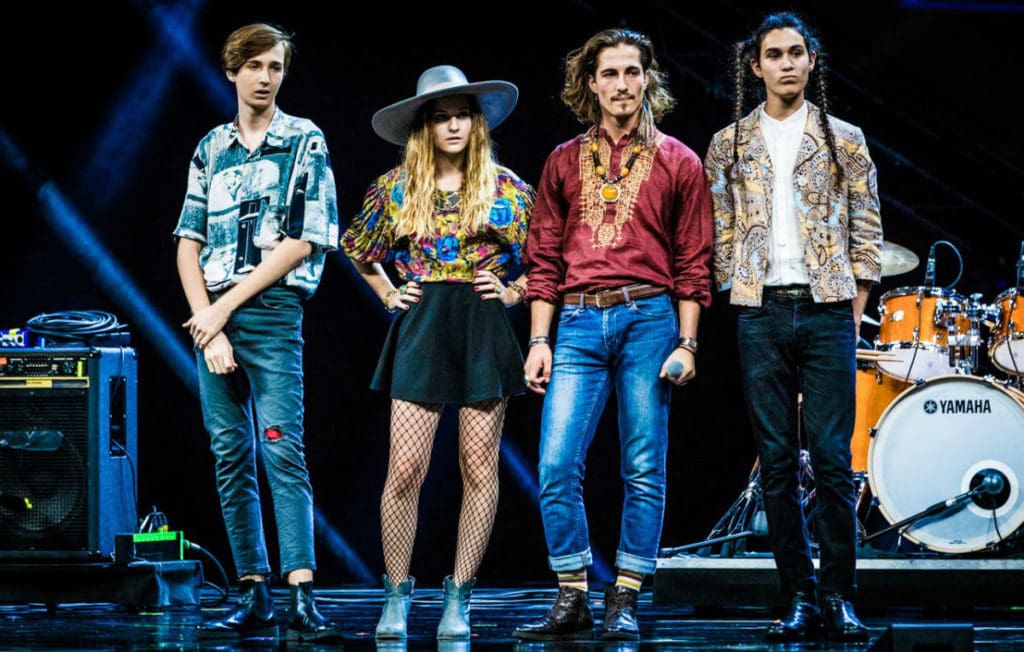 The turning point was their participation to the Italian version of The X Factor in 2017: people went crazy over them since their first audition – it's me, I am people – and even though they ended up in second place (we are still trying to understand how that happened, mysteries of life) their EP Chosen was certified double platinum by the Federation of the Italian Music Industry just like the homonymous single that gave the name to it.
Same fate for their second single, first one in Italian, 'Morirò da re' released in March 2018. Their third single 'Torna a casa', certified 5x platinum, preceded their first full-length studio album Il ballo della vita, to promote which a film documentary 'This is Måneskin' premiered in some Italian movie theaters.
Their success continued selling out 60+ gigs and more than 130000 tickets all over Italy and Europe.
In March 2021 they released their second album Teatro d'ira – Vol. I after winning the Sanremo Music Festival, the most important music festival in Italy, with "Zitti e buoni".
The same song that brought them to win Eurovision Song Contest in May with 524 points and as the most televoted contestant, other than the Eurostory Best Lyrics Award , the award for the best Eurovision song lyrics.
ITALY 🇮🇹 WORLD 🇮🇹 DOMINATION 🇮🇹 so true 🇮🇹
https://twitter.com/thisismaneskin/status/1395817940298129412
Despite someone trying to ruin a well-deserved victory for four young artists with a nonsensical allegation I won't even mention, promptly denied by Damiano himself and the European Broadcasting Union, Måneskin are getting the recognition and support they deserve.
Voilà https://t.co/XPGtEnXZs2

— Damiano David (@daviddamiano99) May 24, 2021
They're getting more and more popular all over the world, their performance is the most viewed, their memes are going viral – yes, they're also fun and meme material – and 'Zitti e buoni' made it to the official UK top 20 chart, as the first Italian song able to do that in the last 30 years, and peaked at No. 9 on Spotify Global Chart, becoming the Italian most-streamed song ever: LEGENDS ARE BORN, NOT MADE!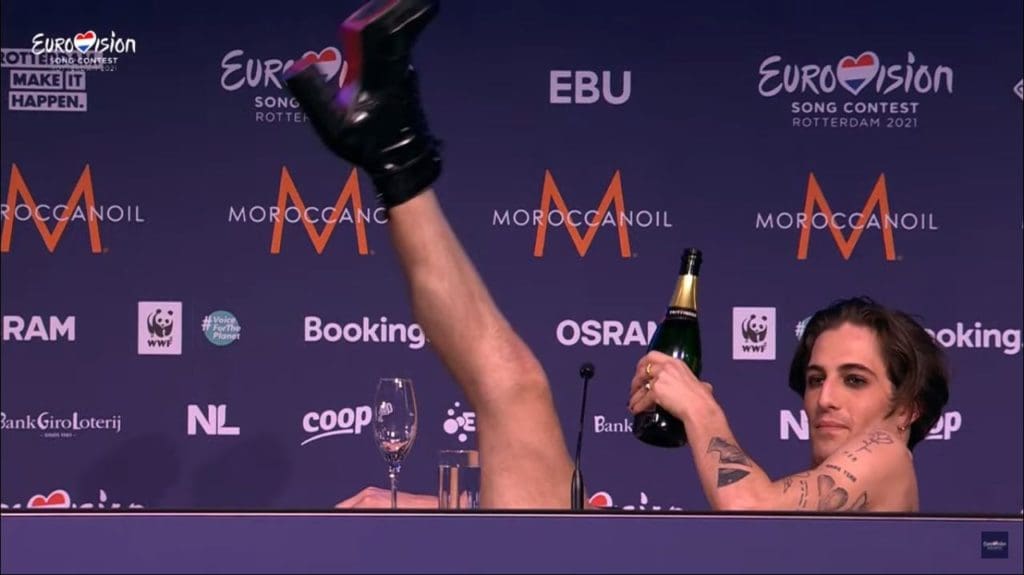 Check out more about their music on Spotify or YouTube, you won't regret it!
Damiano, Victoria, Thomas and Ethan are the perfect example of how talent, hard work and determination pay off. No matter how many obstacles you have to face, keep fighting for your dreams and NEVER give up!
From the streets of Rome, to the huge stage of #Eurovision.
It's unbelievable and it's all thanks to you. Tomorrow we need your support, our voting number is 24.
Let's change history. pic.twitter.com/zQ3qsKSMC7

— ManeskinOfficial (@thisismaneskin) May 21, 2021
Featured Image source