Zoulfa Katouh on her stunning and moving YA debut, As Long as the Lemon Trees Grow
"Change starts with one person. Uplift Syrian voices."
One of the most emotional, moving, harrowing and beautifully written debut's of 2022, As Long as the Lemon Trees Grow by Zoulfa Katouh, tells the story of Salama, an aspiring pharmacist and Syrian teen caught in the middle of Syria's devastating conflict. It's a story of resilience and loyalty, grief and love, war and hope and one that will linger in your heart and soul way beyond the final page. To celebrate the release of this truly stunning book, we had the honour of asking Zoulfa a few questions all about it.
---
Hi Zoulfa! It's so lovely to get to talk to you about your debut novel, As Long as the Lemon Trees Grow. What inspired you to write this book, and why now?
I wanted to write about why people leave their homes and countries to find safety elsewhere in the world. After living in Europe, I realised people here and in the West don't really know what's going on. All they see is the consequence— refugees coming into their countries.
Why was this story important to tell, and what do you hope readers will get out of it?
It's important to build empathy and stories do that. When you read about a situation you don't know much about, in a place you've only heard about in the news or in passing, it makes your world a bit bigger. I do hope they close the book with a newfound sense of I want to change the world.
How was As Long as the Lemon Trees Grow inspired by your life and the lives of those close to you?
It's inspired by a lot of people that have lived and died for Syria. It's inspired by my summers in Syria that leave a nostalgic taste in my mouth.
As Long as the Lemon Trees Grow is an incredibly emotional book to read, what was your experience writing it like?
It was a journey filled with many, many tears but at the same time cathartic to write.
View this post on Instagram
What advice would you give to readers wanting to stay updated on and help with the still ongoing and very real crisis in Syria?
Tell your friends and family about what's happening if they don't know. Change starts with one person. Uplift Syrian voices.
What tips do you have for aspiring writers?
Never stop writing. Even when it feels like it's the most difficult thing you can do, don't stop. Writing is therapy.
Do you have any further book recommendations for readers who loved As Long as the Lemon Trees Grow?
THE NEXT NEW SYRIAN GIRL by Ream Shukairy
THE MAP OF SALT AND STARS by Zeyn Joukhadar
SALT TO THE SEA and BETWEEN SHADES OF GREY by Ruta Sepetys
Finally, what's up next? Are you planning on writing another book and if so, is there anything you can tell us about it?
My second book is the other side of the coin to Lemon Trees. It deals with what happens after a person reaches safety. They're two characters. A first generation immigrant and a refugee. It has themes of identity, racism, healing, love, and as always, hope.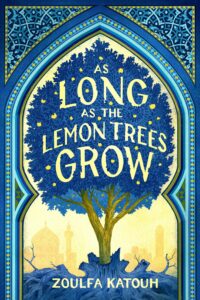 Get your copy of As Long as the Lemon Trees Grow by Zoulfa Katouh here.