A deep dive in Hallyu! The Korean Wave at the V&A
This first-of-its-kind exhibition celebrates South Korean popular culture in great style
By Su-Lin Tan
There is no place like the V&A right now to properly understand and embrace what Hallyu is.
With the exhibition Hallyu! The Korean Wave, the V&A, celebrates South Korea's dynamic, subversive, reflexive and playful popular culture.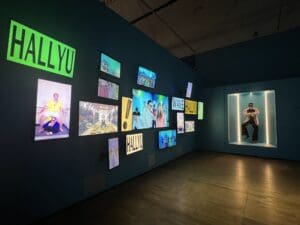 History is fundamental to this exhibition and Hallyu, as it plays a significant role in setting the stage for the wave to ripple across Asia in the late 90s, then touching all corners of the world and challenging today's popular culture standards. Rosalie Kim, Curator of the Hallyu! exhibition, explained how important it was to find the right elements to display to balance the past and present of Hallyu in order to understand that what we see and hear today is heavily influenced and a revival of what has been popular in the past.
In the first section, titled 'From Rubble to Smartphones', visitors can admire one of Nam June Paik's installations, 'Mirage Stage' (1986) – a reference to theatrical stage-sets. This wall of screens bombards viewers with images of images in an endless saturated rapid-fire collage of scenes taken from Paik's main works, alluding to the fact that the boundaries between art and entertainment, information and spectacle, are blurred.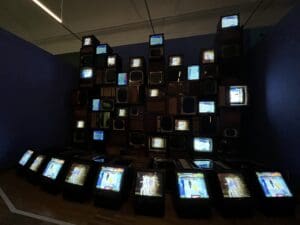 Here in this section, we are welcomed by the first viral K-Pop video and mega-hit, PSY's 2012 'Gangnam Style' alongside pieces of Korea's modern history, from the first MP3 player to the very first K-beauty product.
With 'Spotlighting K-Drama and Cinema', we are in the section that starts rolling the cameras on Hallyu and Korea's creativity. This section showcases an incredible and also never-seen-before array of installations, posters, digital content and props that explore and explain how and why Korean content in the form of cinema, drama and webtoon turned their rise in popularity from the later 1990s to the present day.
The section has been gifted with a first-time-ever reproduction of the bathroom from Bong Joon-ho's Parasite, Squid Game's iconic outfits and the wig worn by Choi Min-Sik in Oldboy – South Korea's biggest breakthrough movie.
At the crest of Hallyu! there are – without a doubt – music, fashion and beauty. These three elements have led Hallyu, as many people know it for the past 15 years. Speaking with the exhibition lead curator Rosalie Kim, in this section, we can see that Western pop culture has started to take more and more from Korean music, with choreographies and more curated music videos, and fashion with its freedom from gender.
The section dedicated to K-Pop – 'Sounding K-Pop and fandoms'- is a slick set-up you would see in a Korean music show. The room looks impressive, with Idols' outfits positioned at the centre of the room. Outfits from ATEEZ's 'Fireworks (I'm The One) and Aespa's 'Next Level' bring the visitors even more into K-Pop and its world. Of particular interest is seeing traditional music instruments exhibited alongside pieces of modern Korean music.
For Rosalie Kim, the 3rd and 4th Generation of K-Pop groups, such as BTS, BLACKPINK and Aespa are one of the key 'moments' in the past five years of Hallyu; thanks to technology and new ways of interacting with content globally, they not only pushed even more K-Pop to the world's stage but they transformed the ideal of Idol by representing their Country in official events around the world and actively stood up to support causes.
'Making K-Beauty and Fashion' is the last section of this exhibition, underlining their origin whilst showcasing their innovative and experimental approach that led to new aesthetic standards both inside and outside Korea. From Hanbok to the rise of K-Fashion with its very own reinterpretation of Hanbok, thanks also to BTS RM who wore a deconstructed Hanbok during an iconic performance of '땡 (Ddaeng)'.
It's in both fashion and beauty – and music – where you can see one of the most interesting aspects, being free from the old and stereotyped ideas of gender and its norm in fashion and beauty. Here you can see how Idols – and non – embrace cosmetics and beauty as part of their daily routine.
Thanks to this exhibition it is very much solidified that Hallyu is not just a craze anymore but is now a staple of Korea's history and future.