REVIEW: Don't Worry Darling – a soppy romantic thriller
We've already heard a lot of it but is this movie really worth the watch?
After months of speculation about the upcoming movie Don't Worry Darling, directed by Olivia Wilde and starring Florence Pugh and Harry Styles, it is almost time to see the movie in the cinemas. But is it really worth it all the hype?
For United by Pop, I got the opportunity to get to a special screening in London. The movie Don't Worry Darling takes place in a desert town where everything seems perfect, but you'll see soon enough that it's nothing what it looks like. Happy housewife Alice Chambers (played by Florence Pugh) starts to notice that something is really off in this place, while her husband Jack Chambers doesn't believe anything of it. A classic romance which is not what it looks like…
I've got to be honest, I went really blind into this movie. Obviously I've heard some things about it and I've seen the trailer. But I didn't know what to expect, but let me tell you: I was actually really surprised. I could maybe say that this movie left me in an absolute mind fuck. Now I obviously don't want to spoil too much, but this movie is just an enormous plot twist.
I have to say something about the acting as well: the cast was amazing and especially with Florence I knew she wouldn't disappoint. Now we've all seen some parts of Harry's acting, and especially on Twitter people were making fun of it (and yes, I also had to laugh about it). After seeing this movie I only could say that they kinda did Harry dirty, because – in my opinion – he was doing pretty well for his first acting job ever. Even though there were some 'cringe' parts in it as well.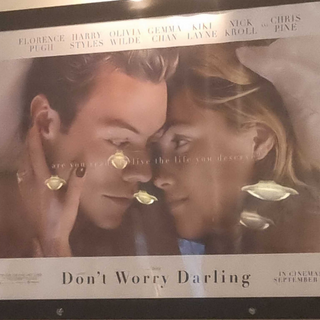 I would definitely recommend to see this movie. I wouldn't say it's the best movie I've ever seen, but Olivia Wilde has surprised me in a positive way. My +1 actually thought it was the best movie she's ever seen, so maybe I have to give it another chance?
Rating: 8/10