If you're looking for some adorable romance reads to get cozy with this winter, you're in luck… With two book bundles, each including three gorgeous winter 2022 rom-com releases up for grabs, you're not going to want to miss entering this romantic giveaway.
---
Both of the lucky winners will each receive a copy of the following three rom-com titles: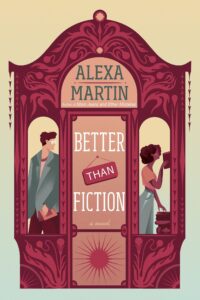 Better than Fiction by Alexa Martin
As a self-proclaimed book hater and a firm believer that the movie is always better, Drew Young didn't anticipate inheriting her grandma's bookstore, the Book Nook. She's in way over her head even before the shop's resident book club, comprising seven of the naughtiest old ladies ever, begin to do what they do best—meddle.
Bestselling author Jasper Williams is a hopeless romantic. When he meets Drew at his Book Nook signing event, he becomes determined to show her the beauty of reading. He curates a book bucket list in exchange for her help exploring the local Denver scene for his current manuscript. From going river rafting to trying local restaurants, Drew begins to connect with Jasper in a way she only thought happened in fiction.
When messy family ties jeopardize the future of the Book Nook, Drew is caught between a bookshelf and a hard place. She's reminded that real life isn't always big dreams and sweeping romance. But Jasper is the plot twist she never saw coming and he's writing a happily ever after just for them.
When in Rome by Sarah Adams
Amelia Rose is burned-out from years of maintaining her public image as pop princess Rae Rose. Inspired by her favourite Audrey Hepburn film, Roman Holiday, she drives off in the middle of the night for a break in Rome . . . Rome, Kentucky, that is.
Running the pie shop his grandmother left him, Noah Walker is busy enough as it is. But after finding Amelia on his front lawn in her broken-down car, he decides to let her stay in his guest room – on a very temporary basis, of course.
As the two of them grow closer, Noah starts to see a new side to Amelia – kind-hearted and goofy, yet lonely from years in the public eye. Amelia may have to go back to her other life someday, but for now she's perfectly happy falling in love with the cozy small town she's found herself in . . . and her grumpy tour guide isn't half-bad either.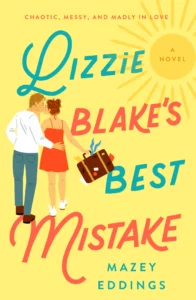 Lizzie Blake's Best Mistake by Mazey Eddings
Lizzie has made endless mistakes. Kitchen fires, pyramid schemes, bangs (of the hair and human variety), you name it, she's done it… and made a mess of it too. One mistake she's never made is letting anyone get closer to her than a single hook-up. But after losing yet another bakery job due to her uncontrolled ADHD, she breaks her cardinal rule and has a two-night-stand that changes everything.
Once burned, twice shy, Rake has given up on relationships. And feelings. And any form of intimacy for that matter. Yet something about charming, chaotic Lizzie has him lowering his guard. For two nights, that is. Then it's back home to Australia and far away from the pesky feelings Lizzie pulls from him. But when Lizzie tells him she's got an unexpected bun in the oven, he'll do whatever it takes to be a part of his child's life… except be emotionally vulnerable, obviously. He's never going to make that mistake again.
Through a series of mishaps, totally "platonic" single bed sharing, and an underground erotic baking scheme, Lizzie and Rake learn that even the biggest mistakes can have the most beautiful consequences.
Follow the instructions in the tweet below to enter for your chance to win this rom-com book bundle:
https://twitter.com/unitedbybks/status/1592566861803053057?s=20&t=-zwWxUQTAhG9xFG1xcHZ5w
Terms & Conditions:
1. No purchase necessary. A purchase will not increase your chances of winning.
2. This giveaway is open to residents of the United Kingdom only.
3. This giveaway opens Tuesday, November 15 at 7:30 PM BST and closes on Tuesday, November 29 at 9:00 PM BST.
4. Two (2) winners will be selected at random from all applicable entries. The prize consists of one (1) copy of Better Than Fiction by Alexa Martin, Lizzie Blake's Best Mistake by Mazey Eddings and When in Rome by Sarah Adams. Prize has no cash value and no alternative prize is available.
5. Winners will be contacted via Twitter direct message by @unitedbypop after the giveaway closes. Winners must provide United By Pop with their full name and mailing address to receive their prize. If winner fails to do so within 24 hours of being contacted, winner forfeits their prize and a new winner will be selected.
6. United By Pop is not responsible for prizes that are lost or damaged in the post. Prizes may take up to 90 days to arrive.
7. This giveaway is in no way sponsored by or affiliated with Instagram or Facebook.