The top 10 Dark Academia books you NEED to read
We guarantee this list is different from others.
The dark academia trend has taken over BookTok in the last 2 years. Some have theorised that the Covid-19 pandemic led to a longing for academic settings under the lockdown. We are not sure how true this is but either way, we are hopping on the bandwagon. Today we will recommend the essential dark academia reading list, from the "classics" to newly released ones.

Babel by R.F. Kuang
Let's start with everyone's favourite dark academia book from 2022. Babel needs no introduction. This best-selling book was nominated in the Goodreads Choice Award for Best Fantasy and has been the talks of BookTwitter and Bookstagram for months. This ambitious book tackles linguistic, oppression, identity and much more. It reads like a historical fantasy novel, yet has details fit for an academic paper. In fact, the full title of Babel is Babel, Or the Necessity of Violence: An Arcane History of the Oxford Translators' Revolution, and we can definitely imagine scholars from years down the line might confuse it with a paper from JSTOR.

The Secret History by Donna Tartt
Perhaps the OG of the dark academia trend, The Secret History celebrated its 30th anniversary last year. In fact the 30th anniversary edition is so gorgeous that we have already recommended it in our list of pretty pretty books. This book features a classics professor and a group of clever, eccentric(, and perhaps pretentious, according to the inevitable 1-star reviews on Goodreads) misfits at an elite New England college as they deal with murder in a twisted way. This book is a thick book, and it will be impossible to do it justice here so we will leave it for you to explore it yourself.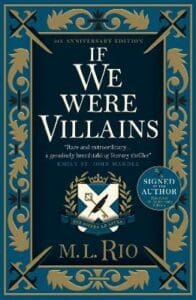 If We Were Villains by M.L. Rio
Again, another classic dark academia title. This is actually M.L. Rio's debut novel and only work so far. Her next work will be In These Hallowed Halls, which is a dark academia anthology that features Olivie Blake as well. If We Were Villains follows seven young actors studying Shakespeare who play the same roles onstage and off until the casting changes and one of them is found dead. M.L. Rio is extremely talented in pacing the plots, and playing with our emotions. Even though there are seven characters, they are all very distinct and are definitely the highlight of this novel.

The Cloisters by Katy Hays
Another debut on our list: released earlier this year, The Cloisters has a killer cover in the UK. Set in the Cloisters, a gothic museum renowned for its medieval art collection, the book follows Ann who gets thrown to do research on fortune telling as part of her internship. What begins as academic research quickly turns into obsession when Ann discovers a hidden 15th-century deck of tarot cards that holds great power. Katy Hays is an art history professor and it is obvious from the novel. Not only does the book do an artful exploration of themes of fate and choice, Katy also examines the origins of tarot in the renaissance and gives readers a glimpse into the day-to-day work of a museum.

The Atlas Six by Olivie Blake
The Atlas Six is the first book of The Atlas trilogy, with Olivie recently announcing that the final book, The Atlas Complex, will be released in 2024. Each decade, the world's six most uniquely talented magicians are selected for initiation into the Alexandrian Society, the secret society of magical academicians. When the candidates are recruited by the mysterious Atlas Blakely, they are told they must spend one year together to qualify for initiation. Only five will be initiated — if, they can survive at all. This, like many titles in this list, is character-driven, and Olivie took magnificent care of the interactions and relationships between the characters.

Bunny by Mona Awad
The bright pink cover may not suggest that, but Bunny is actually a dark academia title. In fact, Bunny was nominated in the Goodreads Choice Award for Best Horror in 2019. That should give you an idea of how dark this book is. The book follows Samantha Heather Mackey who is every bit an outsider among the girls who call each other "Bunny" in her MFA program, until she gets invited to join the Bunnies' off-campus "Workshop" where they conjure their monstrous creations. Tackling themes of loneliness and belonging, friendship and desire, Bunny is a wild and weird ride that you should not miss. We guarantee the book will stay with you for a long while afterwards (and so we apologise in advance if that means you get a reading slump afterwards, but we promise, that's worth it).

A Deadly Education by Naomi Novik
A Deadly Education is a trilogy that concluded last year. Set at Scholomance, a school for the magically gifted where failure means certain death (for real), the trilogy is filled with strategic friendships and incredible world building. Naomi Novik designed everything in the books with a purpose, down to the smallest details. It is clear that Naomi has given a lot of thoughts in crafting the book, from the architecture of Scholomance, to students making trades every moment of their day, to the suffocating environment at Scholomance that makes you (and every character) want to scream at the world.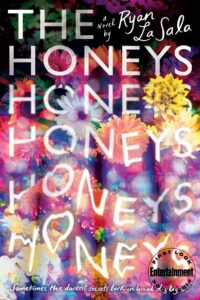 The Honeys by Ryan La Sala
Described as "dark academia in broad daylight", The Honeys has a deceiving cover just like Bunny. (Actually, no, scratch that. The font on the cover should give you a sign.) The Honeys follows Mars who marches back to the prestigious Aspen Conservancy Summer Academy after his sister Caroline died. He's often excluded from the traditions — until a group of girls dubbed the Honeys, named for the beehives they maintain behind their cabin, accepted him into their group. Mars of course went along, especially as he is sure the Honeys are connected to his sister's death… The Honeys is cleverly written, exploring themes of gender roles and grief subtly.


A Dark Inheritance by H.F. Askwith
Felix Ashe is sure of only one thing. In thirty days, on his eighteenth birthday, he will die, just like his 3 brothers before him. Convinced it is a curse to prevent him and his brothers from getting his father's inheritance, Felix seeks to find the solution, especially since his younger brother's life is on the line as well. When an opportunity to break the curse appears to present itself, Felix jumps at the chance, even if it means chasing dark magic all the way from New York to Yorkshire. The academia setup is less obvious compared to the other books in this list, but with all the decoding and chasing leads, A Dark Inheritance is definitely a fun read.