S.A. Domingo's top 5 tips for writing a summer romance
"Temperatures are high, people are happy (hopefully!) – it's the perfect time to fall in love!"
The post below was kindly written by S.A. Domingo, author of Love on the Main Stage
Summer 2020 has been a pretty strange one of course, but with my latest book for younger readers, Love on the Main Stage, my hope is that you'll find a fun escape into beautiful sunny days and long warm nights! And what's summer without a bit of romance, eh? Temperatures are high, people are happy (hopefully!) – it's the perfect time to fall in love! And there's nothing more fun that writing a summer romance. I highly recommend it! So, here are my Top Five Tips if you're a budding author…
---
1. Give Your Characters Some Freedom
The beauty of summertime is that it's time to take a break from the everyday routine and enjoy some leisure. Setting Love on the Main Stage after Nova and her friends have finished their GCSEs and are going into the summer holidays gives them that extra level of freedom, which means there's more scope to think about falling in love (or in Nova's case, trying to avoid it but falling anyway…!)
2. Make the Most of the Weather
OK, so the UK isn't always notorious for it's glorious climate, but that's why we're so good at making the most of sunny days! Turning up the heat weather-wise means that the stage is set for things to hot up between your romantic characters too…
https://twitter.com/teambkmrk/status/1278665496414617600?s=20
3. Work on Your Readers' Senses
When the weather is nice, inevitably people are more heightened in their awareness of smells, looks and tastes. Really bring that to the forefront if you're writing a summer romance. It helps in Love on the Main Stage that Nova's family runs a restaurant and food truck, so I could really go to town with the descriptions of the delicious meals they sell and enjoy. If you can smell a barbecue burning, you know it's summer, right? So really play on those senses to evoke the season for your readers.
4. Think About What Summer Means to You
One of the things that I loved (and will again sometime soon hopefully!) about summer is the music festivals. Music is one of my passions, and so weaving in festival season was a perfect way to encapsulate the feeling of summertime in Love on the Main Stage. When you're thinking about writing a summer romance, focus on what really makes the season special for you, and it will be easier to evoke that setting. Doing so is especially helpful if, like me, you weren't actually writing it in during summertime!
5. Love, Love, Love
Ultimately, really bringing the vibes of your character falling in love will be the essential ingredient to your summer romance story. There's a reason why people talk about 'the summer of love' and not the 'winter of love'! Summer and romance go hand in hand, so throw on some cut-off shorts and go to town in showing us how your characters fall in love on the page.
And if you don't fancy writing one yourself, you can always pick up Love on the Main Stage and live vicariously through Nova and Sam…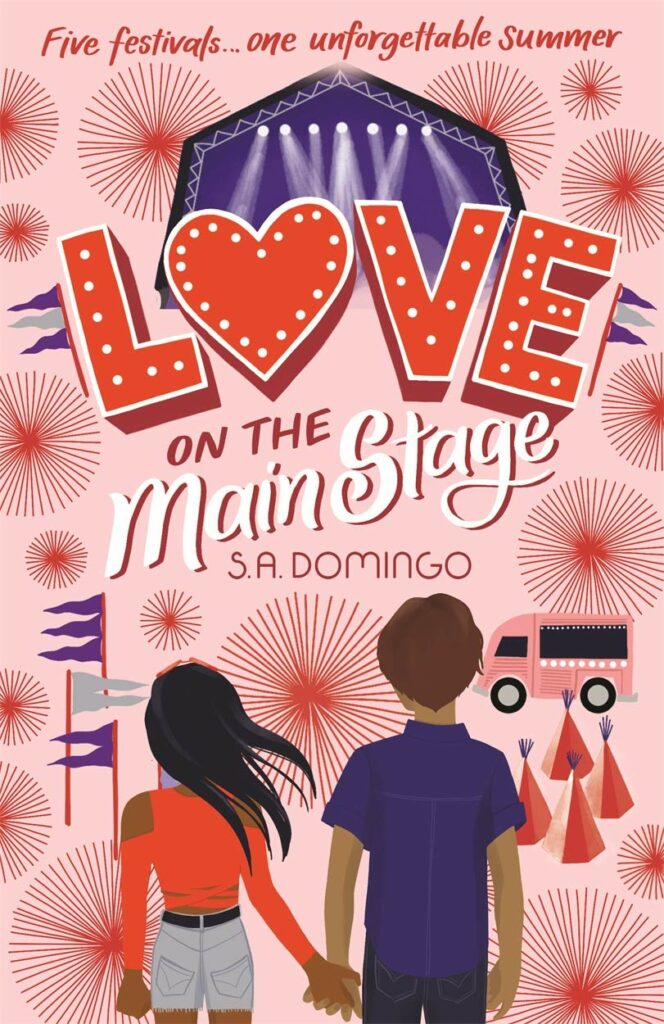 Can't wait to read Love on the Main Stage? Luckily for you, we have five copies to give away! Simply follow the instructions in the tweet below to enter for your chance to win.
https://twitter.com/unitedbybks/status/1280143514664341504?s=20
Terms and Conditions
1. No purchase necessary. A purchase will not increase your chances of winning.
2. This giveaway is open to residents of the United Kingdom only.
3. This giveaway opens Monday, July 6 at 2pm BST and closes on Monday, July 20 at 9pm BST.
4. Five (5) winners will be selected at random from all applicable entries. The prize consists of one (1) copy of S.A. Doming''s 'Love on the Main Stage' (2020)
5. Winners will be contacted via Twitter direct message by @unitedbypop after the giveaway closes. Winners must provide United By Pop with their full name and mailing address to receive their prize. If a winner fails to do so within 24 hours of being contacted, the winner forfeits their prize and a new winner will be selected.
6. United By Pop are not responsible for prizes that are lost or damaged in the post. Prizes may take up to 6 weeks to arrive.
7. This giveaway is in no way affiliated with Twitter, Facebook, or Instagram.
Get your copy of Love on the Main Stage by S.A. Domingo here