Armaan Malik on his music, his goals and his latest single 'next 2 me'
The Indian superstar opens up about the creative process behind his hits, his true style, and his dreams.
Armaan Malik just released his brand-new single 'next 2 me', which is already doing amazing all over the world. It's his second English track after 'Control', that counts million streams across various platforms. Coming from a renowned musical family but always working to make sure not to live in their shadow, Malik is already one of the youngest and most successful artists in the Indian music industry and is now ready to break into the international pop market.
In an exclusive interview for United By Pop, he spoke to us about his music, his inspirations and his ambitions.
---
Your brand-new single 'next 2 me' is out now, what can you tell us about it and the inspiration behind it?
I was browsing through the internet when I came across this quote: "Missing someone isn't about how long it's been since you've seen them or the amount of time since you've talked. It's about that very moment when you're doing something and wishing they were right there by your side." This quote somewhat hit a chord with me and inspired me to write 'next 2 me.'
The global lockdown has been tough on all of us, especially for those who are quarantined away from their loved ones. I wanted to capture that feeling of missing someone and wishing that they were next to you. We may have all the devices in the world to keep us connected, but having that person next to you is a different feeling altogether, something that no digital connection can ever compare to. Now, more than ever, I believe anyone can easily connect to the song.
Your last single 'Control' was your first official one in English and it's already a success. The music video has more than 26 million views! How does it differ from tracks you have released in the past?
It is stylistically quite different. To be honest, this is my true style! When I sing for Bollywood movies as a playback singer, I have to modulate and adapt to the style of the composition made by the music composer and express according to the brief of the director. But when it comes to my non-film tracks like 'Control' and the recently released 'next 2 me,' I can write and sing stuff that is my core style. I identify myself as a Pop/R&B artist. That's my truest musical nature but since I have sung across various languages and industries, I don't limit myself to singing just one type of song, which is why when you go through my discography you will be able to hear a wide variety of moods, styles, and genres.
You used to sing and write mostly in Hindi before, are there any differences or similarities in the whole process when it comes to writing in a different language?
Human emotions are exactly the same wherever you go in the world. The music from all those different industries may be all performed in words that not all understand, but they virtually express the same emotions. What is strikingly different is the working culture and musical styles.
The core singing basics are universal, but the most important elements that you need to pay attention to while recording in a different language are pronunciation, enunciation, vocal tone, and delivery. I have been singing in various different languages since I was 9 and I am very quick at adapting, so the western nuances weren't that difficult for me to grasp. In the summer of 2011, I had even briefly trained in Pop/R&B vocals at the prestigious Berklee College of Music (Boston, Massachusetts), so that too had laid a strong foundation for my western singing.
You have a huge following on social media, especially on Instagram where you have 8.3m! Do you think social media have helped your career and allowed fans to feel more connected to you and your music?
Social media has definitely contributed to my journey in a big way. My YouTube channel really benefited from my social accounts. It's one thing to make good music that connects with fans, and it's another thing to actually connect with fans, and that happens via social media. In today's day and age, we cannot ignore the importance of it. For all emerging artists, I think it's very important to use these digital platforms effectively because it is definitely a place where they can be discovered and get a big break. The possibilities are endless!
You started your career at a very young age and some of your family members are in the music industry as well, do you think it influenced you as an artist?
Well, I always knew I wanted to become a professional singer. My family didn't influence that decision. I had a very clear vision of establishing my own unique identity, separate from that of my family. When you belong to a family steeped in musical excellence, everyone around you expects you to follow the same path and obviously have everything laid out for you along the way. But I knew I wanted to make it on my own mettle and not use my family name to further my career.
At the age of 9, I submitted my audition to a popular Indian singing reality show called 'SaReGaMaPa Lil' Champs' with only my first name – Armaan and made it to the top 10. I wanted the judges and the public only to evaluate me based only on my singing skills and not my surname. I only did this because I wanted to know deep inside "yes, I can chart my own journey the way I want to" and not be looked at differently just because I belong to a famous musical family.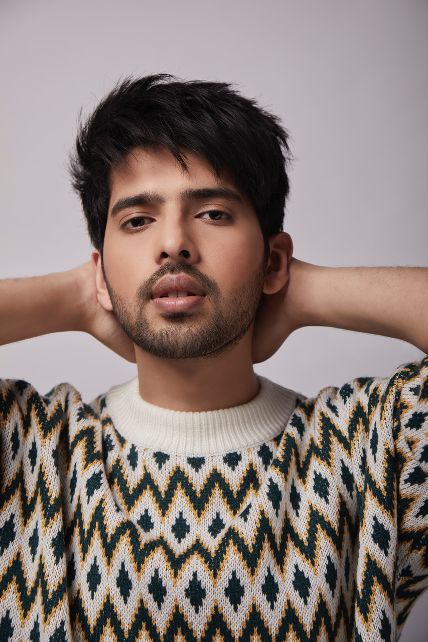 Who would you consider your biggest inspirations in the music industry? Are there are any artists you would dream of collaborating with in the future?
My brother, Amaal has been a very big influence in my life. He was the one to introduce me to world-music and the different genres that exist out there. Yes, I have learned Indian classical music from my teachers and gurus, but I think my true training and musical influences come from my brother. He truly helped shape my musicality.
I would love to collaborate with Zedd, Charlie Puth, and Anne-Marie!
You are the youngest Indian artist to ever headline Wembley Arena, how did it feel? Can fans expect a tour from you anytime soon?
Unreal! It had been my childhood dream to perform at the Wembley Arena. I could truly feel the energy and magic of all the legendary artists that have performed on that very stage in the past. The funny part is that the show was so magical, I don't really remember that it ever happened! I have no memory of what went down. All I know is that I played a massive show at one of the most prestigious venues in the world.
Given the current scenario, I have no idea when I will be able to tour, but I would love to be back in the U.K. and play for my fans once it's safe to travel again!
You have recently signed a deal to Arista in the US, was that something you'd always set out to achieve? What are your goals for the future on a personal level and as an artist?
Well, here's how it all happened: since late 2018 I have been making trips to LA to do writing sessions with a couple of writer friends of mine. I made a bunch of songs with the sole intention to just release my English music out in the world and let people know that this is a side of mine. I never had a label in mind at the time. When I came back to Mumbai, a mutual friend of my writer friend and I heard my stuff and he loved the songs. He had this wild idea of wanting to send the stuff to David Massey. I excitedly said of course, who wouldn't want a highly respected executive like David to hear this stuff! So he sent the tracks, and we immediately got a positive response! David was traveling to the UK for the BRIT's at the time and asked if we could meet up in London. My mother and I immediately flew down to London. We met a couple of times and we discussed so much about how global music is blowing up and about how it's the right time for India to be on the global map. That is the vision that clicked with me. A few months later I signed up with Arista Records, and ever since I have only been working on putting out my English music!