10 best Disney Channel Original Movies on Disney+
These movies have stood the test of time and deserve a rewatch.
The second I got access to Disney+, I did what any aging millennial would do: dove into the Disney Channel Original Movie selection. Disney+ may have Frozen II and Hannah Montana, but it's also a literal treasure trove of DCOMs that you've probably forgotten.
Because there are over 100 of them, I of course consulted with Google to guide me as I struggled to remember my favorite titles from the late 90s/early 00s. And I was horrified to discover a popular list at Vulture that ranks all of them and has the audacity to put Teen Beach Movie as No. 2, Motocrossed at No. 84, and falsely reveal Mickey Rooney as the Phantom in Phantom of the Megaplex.
To keep things short and sweet (just like all of these 90-minute movies were), I've hand-selected my 10 favorites. And no, Teen Beach Movie is not one of them. High School Musical is also not one of them because I feel like that movie transcended the DCOM classification and is in a group all its own.
---
10. The Thirteenth Year (1999)
Because puberty is hard enough without growing scales and a tail. This movie is a classic coming-of-age DCOM with mystery birth parents, kind adoptive parents, awkward girlfriends, nerdy best friends, and competitive sports.
Cody is a star swimmer who begins transitioning into a mermaid — well, merman — on his 13th birthday. He also is weirdly electrified and can climb walls like Spiderman? Turns out his mother was a mermaid who, fearing for her baby's safety, dropped him into an unsuspecting fisherman's boat. A nice couple (including Dave Coulier) adopt him, and everything is pretty normal for 13 years. When the fishy stuff starts, only Cody's BFF can put the pieces together and figure out that Cody is a mermaid.
For an extra treat, you get a glimpse of Kristen Stewart as an extra in line for the water fountain.
9. Johnny Tsunami (1999)
What happens when you take a Hawaiian surfer and stick him on the snowy slopes of Vermont? An iconic DCOM, that's what.
In typical DCOM fashion, there's family tension to launch the plotline here. Main character Johnny Kapahaala's grandfather is surfing legend Johnny Tsunami, but Johnny K.'s father doesn't approve of Johnny T.'s lifestyle. So he drags his family out of Hawaii and plops them down in Vermont to find some normalcy. Johnny K. has to go to private school, but his chill surf vibe clicks more with the public school "urchins." Cue class warfare and competitive snowboarding.
Johnny K. crushes on Emily, played by Kirsten Storms (Zenon).
8. Phantom of the Megaplex (2000)
I have no idea why the teenager in this DCOM is more interested in managing a cineplex than enjoying the movies playing there. I also have no idea why his mom makes him babysit his two younger siblings at the cineplex while he's working on the biggest night of the year (a major movie premiere) so she can go on a date. But it all leads to a very chaotic night of work for him, especially when a "phantom" begins trying to sabotage the premiere.
This movie is delightfully spooky in a harmless way and guest stars the absolute legend Mickey Rooney — who is not the phantom, as I mentioned earlier.
7. Cadet Kelly (2002)
I can still remember when this came out, practicing this very critical line over and over again with my friends:
"Ugh!"
"Ugh!"
"No!"
"Yes!"
If you can't hear that perfectly in your head, you're too young. Or old. Hilary Duff was in her absolute prime in 2002, right in the middle of the Lizzie McGuire run, and to have her star alongside Christy Carlson Romano was a Disney Channel lover's dream.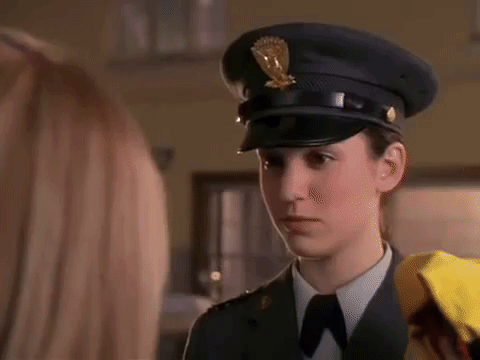 Cadet Kelly is the story of Kelly (played by Hilary), an artsy and ditzy New York teenager who's forced to go attend her stepdad's military school where she meets hard-ass Cadet Captain Stone (Christy). A lot of awkwardness and personal growth ensues.
6. The Luck of the Irish (2001)
Hello, DCOM icon Ryan Merriman! This isn't Ryan's first DCOM, but it's the first on this list, so remember the name.
The Luck of the Irish is so ridiculous that it's almost hard to explain. Ryan plays the lead character Kyle, who is just an overall very lucky dude. Good at basketball, finds random money on the street, very likable. But when his lucky coin is stolen, his good luck ends. His mother also starts speaking in a strong Irish accent and he begins shrinking? Turns out he's half-leprechaun, and that lucky coin was the only thing keeping him human! Enter his mysterious grandfather, Reilly O'Reilly.
If you think this sounds absurd in 2020, I can assure you it sounded just absurd in 2001. But it's still a Top 10 DCOM.
5. Smart House (1999)
In 1999, it seemed very far fetched that we would ever actually have robots inside our homes, placing orders for us and answering our questions. My family still makes references to Smart House in 2020 whenever Alexa does something spooky.
In this movie, teenager Ben (played again by Ryan Merriman) wins his family a new technologically advanced house. He names the Alexa-like virtual maid PAT and hopes that PAT will make his dad so happy that he'll reconsider looking for a new wife. But of course, PAT's computer programmer is more appealing to a middle-aged man than PAT herself, inspiring Ben to mess with PAT's code until she basically takes over their lives and holds them hostage inside the house. Alexa would never.
4. Freaky Friday (2003)
Any Lindsay Lohan movie is a great movie in my book, but add in Jamie Lee Curtis and you've got one of the most iconic remakes of all time. I didn't even realize that this was a Disney Channel Original Movie, but it explains why it's so excellent and timeless.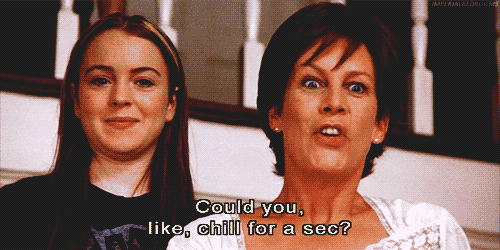 Like the Freaky Friday before it, this movie is all about a fraught mother/teenage daughter relationship. A concerned restaurant owner casts a spell so Linsday and Jamie Lee switch bodies, and they must learn to love and appreciate each other in order to reverse the spell ("Selfless love will change you back"). There's great music, a tense lead-up to a wedding, and a cougar-chasing long-haired Chad Michael Murray.
3. Brink (1998)
I don't remember inline skating being particularly cool in the 90s (or ever), but somehow Brink made an entire movie out of it.
Andy "Brink" Brinker and his crew of "Soul Skaters" have a wholesome hippie mentality when it comes to skating, which contrasts starkly with Team X-Bladz — a group of polished, sponsored skaters. But when Brink's dad loses his job and money gets tight, the appeal of skating with Team X-Bladz is too hard to resist, despite his friends' disapproval of his sell-out ways.
This movie features some of the best examples of late-90s fashion and long-haired boys. It also includes the iconic line "none-ya… none ya business," which you may have forgotten about but should use whenever anybody asks you what's in your bag.
2. Motocrossed (2001)
The sexist storyline in this DCOM absolutely would not fly today, and that makes it a wild ride to rewatch.
Motocrossed is about teenage twins: the boy (Andrew) races motocross and the girl (Andrea) cheerleads. When the two of them are racing while their parents are out of town, Andrew hurts his leg. Out of guilt and determination, Andrea disguises herself as Andrew to race in his place. There's a lot of girls-don't-race, boys-don't cry type of "lessons" in this movie, but it all ends happily when she wins the cup and the sponsorship and is rewarded for revealing her true identity.
The love interest, Dean, is played by actor Riley Smith — who now plays Ryan Hudson in the 2019 supernatural Nancy Drew show on The CW.
1. Zenon: Girl of the 21st Century (1999)
Zenon costumes have been a Halloween go-to for over 20 years now, so there's no denying this DCOM's cultural impact. Zenon lives on a space station with her family and is always getting into trouble, up to the point where she is "grounded" and sent to live on Earth with her aunt. But she discovers the owner of the space station is actually plotting to destroy it to cash in on the insurance money, and she has to return to space to save the station and her family and friends — and share a dance with the intergalactic famous rockstar, Protozoa.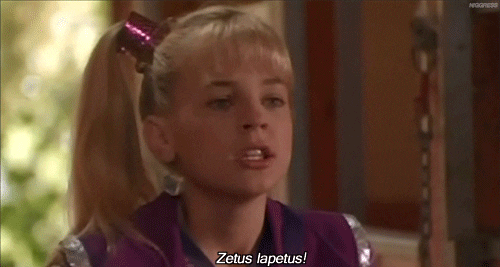 The hilarious part about rewatching this is that it came out in 1999 and was based in 2049. The creators envisioned people living up in an easily accessible space station, cities filled with monorails (a real futuristic vision for the US if you know anything about our trains), and outfits of neon and metallic pleather. But they weren't very creative with their representation of 2049 technology, with clunky 90s computers and tablets.
Honorable Mentions:
Don't Look Under the Bed (1999) — I still have nightmares from this one, which apparently is why Disney rated it PG and stopped playing it on TV
Gotta Kick It Up! (2002) — America Ferrara meets Bring It On.
Quints (2000) — Kimberly J. Brown from Halloweentown must adjust to life as the big sister to five babies.
Double Teamed (2002) — Ignore this absurd title oh my god and watch this movie of twin teenage girls who look nothing alike and sound like they're 40 and are really good at volleyball but forced to play basketball?
Jumping Ship (2001) — THE LAWRENCE BROTHERS. All three of them are stuck on a desert island after being chased down by pirates.
The Ultimate Christmas Present (2000) — This might be one of the only Christmas movies I like. Two girls (one played by Brenda Song) steal Santa's weather machine. It snows in LA. Enough said.
Any I should've added? Leave a comment below.