Roseanne A. Brown on her middle grade debut, Serwa Boateng's Guide to Vampire Hunting
"As a writer, I just love playing with the way the same concept varies across cultures and ways of thinking."
Steeped in Ghanaian folklore, Roseanne A. Browns middle grade debut, Serwa Batting's Guide to Vampire Hunting, is a brilliantly fun, action packed, vampire hunting adventure, that's just as thought-provoking as it is magical. To celebrate the release of the first book in what is set to be a truly epic new series, we had the honour of chatting to Roseanne about everything from folklore to poop jokes.
---
Hi Roseanne! We're thrilled to have you on the site today to chat all about your exciting middle grade debut, Serwa Boateng's Guide to Vampire Hunting. For readers just hearing about it, how would you describe it to them?
Thanks for having me! I like to describe Serwa Boateng's Guide to Vampire Hunting as Buffy the Vampire Slayer meets Mean Girls. My main character Serwa comes from a long line of vampire hunters trained to slay adze, a vampiric creature from Ghanaian folklore that can turn into a firefly and possess people's minds. But when a hunt goes horribly wrong, her parents decide their lifestyle is too dangerous for Serwa to join them anymore, and so she's forced to live with some non-magic relatives in Maryland while her parents finish their mission. Even worse, she'll have to go to school for the first time ever! Thus, she'll have to put all the monster hunting knowledge to use dealing with algebra and lunch cliques. And when it turned out one of the vampires has infiltrated her school, she'll have to turn a group her classmates into a lean, mean vampire-hunting dream team before they all become firefly food.
Can you tell us a little about what inspired you to write Serwa's story?
I've always loved Saturday morning cartoons, particularly shows like Sailor Moon and Teenage Mutant Ninja Turtles, where a ragtag group of misfits has to put aside their differences to save the world. But I'd never seen a story like that as a Black girl as the leader. That desire led me to write a story that was as action-packed and high stakes as the cartoons I loved growing up but with a girl who looked like me at the cneter of the adventure.
View this post on Instagram
Serwa Boateng's Guide to Vampire Hunting is stepped in Ghanaian folklore, adding a whole new level of originality to an already brilliantly unique story. Is there an aspect (be it a creature, tale or god etc.) from Ghanaian folklore you're particularly fond of or hope to feature/explore in future works?
The adze themselves are my absolute favorite creatures in the book because I've never read any other vampires like them. Like, ANYONE around you could be possessed by a vampire and you'd never know—how freaky is that?! Plus, it was so fun getting to play around with the symbolism of a firefly. In. the West, they're cute harmless insects; where I'm from, they're sinister and scary. As a writer, I just love playing with the way the same concept varies across cultures and ways of thinking.
Anansi is a Ghanaian character near and dear to my heart I haven't written yet. He's arguably the most famous being from Ghanaian folklore, but Kwame Mbalia did such great work with him in the Tristan Strong series that I decided to keep him out of this book and focus on lesser known being from our stories. But maybe one day!
As well as starring a kickass group of vampire hunting kids, magic and secrets, Serwa Boateng's Guide to Vampire Hunting also features some brilliant discussions on prejudice, racism and the importance of not ignoring the cruelty of history. How did you go about finding the balance between these very real themes and the fantastical elements?
My philosophy as someone who writes for young readers is that it's my job to simplify the reality of the world, not dumb it down. Kids live in the same world we adults do, which means they are subjected to racism, prejudice, and other forms of injustice and oppression just like us. While I don't want to write books that focus solely on struggle, I'd be doing a great disservice to the marginalized kids I'm writing for if I didn't acknowledge this reality of their lives. Especially because I remember how much the bigotry I dealt with as a kid STILL affects me!
On a writing level, it comes down to making sure these themes of heavier topics inform the fantastical elements and vice versa. The actions of a racist teacher in the book doesn't derail the vampire hunt, but it does foster a discussion on how you tell the difference between magically-compelled bigotry and your garden-variety bigotry when the impact is felt the exact same way. Bot the fantasy and the heavier themes are always first and foremost in service to the story.
View this post on Instagram
Serwa Boateng's Guide to Vampire Hunting is your debut middle grade novel. How did your experience writing YA differ to that of writing MG and did anything about the experience of writing for a younger audience surprise you?
I get to write so many more poop jokes now!
But in all seriousness, I was surprised by how easily I slipped into Serwa's voice. Her way of speaking comes so naturally to me even though it's been a looooong time since I was in 7th grade. I think part of that might be this is also my first ever contemporary fantasy. Also, I was surprised by how many plot threads I was able to fit in the book. I was worried about the story getting too confusing, but so many young readers have told me how they blew through the book in a few days and can't wait for the sequel. Being for younger readers doesn't mean your story can't be intricately woven!
Serwa Boateng's Guide to Vampire Hunting (which finished on a hugely exciting cliff-hanger!!) is thankfully only the beginning of Serwa's journey. Is there anything you can tell us about what we can expect from book two?
Book two is titled Serwa Boateng's Guide to Witchcraft and Mayhem. This book takes Serwa from the suburbs of Maryland into the heart of Washington D.C. Without spoiling Book 1, all I can promise for now is that this book has even more vampires, even more shenanigans, and dealing with your first crush when said may also be your life-long monster hunting rival. Fun times for everyone involved!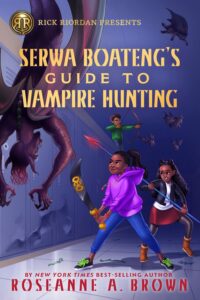 Get your copy of Serwa Boateng's Guide to Vampire Hunting by Roseanne A. Brown here.