If you're new to Pop-mas, we'll give you the lowdown. We're doing 12 straight days of fantastic giveaways leading up to Christmas! This is your chance to take home some of the best prizes in pop culture. View all the Pop-mas giveaways here.
At its core, the holiday season should be about love and acceptance, which is why we're so excited to have the opportunity to give three lucky readers the chance to win a proof copy of Vitor Martins' body positive LGBTQ+ love story, Here the Whole Time.
"Felipe gets it — he's fat. Not chubby. Not big-boned. Fat. And he doesn't need anyone to remind him, which is, of course, what everyone does. That's why he's been waiting for this moment ever since the school year began: school break. Finally, he'll be able to spend some time far away from school and the classmates who tease him incessantly. His plans include catching up on his favorite TV shows, finishing his to-be-read pile, and watching YouTube tutorials on skills he'll never actually put into practice.
But things get a little out of hand when Felipe's mom informs him that Caio, the neighbor kid from apartment 57, will be spending the next 15 days with them while his parents are on vacation. Felipe is distraught because A) he's had a crush on Caio since, well, forever, and B) Felipe has a list of body image insecurities and absolutely NO idea how he's going to entertain his neighbor for two full weeks.
Suddenly, the days ahead of him that once promised rest and relaxation (not to mention some epic Netflix bingeing) end up bringing a whirlwind of feelings, forcing Felipe to dive head-first into every unresolved issue he has had with himself — but maybe, just maybe, he'll manage to win over Caio, too."
Follow the instructions in the tweet below for your chance to win a proof copy of Here the Whole Time:
https://twitter.com/unitedbybks/status/1342824269747802112?s=20
After 12 days, we'll pick a winner at random. Good luck and Merry Pop-mas!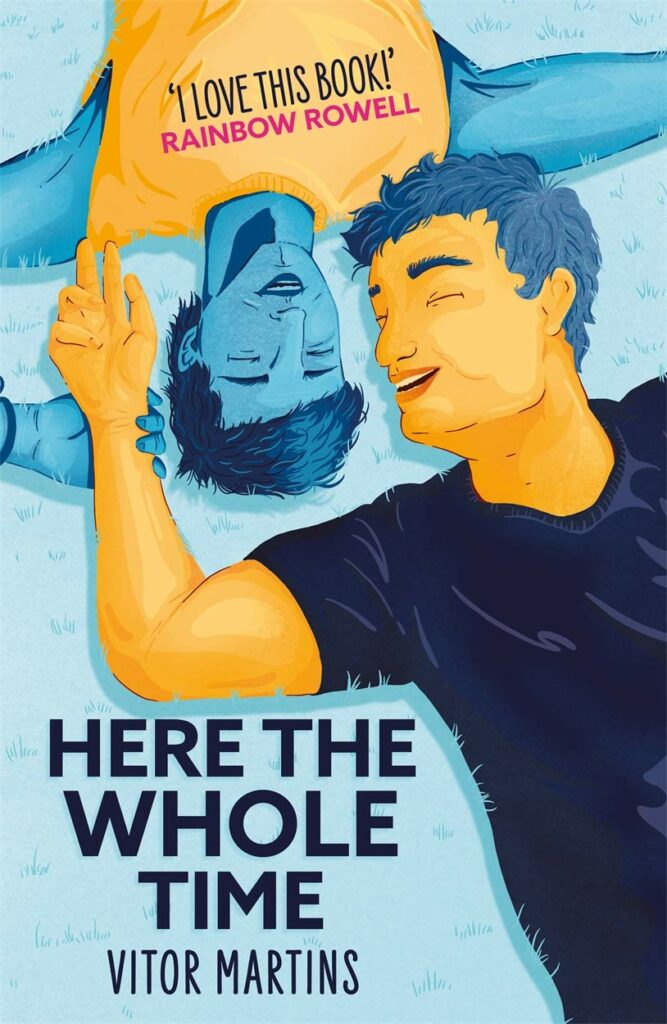 Pre-order your copy of Here the Whole Time by Vitor Martins here.
Terms & Conditions
1. No purchase necessary. A purchase of any kind will not increase your chances of winning.
2. This giveaway opens at 1:00 PM GMT on Saturday, December 26, 2020. The entry period will remain open for 12 days and close at 21:00 PM GMT on Thursday, January 7, 2021.
3. This giveaway is open to residents of the United Kingdom only.
4. Three (3) winners will be selected at random from all applicable entries. The prize consists of one (1) copy of Vitor Martins' 'Here the Whole Time' (2021)
5. Winners will be contacted via Instagram direct message by @unitedbypop after the giveaway closes. Winners must provide United By Pop with their full name and mailing address to receive their prize. If a winner fails to do so within 24 hours of being contacted, the winner forfeits their prize and a new winner will be selected.
6. Please allow up to 60 days to receive your prize due to the album release date and slower shipping speeds during the holidays. Although we make every effort to get your prize to you in a timely manner and in good condition, United By Pop is not responsible for prizes that are lost, stolen, or damaged during the shipping process.
7. This giveaway is in no way sponsored by or affiliated with Twitter, Facebook, or Instagram.