Liselle Sambury on her dark and evocative new YA horror, Delicious Monsters
"I think that's what can be so powerful about fiction. How even something made-up can connect you to real emotion."
Deeply atmospheric, chilling, and thought provoking, Liselle Sambury's debut YA horror novel, Delicious Monsters, is a ghost story, investigative thriller and family saga all mixed together to create a deliciously evocative and gripping read.
Exploring topics such as childhood trauma and society's unjust treatment Black girls, Delicious Monsters is a horror that expertly highlights the way in which the 'natural' is often just as frighteningly cruel as the 'supernatural' and to celebrate its release, we're so excited to have had the chance to talk to Liselle all about it.
---
Hi Liselle! We're thrilled to have you on the site again to chat all about your sensational new YA novel, Delicious Monsters, which I utterly adored! Do you have an elevator pitch of sorts for readers just hearing about it?
Absolutely! Delicious Monsters is about two teen girls navigating the treacherous past of a mysterious mansion ten years apart. Daisy, who can see the dead and is discovering that the house they've inherited may have almost as many secrets as her mom. And Brittney, who is determined to discover the secrets of a mansion that she has her own history with, and to expose her mom's lies at the same time. Both timelines propelling the girls toward the discovery of the most dangerous monsters of all: those that hide in plain sight.
Can you tell us a little about the inspiration behind Delicious Monsters and how the story came about?
In 2019, a friend had asked me if I'd ever thought about writing a horror novel. I'd always been obsessed with horror movies and media, and it just hadn't occurred to me to write one. I had watched the Haunting of Hill House on Netflix and been obsessed with how much the family dynamics played into their haunted house experience. I knew that I wanted to do something with that vibe. And I'd also been to a family member's cottage in Kenogamissi area and fallen in love with that setting. From there it was combining those two with a number of other things that I wanted to do with the story like showcase a single mother and daughter. And in the end, I got something with this wonderful dread that lent itself to psychological thrillers as well.
From the natural to the supernatural, there are moments throughout the book that are both incredibly disturbing and emotional to read. What was the experience writing those scenes like?
I feel like some of the disturbing scenes were almost easier because I was mostly writing things that would freak me out. And I do think it's fun to pull on my own fears and create something that truly feels unsettling. But it was more challenging to do the emotional scenes because I was not only aiming to get the feelings of the characters in that one moment, but also to draw on the reader's entire experience of them in the novel until that point. I feel like so many of those moments were about realizing something a character had been struggling with for the entire novel. And for one of those scenes, I even cried while writing because I was so attached to that character journey.
View this post on Instagram
Strong, vulnerable, determined, passionate and caring, the heroines of all three of your novels are well-rounded and complex young Black women who feel so very real, despite the supernatural situations they find themselves in. How do you go about crafting your characters and is there anything you hope your readers can take away or learn from them and their stories?
I do really try to create characters who feel like that. And so, I find that when crafting my characters I am, for one, shaping the narrative and the plot around them. I find that helps me a lot in centring their experiences and emotions throughout the book. I also try and think at a length about their history as a person up until that point and how much that affects how they experience the world. Everyone can look at the same scene and experience it in a completely different way, and I think being able to express that with your characters is a big part of what makes them feel real. And while these are fictional characters, I do hope that readers connect to the fact that many aspects of their experiences are real experiences. I think that's what can be so powerful about fiction. How even something made-up can connect you to real emotion.
If Voya from Blood Like Magic and Daisy and Brittney from Delicious Monsters were to meet, how do you think they'd get along?
I feel like Daisy and Brittney would just be another couple of Thomas cousins haha. I also feel like even though Voya and Daisy are very different characters, they do have a lot of similarities in terms of feeling out of control with regards to their futures that they could bond about. And I think both Daisy and Brittney who don't have a lot of family, would enjoy hanging out with the giant Thomas crew. And Voya might have some interesting perspectives on ghosts given that Mama Jova is technically also one.
Do you currently have any new projects in the works and if so, is there anything you can tell us about what we can look forward to reading from you next?
On June 6th, Lost in the Void, the third book in the He-Man and The Masters of the Universe Tales of Eternia series will be out, where I've written Teela's story about getting herself into a multi-dimensional pickle. I'll also be in the All These Sunken Souls anthology edited by Circe Moskowitz that comes out in October where I've written a short story about a sleepover gone wrong. Finally, I'll have another YA horror/thriller novel out in 2024. The official title is currently under wraps, but I'll be jumping back into big families, following a wealthy Black family who owns a needs-based school and the youngest brother and sister who team up when the former is being framed as a serial killer. Something the sister has her own doubts about, since he's already been charged once with murder. It's another one with a dual POV, one set in the past and one in the present like how Delicious Monsters was structured.
Finally, I have to ask: if you found yourself with the keys to a haunted house, would you use them?
I 100% would not! It's never worth it, but you can't tell characters that, they're not good listeners.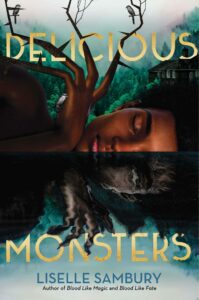 Get your copy of Delicious Monsters by Liselle Sambury here.