Lauren Muñoz on detective fiction for Gen-Z and her YA debut, Suddenly a Murder
"Every generation delights in a criminal puzzle, and Gen Z is no exception."
This post was written by Lauren Muñoz, author of Suddenly a Murder.
Every generation delights in a criminal puzzle, and Gen Z is no exception.
Puzzle culture exploded about a hundred years ago, and with it came the Golden Age of detective fiction—so called because of the proliferation of crime novels between World War I and World War II. This was the era that birthed Hercule Poirot, Lord Wimsey, Miss Marple, and other brilliant fictional detectives, many of whom have withstood the test of time to become household names.
Though Golden Age detective fiction isn't homogenous, these authors created a plot that is easily recognizable today: the country house murder. Everyone knows how these stories go. Someone gets murdered at an idyllic English country home, often with a seemingly-innocent weapon or poison found on the estate, and a clever detective arrives to unravel the lies of a group of suspects, all of whom wanted the victim dead.
This setup is so beloved that people still adapt century-old books in this genre for the screen and continue writing new works with the same elements, like the movie Knives Out and the recent horror twist on the genre, Bodies Bodies Bodies, both of which are popular with the Gen Z set. It also inspired my young adult debut, Suddenly a Murder, where seven teenagers throw a 1920s graduation party at a glamorous manor until one of them turns up dead. The detective that shows up to investigate the murder is Pilar de León, a Mexican PI who dresses like a steampunk witch and is every bit as bold and clever as Hercule Poirot.
It's no surprise that an increasing number of young adult authors writing for Gen Z are finding Golden Age mysteries to be a wellspring of inspiration. Beyond the human interest in crime and murder, many of the social elements in the books are evergreen: the backbiting, the secrets, and the lies; the comfortable suspense of watching the detective try to solve the case, knowing that she almost always will; and the envy-tinged delight of spying on the kind of wealth that gets you a gorgeous manor and enough green space to immerse yourself in nature and avoid the prying eyes of neighbors (a feeling perhaps even more compelling now, as Gen Z's ability to purchase property dwindles).
View this post on Instagram
Gen Z often gets credited with being the first influencer generation, but they might be impressed with certain authors from the 1920s, who were just as enterprising about selling their mysteries. Some of them, not satisfied with merely selling copies the usual way, created hype by serializing their books in newspapers, which then held sweepstakes worth large sums of money to see which members of the public could solve their fictional crimes. Agatha Christie, the most famous Queen of Crime, won money more than once by solving newspaper puzzles (in her husband's name).
TikTok influencers have come under increasing scrutiny for setting up camp near crime scenes, and YouTube channel hosts have been criticized for morbidly dissecting details about serial killers and unsolved disappearances, but attributing intrusive amateur sleuthing to Gen Z is to ignore the long history of public nosiness both in the U.S. and the U.K., including by a number of famous Golden Age authors. When Agatha Christie disappeared for eleven days in 1926, both Dorothy L. Sayers and Arthur Conan Doyle involved themselves in the investigation, Doyle by consulting a medium (he was a devoted spiritualist) and Sayers by turning up to the scene to look for clues (she didn't find any).
Some Golden Age authors also attempted to solve cold cases, even accepting money from tabloids to travel to crime scenes and play detective. While the sheer number of influencers today has led to important conversations about exploiting tragedy for clout and the impact of these intrusions on local communities and the families of victims, the decision by Golden Age authors to insert themselves into real murders is continued evidence that the more people change, the more they stay the same.
If you love Suddenly a Murder and want to read other Golden Age-inspired young adult mysteries, check out Truly Devious by Maureen Johnson and The Night in Question by Kathleen Glasgow & Liz Lawson, both of which feature fun teen detectives and beautiful estates with a history of murder. I also hope you seek out the original books from the 1920s and 1930s that created the country house murder phenomenon, now happily back in vogue.
*Many of my facts come from The Golden Age of Murder by Martin Edwards, an excellent compendium of information about the Detection Club.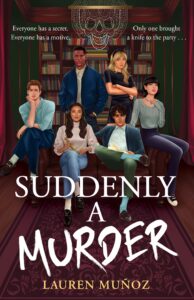 Get your copy of Suddenly a Murder by Lauren Muñoz here.