Liz Lawson and Kathleen Glasgow on their addictive new YA thriller, The Agathas
"It's fun to go on a stakeout with coffee and doughnuts; maybe less so when you return to an empty house after that stakeout."
With explorations of parental neglect and domestic abuse superbly balanced alongside teen angst, high school politics and A+ detective work, Kathleen Glasgow and Liz Lawson's new YA thriller, The Agathas, is a gripping and highly addictive teen detective story perfect for fans of A Good Girl's Guide to Murder and One of Us is Lying. 
It's funny, action packed, heartfelt and gripping to the point of being impossible to put down and we're so excited to have had the opportunity to chat to Liz and Kathleen all about it.
---
Hi Liz and Kathleen, I'm beyond excited to get to chat to you both again today, this time to celebrate your fabulous new co-written YA thriller, The Agathas. For readers just hearing of it, how would you both best sum up the book in three words?
LIZ: Fun murder mystery!
KATHLEEN: Enemies. Detectives. Friends.
Can you tell us a little about how the idea of both The Agathas and co-writing it came about?
LIZ and KATHLEEN: It was 2020 and the start of lockdown and we were feeling isolated and worried about the world. One day we began talking about Liz's love for mystery and Agatha Christie and what if we wrote something for ourselves that was fun and different and would spark joy for us as writers? Liz was fascinated by Agatha Christie's real-life disappearance and suddenly the character of Alice Ogilvie was born. And every detective needs a partner who exasperates and inspires them, and Iris grew from that. Thus, The Agathas.
What was your experience co-writing like and how did the process work?
LIZ: We outlined together and took turns writing chapters. We each had a POV, so that made it easier (I'm Alice; Kathleen is Iris). Alice's interest in Agatha Christie's disappearance and books is the jumping off point for the book and we decided it would be interesting for Alice and Iris to incorporate some of the investigative techniques from Christie novels to solve the disappearance of a classmate.
KATHLEEN: We texted a lot! Liz would text me every morning to wake me up and write an Iris chapter (we are three hours apart in time zones). We were pretty determined early on that the development of the friendship between Alice and Iris, two opposites, would be central to the story and also a mystery in itself.
View this post on Instagram
Did you come across any differences of opinions when writing in terms of the characters and the plot and if so, how did you tackle them?
LIZ: We were generally good about listening to each other's points of view and respecting each other's opinions.
KATHLEEN: Liz and I are conflict-averse, so we work it out in fiction. We had a plot disagreement once and Liz had Alice throw a phone at Iris in the book and that's basically how we learned to be flexible.
LIZ: All in service of plot, Kathleen.
As well as being a truly gripping mystery, The Agathas explores themes such as domestic violence, loneliness and money. How did you go about balancing these topics alongside the multiple exciting twists and turns of a thriller.
LIZ: Even though we wanted a fun experience for readers, we wanted to show real life issues for Alice and Iris. It was important to us for them to be well-rounded and seem like teenagers.
KATHLEEN: Liz and I mainly write contemporary realistic fiction and many of the real-life issues in the book, like domestic abuse, parental neglect and grief, are things that teens do live with in real-life. Alice and Iris are on an adventure, but real life and its problems exist, and we wanted to reflect that. It's fun to go on a stakeout with coffee and doughnuts; maybe less so when you return to an empty house after that stakeout.
If you had to create another detective duo comprising of two fictional characters other than your own, who would you each choose and why?
LIZ: Miss Marple and Hercule Poirot, two of Christie's most beloved detectives. They'd be a fascinating duo – it would be interesting to see how that dynamic would play out.
KATHLEEN: Nancy Drew and Harriet the Spy because I need pluck, determination and stubborn, messy girls when I read a mystery.
View this post on Instagram
Following on from that, if Alice and Iris decided to bring on a third member, which character from your own novels do you think would make the best detective?
LIZ: May from The Lucky Ones because she's savvy! She wouldn't be afraid of being in places where she wasn't supposed to be. Also, Chim! She's calming and good at reading people. She would be the grounding presence in a detective duo.
KATHLEEN: I would choose Charlie from Girl in Pieces because she's got nothing left to lose and therefore, is a wild card. Sometimes, you need that in a partner. Or I might pick Max DeVos from You'd Be Home Now. He's quiet, empathetic and doggedly determined. He would get a lot of investigative work done while Alice and Iris are squabbling.
Finally, whilst The Agathas came to a brilliantly satisfying conclusion, it also left room for more stories from our detective duo. Is a sequel something you might consider writing in the future?
LIZ: I can neither confirm nor deny a sequel.
KATHLEEN: Liz, just let it out.
LIZ: There might be an announcement coming soon.
KATHLEEN: Alice and Iris are not done solving the mysteries of Castle Cove!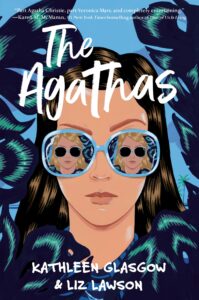 Get your copy of The Agathas by Kathleen Glasgow and Liz Lawson here.