Laura Brooke Robson on the Strong Female Heroine
"The "strong female heroine" carries a bow."
The "strong female heroine" carries a bow. She is stoic, wry, violent, sexy, and decidedly uninterested in her appearance. When we create heroines, we weld masculine forms of power to feminine bodies. The best-loved heroines of literature and myth–from Artemis to Katniss–act as aesthetic foils and emotional mirrors to male heroic tropes.
(Caveat: I still really love Artemis and Katniss.)
The heroes of Western myth and literature don't often save the world with the force of their compassion. Regardless of gender, the hero's narrative arc usually ends with violent, physical valor: the slaying of the dragon; the execution of the king; the sack of the city. As a child, I kept my feelings private. At all costs! Do not enter! I thought: If you feel things, you aren't strong.
Which is probably why I ended up writing a book about feelings and strength–and being a girl who worries the two forces live in opposition.
When I was writing The Sea Knows My Name, I read everything I could find that was described as having a strong female heroine. Here are a few that made me rethink and expand my understanding of strong.
---
A Heart in a Body in the World by Deb Caletti
Like The Sea Knows My Name, this book is told in alternating past and present timelines–a past building to a mysterious, horrible event, and a present in which the heroine grapples with the fallout. It's also a book about running. Running away; running toward. To me, this is incredible strength–finding a way to spend time in your body when you'd rather be anywhere else.
Blood Water Paint by Joy McCullough
I read this book years ago–when it first came out–but it so thoroughly impacted me that yesterday, while I was visiting an art museum, Artemisia Gentileschi was the first painter I visited. This book reaffirmed my belief in art–and writing–as both an outlet for and repository of strength.
Know My Name by Chanel Miller
This is one of my favorite memoirs (one of my favorite books) of all time. As is probably evident, I care deeply about the power of names, and of stories, and of reclaiming narratives. I was an undergrad at Stanford as Miller's story was unfolding, and this book–and her luminous voice, and her sincere clarity–has been a source of immense hope to me ever since.
Tess of the Road by Rachel Hartman
This book changed the limits I'd set on what a fantasy novel could do. Because yes, there are dragons, and yes, there is a strange and magical world, but ultimately, it is a novel about people. It's a book about first love and betrayal, about narrow definitions of femininity and masculinity both.
Why We Swim by Bonnie Tsui
I swam and played water polo in high school. Things made sense while doing freestyle. (It bears mentioning that nothing ever makes sense while doing butterfly.) This is a book about the communities that form in and around water. It's nonfiction, and it will probably make you want to go for a swim. And while you're out there–in the chlorine or between the waves–everything will go very quiet. You will be alone with yourself. And to hear yourself think isn't necessarily easy or comfortable–but it is deeply, profoundly empowering.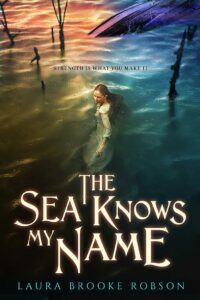 Get your copy of The Sea Knows My Name by Laura Robson here.