Jenny Oliver on the struggles of growing up and her new YA novel
"Growing up is a struggle. That's a universal truth!"
The post below was kindly written by Jenny Oliver, author of Chelsea High.
Growing up I was addicted to feel-good popular culture. From Sweet Valley Twins and Jilly Cooper to the eye-opening scenes in Shirley Conran's Lace that I stole off my older sister. I'd watch Grease on repeat, Heartbreak High, Dawson's Creek, the OC. (And more recently some obsessive watching of Riverdale!) I wanted to write something that gave you that feeling – that tension, excitement and rush of emotion.
With Chelsea High, I worked on the idea of creating a cast of young, rich kids attending an exclusive red-brick school in central London – where the sports lessons were polo, drop-off was in chauffeur driven Bentleys, and holidays were skiing in private chalets in Saint Moritz. But something was missing.
Then one day, I took a trip to Eel Pie Island which is just round the corner from where I live. Most famous for its hotel where bands like The Who, Pink Floyd and The Rolling Stones used to play, Eel Pie Island is an eclectic artists' community. Stroll across it and you'll find houses with giant ice creams on the roof next to rowers setting out for a paddle on the Thames. It's a hidden idyll in suburban London and it gave me the inspiration to introduce Norah to the Chelsea High equation…
Norah was the perfect antidote to the wealth and glossy perfection of the Chelsea High elite. She lives on a houseboat and grew up on the Bohemian Mulberry Island where everyone knows everyone. The community is like a family. There are island parties, bands, theatre and swimming in the river. An only child, Norah's really close to her parents, they're a tight-knit unit. I love their dynamic and wanted to make sure the parents were integral to Norah's life, not cardboard cut-out adult-figures.
Norah works for her mum at the weekend on a vintage clothes stall at Portobello market. But really she's a Daddy's girl. Her dad is a fun, loveable fool and a big personality on the island. He's a failed actor who has always had Hollywood aspirations. Norah idolises him and is desperate to follow in his footsteps. The stage is where they both feel at home and through the book acting goes from an aspiration/ vocation to a place of safety – the idea of slipping into someone else's shoes to escape reality.
Life on Mulberry Island is idyllic and represents the majestic perfection of childhood. Of course, everything has to go wrong! At the start of the book, Norah's dad – her hero – has been arrested as part of a Ponzi scheme to fund feature films. He's encouraged all the islanders to invest their life savings and lost it all. There's a massive backlash against him and his family. A secret heritage Norah knew nothing about is unveiled as super-rich grandparents swoop in to pay legal fees… as long as Norah becomes part of their life. And so, Norah's family houseboat is moved to exclusive Cadogan Pier, Chelsea – I loved the idea of their ramshackle houseboat complete with bunting and wind-chimes moored next to all the snazzy, sleek boats that cost over two million pounds – and Norah, like a generation of Whitakers before her, is enrolled in Chelsea High. At the heart of this book is an exploration into the end of childhood innocence… In the cut and thrust of Chelsea High, while her dad stands very public trial, Norah has to grown up fast.
View this post on Instagram
Out of place and out of her depth, Norah doesn't belong. Her life is chaos. She tries to keep a low profile but events conspire against her especially when she comes under the attention of arch nemesis Coco Summers – a rich, Queen Bee, Instagram influencer. But, of course, it wouldn't be complete without a love story… Norah is cast in the leading role of the school play and finds herself starring opposite the gorgeous, illusive Ezra Montgomery and things start to get really interesting.
I wanted this to be a love story on different levels. So the one with her family is as important as the romantic love. And we see a love story with the notion of home – so exploring the effects of nostalgia, the comfort of familiarity and an understanding that when it's impossible to go back, we have to find new ways to belong. Most importantly, Norah has to understand herself, her choices, who she's going to forgive, who she's going to trust, and who she wants to be in order to find happiness herself.
As a writer, you take things that have happened to you or situations you are familiar with and ramp them up to their highest level of conflict and excitement. I was definitely inspired by my own experiences. I went to all-girls school. There was a boys' school next door – we were separated by a wire fence! It was the cliché – it was bitchy, pushy and cliquey but could also be really fun.
I think everyone finds their own ways to survive in that environment. For me, it was in art and sport. Something that gave me a place to escape, to be myself and to have something tangible to aim for that wasn't just the top of the hierarchical ladder. For Norah, in Chelsea High, it's the theatre – on the stage. I like the idea of places where you don't have to conform. Where, as a teenager, you're given some breathing space. Where you can escape and be yourself. When those places are taken away – or invaded by the likes of Coco Summers – for Norah, it's having the courage to be herself wherever she is – however frightening and alienating that is – and to realise she has her own opinions, choices and decisions to make.
Ultimately, I wanted to shake up every aspect of Norah's life. When one bit collapses, it all falls. And then see how she puts herself back together again. In Chelsea High, Norah has to come to terms with a new order. New friends, new rules, new self.
There's something for everyone in Chelsea High. While the school is glossy and perfect, the emotions are messy and relatable. Growing up is a struggle. That's a universal truth!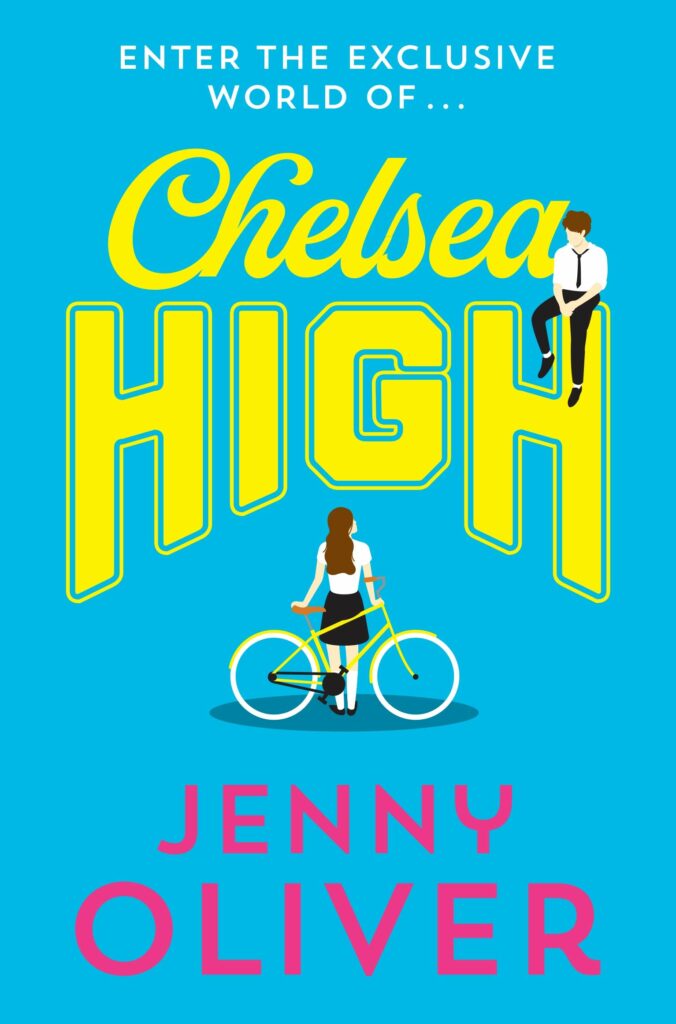 Get your copy of Chelsea High by Jenny Oliver here