Jennifer Lynn Barnes on her new YA novel, The Inheritance Games, and its TV adaptation
"I designed the entire sequence in a single day, and it remained intact through all of the revisions of the project."
With twists, turns, secrets and mysteries from the first page right up until the last, Jennifer Lynn Barnes' new YA novel, The Inheritance Games, is truly impossible to put down. It'll keep you guessing and whispering 'just one more chapter' until you realised you've devoured the whole book in no time at all.
It's safe to say, we're a little bit obsessed with The Inheritance Games, so we were very excited to have the chance to chat to Jennifer all about her inspirations, puzzle creation process and the recent announcement of an upcoming TV adaptation.
---
How would you describe The Inheritance Games using just three words?
Girl inherits billions.
What was your inspiration behind the story?
I have always been obsessed with secret passages. Years ago, when my father retired, he channelled all of his time and energy to designing a new house, and he asked every member of the family if we had any requests. I requested a secret passage, and he obliged! There is a bookshelf in the house that literally disappears into a wall if you know how to trigger the passageway. Ever since the first time I stepped through that hidden door, I have wanted to write a book about a much larger house with many more secret passageways. After the first time I did an escape room, the fictional house evolved to include not just secret passageways, underground tunnels, and the like, but also puzzles, riddles, and codes built into the house and the surrounding estate. For years, I tried to pitch my publisher on a "puzzle house" book, but it wasn't until I got the idea that the billionaire who had built this house had left it—and virtually his entire fortune—to a total stranger that The Inheritance Games really started to take shape. It made sense to me that the kind of man who would build the house I was envisioning would also leave one final puzzle upon his death, and that puzzle is the central mystery of the book: why did he leave everything to a total stranger? And why, of everyone in the world, did he choose Avery?
Look at these beauties, side by side! Two awesome covers, one twisted, secret-passage filled book about an unexpected heiress, the family whose billions SHE just inherited, the danger she's in now, & the elaborate puzzle that will answer the billion dollar question: why her? pic.twitter.com/MD5wKU5Z4Q

— Jennifer Lynn Barnes (@jenlynnbarnes) September 2, 2020
It was recently announced that a The Inheritance Games Amazon TV show is in development, can you tell us anything about that?
At the moment, I am sworn to secrecy about all of the details, but I can share the project is moving along at a fast pace, and I cannot wait to see where we end up!
What was your reaction when you first heart the news that a The Inheritance Games TV show was happening?
Josh Berman, the producer who is taking lead on The Inheritance Games, was one of the very first people (outside of my immediate publishing team) to read the book. My film agent sent the book out to producers on Friday, and first thing Monday morning, Josh called to say that he wanted to do a television adaptation of the book. I was incredibly excited! We ultimately ended up getting multiple other TV offers as well. There was a weeks-long bidding war, but the property ended up exactly where it was supposed to be: with Josh, Sony Pictures TV, and Amazon. I'm really still in disbelief to have such an incredible team behind the property. I feel extraordinarily lucky.
The riddles and clues throughout The Inheritance Games were mind boggling and so much fun! It must have been quite a task to come up with them and weave them into the story in a way that made sense?
Coming up with the puzzle sequence was one of my favorite parts of writing this book! I had already figured out the surrounding mystery—I knew the questions that would drive the book and the answers to those questions—so the puzzle sequence was the last thing I worked out before actually sitting down to write the book. I designed the entire sequence in a single day, and it remained intact through all of the revisions of the project.
I can imagine writing a story like this must have been a lot of fun? Which part of the creation process did you enjoy the most?
Besides the puzzle sequence (which was a LOT of fun, given how much I love riddles and codes), my favorite part of the writing process was probably designing the personalities of the four Hawthorne brothers. All four share a mother. They have different fathers, but their wealthy mother has never said who any of those fathers are. The four Hawthorne brothers are very tightly bonded to each other, and they're the only people in the world who really know what it was like to growing up in Hawthorne House, raised by their billionaire grandfather, who was determined to form them into something extraordinary. Every Saturday morning throughout the boys' childhoods, the billionaire would sit the four of them down and give them an elaborate "game" to solve. The brothers were raised the be extremely competitive—and that was just the tip of the ice berg of their upbringing. The fun for me was figuring out how this shared childhood could have led to four very different personalities now that the boys are grown. Every single one of them is magnetic, charming, and larger-than-life, but that's where the similarities end.
After a wonderful release day yesterday, I get to celebrate again today, because the UK version of #TheInheritanceGames is out in the world! pic.twitter.com/cN40DYS5wI

— Jennifer Lynn Barnes (@jenlynnbarnes) September 2, 2020
The cliff-hanger ending to The Inheritance Games blew my mind! Did you always know how book one was going to conclude?
I did not! I knew the end of the puzzle sequence and what Avery and the boys would discover after the puzzle was solved. But there's a key part of the ending that wasn't in the first draft—and that's the thing that everyone ends up talking about once they read.
For those of us who are already desperate for book two, can you give us any clues for what we can expect to carry us over until its release?
There is not much I can say about book two without spoiling book one, but I can say that there is another puzzle sequence, increasing danger to Avery, and a whole lot of Hawthorne family secrets.
Finally, do you think you'd have been able to solve Tobias' mystery when you were Avery's age?
I'd like to think so! I've always loved logic puzzles, and I think that skill set would have come in handy in Tobias Hawthorne's games. Beyond that, being a writer requires being able to suspend reality and come up with outside-the-box ideas, which would be a real asset in playing inheritance games, because often, the hardest part of being able to solve a riddle is to stop your mind from going to the same wrong answers over and over again.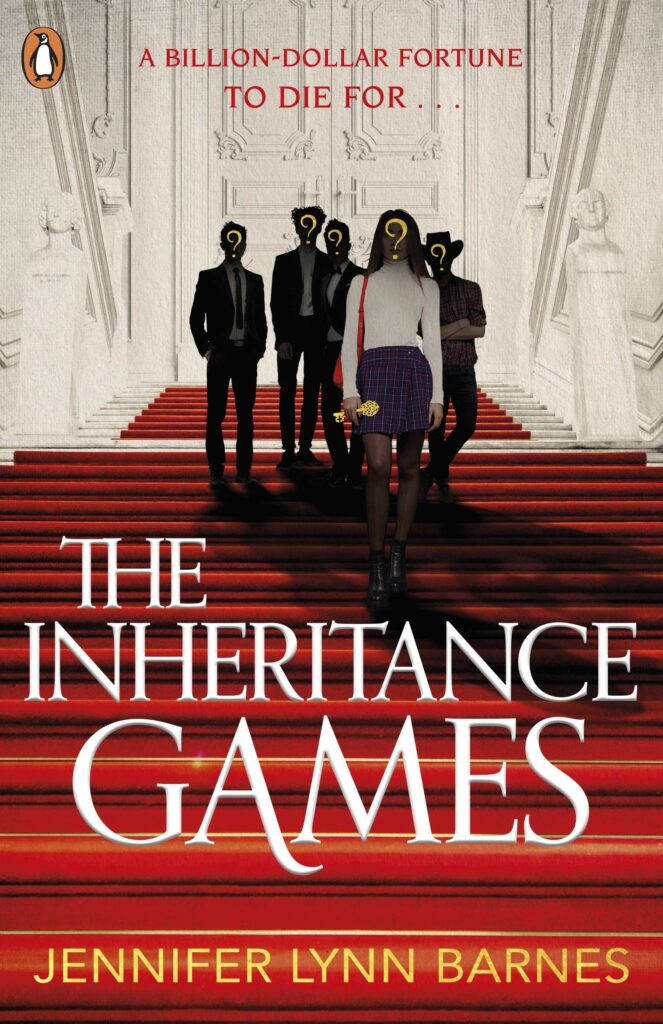 Get your copy of The Inheritance Games by Jennifer Lynn Barnes here