Ella McLeod on forcing readers to radically imagine the protagonist in Rapunzella, Or Don't Touch My Hair
Ella McLeod's debut, Rapunzella, Or Don't Touch My Hair merges poetry and prose in a stunningly lyrical exploration of a teenager coming into her power as a young woman.
Rapunzella is imprisoned in an enchanted forest made of her own Afro and the might of the evil King Charming seems unstoppable. But is it? Can Rapunzella use her power to change the future?
You're fifteen, you spend your time at school and at Val's hair salon with Baker, Val's son. The salon is a space of safety, but also of possibility and dreams… Dreams of hair so rich and alive that it grow upwards and outwards into a wild landscape, becomes trees and leaves, and houses birds and butterflies and all the secret creatures that belong in such a forest. Is there a future where such possibility and power is more than just a dream?
We chatted with Ella McLeod on her beautiful story, Rapunzella, Or Don't Touch My Hair.
——————————————————————————————————————Congratulations on the publication of your debut novel! What's the most exciting part about being an author so far?
Oh wow there have been so many exciting moments that feel totally surreal. If I had to pick I'd probably say seeing the amazing cover, designed by the even more amazing Alex Cabal. I'd fallen in love with Alex's work wayyy before I even considered it possible that she'd illustrate my book. I picked up a copy of A Song Below Water by Bethany C Morrow purely because I thought the cover was so stunning. I said to myself "wow imagine having a cover like that" never once thinking I'd be so lucky as to actually have her illustrate mine. It's like she saw inside my mind and created exactly what I wanted and more. Liam Drayne the designer at scholastic, who worked with Alex to fit my brief perfectly, is always amazing. When I spoke to him and described what I wanted my book to look like on the shelf he somehow took my incoherent babble and turned it into a master piece. Spooky, he's basically psychic.
Rapunzella, Or Don't Touch My Hair has many layers, from queer romance, to poetry, to magic, to feminism. Can you share with us how it all came together?
Over many many drafts! But I always knew that I wanted to write a fantasy/magic-realist story (because those are the ones I enjoy reading) that used magic to radically reimagine the world we live in. I'd felt really under represented in the genre for years and also felt frustrated that stories with unique magic systems, and magical creatures and so much creativity, consistently failed to imagine worlds outside of capitalism, and patriarchy and heteronormativity. It always made no sense to me- like you have dragons but no queer people? Come on!
I love how you use second-person narrative! It's so rarely-used and unique. Why did you choose this?
The honest answer is it just felt right. The english graduate answer is that in this story of radical reimagining I wanted to force the reader to radically reimagine what the "protagonist" is. Additionally there's this misconception that books with black women protagonists are unrelatable to anyone who isn't a black woman and therefore will only be read by black women. This frustrated me because no one ever said that about Harry Potter or Alex Rider or Hamlet or Oliver Twist. Quite the opposite- those are thought to be works that really speak to something intrinsically human. Because we see white straight male-ness as norm. And so by forcing all readers to physically inhabit the perspective of a young black woman, I hoped to basically laugh in the face of that idea. Yes this book is written for black women- but not exclusively. We'll see how successful I am, I suppose!
The story goes back and forth between a fairy tale setting and a modern day setting. How do you ensure the writing styles are distinct, e.g. did you write them in different writing setups or in a particular order?
Yes, I started writing them totally separately. Separate documents and days and moods. I'd even drink different wine while I was writing each (Chenin for modern day, shiraz for fairytale if anyone was wondering!). As I begin to draft and hone the story as a whole it went from being totally separate, to being slightly more connected- so I'd write them at the same time but on separate screens. And then eventually I pulled them together in totality- with the help of my amazing editors Ruth, Sophie, Gen and Yas.
Holding the physical manifestation of two years hard work in my hands. Surreal. What a feeling. Thanks a million to everyone who made this dream a reality ✨@scholasticuk #Rapunzella #WritingCommunity pic.twitter.com/Ygf99p7F3S

— Ella McLeod (@McLeod_Mouth) June 15, 2022
There is a phrase that appears a lot – "kissing teeth". Can you share with us the significance of it?
Kissing your teeth is basically sucking air through your teeth from behind pursed lips to display annoyance, frustration, anger etc. It's a very black thing- a very Afro Caribbean thing. And there are nuances- a short sharp kiss of the teeth may be mild frustration or performed frustration, done with a slightly smile. Or theres the longer, deeper, back of the throat teeth kiss, which really makes disdain clear. I don't think I've ever had conflict with my grandma, mother, Aunts or sister without one or both of us kissing their teeth.
Hair is of course an important part of this story and after stalking your Instagram, I can see that you have played with a variety of hairstyles as well and they are all very cool and gorgeous. Can you share with us your top 3 looks while writing this book?
Omg thanks! Ok so I had the big chop a few years ago having chemically straightened my hair since I was 14. As a result, I only JUST got my afro back, 12 years after not having it. And I love her. She's so much work and so hard to maintain but I guess we're alike in that way! I also love my green fulani braids and my crochet locs, they're easily top three too. Playing with my hair may be my favourite thing about being a black woman.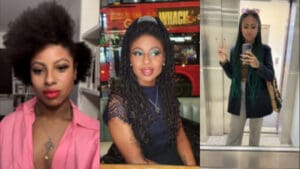 Great that you will be at YALC! What are you most looking forward to?
All of it! But I most eagerly anticipate meeting other writers- it's quite a lonely job sometimes, you don't exactly have colleagues etc, so I'm really keen to be part of the wider YA community. My best friend Áine Feeney is an editorial assistant at Gollanz and will also be on a panel so I'm excited to watch her too. But more than that I'm giddy at the thought of being on a panel with people whose work I've admired for so long. I opened for Dean Atta at a poetry night once, I queued for an age to get Nikita Gill to sign my copy of Great Goddesses. It's a real honour and privilege to appear beside them as well as Manjeet Mann, C.G. Moore and Matt Goodfellow. What a panel!
Get your copy of Rapunzella, Or Don't Touch My Hair here.