Manjeet Mann on the refugee crisis and her new YA novel in verse, The Crossing
"I wanted to make sense of what I was seeing and I wanted to do something that would help build empathy and understanding."
Exploring the refugee crisis through the eyes of two teenagers, The Crossing by Manjeet Mann is a lyrical, powerful and hopeful story that will appeal to readers of all ages. We sat down with Manjeet to talk all things writing in verse, inspirations and her thought provoking new YA novel.
---
Congratulations on the release of your new YA novel, The Crossing! For those who may not yet be familiar with its premise, how would you describe it to them in one sentence?
Two teenagers from opposite worlds, but coming together as one in a story of hope, grief and the search for a better life.
Can you tell us a little bit about your inspirations behind the book?
The seeds of the idea were sown in 2015 when I moved to the seaside town of Folkestone. A small town with growing tensions around refugees, unemployment and DFL's (Down From London people) causing gentrification. The unease was tangible and easily taken advantage off by right wing political parties. This reached a crisis point in 2018 when the number of refugees seeking safety coincided with a spate of far-right protests around the UK. Boats arriving on the shores of Folkestone and Dover were a daily occurrence and the protests in Dover turned violent and brought the town to a standstill.
I have also worked with refugee groups running drama projects for about five years. So that also played a big part. Folkestone also has, understandably, a huge channel swimming community and in 2018 a small festival in the town was showing a series of channel swimming films. This juxtaposed with stories of desperate people arriving in boats after crossing the same stretch of water and police reports into the far-right protest had my head swimming. I wanted to make sense of what I was seeing and I wanted to do something that would help build empathy and understanding.
The Crossing is an undoubtably hard-hitting read at times. What was your experience like writing it?
It was tough at times. I was always referring back to my interviews whilst writing it and the sensitivity reader I was working with would regularly send me articles and stories about refugees to keep me updated. I was also doing lots of research into the rise of the far right and homelessness. It was really harrowing at times and I remember my partner advising me to take breaks from writing as he could see how much it was affecting me.
Both your debut YA, Run Rebel Run, and The Crossing are written in verse. What draws you to this particular brand of storytelling.
Well, I am real fan of verse novels so I'm sure that had something to do with it. But at the time of writing Run, Rebel I'd also just finished touring a spoken word one woman show, that I'd also written, around the UK so I guess at the time performing and writing in verse was in my blood. It felt like a natural progression into writing a book.
I think it also appeals to the actress in me because it feels very performative.
Do you have any recommendations for readers who've loved your work and are looking for more YA verse novels?
SO many suggestions! Check out Sarah Crossan, Kwame Alexander, Jason Reynolds, Elizabeth Acevedo, Louisa Reid, Thalia Chaltas to name a few! They've all written wonderful verse novels.
View this post on Instagram
Do you have any recommendations for aspiring writers wanting to try their hand at writing in verse?
Firstly I'd recommend reading poetry. That way you can start understanding some of the rules. Once you understand the rules, you can start to break them. Read lots of YA verse novels so can see how different authors use verse to tell their stories. For example, Sarah Crossan is very emotive whereas Kwame Alexander's verse is pacey and hard hitting. Read your words out loud. This way you'll hear the bumps and kinks and the bits that pull you out of the story. Listen out for the musicality of the lines, using white space and line breaks will help with this and pacing.
Both Sammy's and Natalie's narratives are incredibly moving. Was there a character who's story came to you first or one you found easier/harder to explore?
They both came to me at the same time and they were equally clear in my mind. That may have been because I'd done about three years of research before I even put pen to paper. Once I started writing, it flowed very easily.
Despite the huge impact it has on countless lives around the world, the refugee crisis is not often discussed in YA. Do you have a theory as to why this might be and any ideas as to how readers can help change this?
That's a difficult question to answer! I have read a few YA books about the refugee crisis but they all come from the States. In the UK it feels like it's a subject that is mainly tackled in MG or younger fiction. My theory is that perhaps the 'gatekeepers' in the UK don't think it's a subject teens want to read about. I could be wrong. How can readers help change this trend? Read The Crossing! If they love it, then please shout about it and find other books with similar themes and shout about them! I can recommend The Good Braider by Terry Farish, Salt to the Sea by Ruta Sepetys, Inside Out and Back Again by Thanhha Lai and Now is the Time for Running by Michael Williams. When the industry sees that young people are interested in new voices they will hopefully take note.
Finally, are you currently working on anything new and if so, can you tell us anything about it?
I am. Book 3 is another verse novel and it's a biography of an awesome rebel woman and her gang!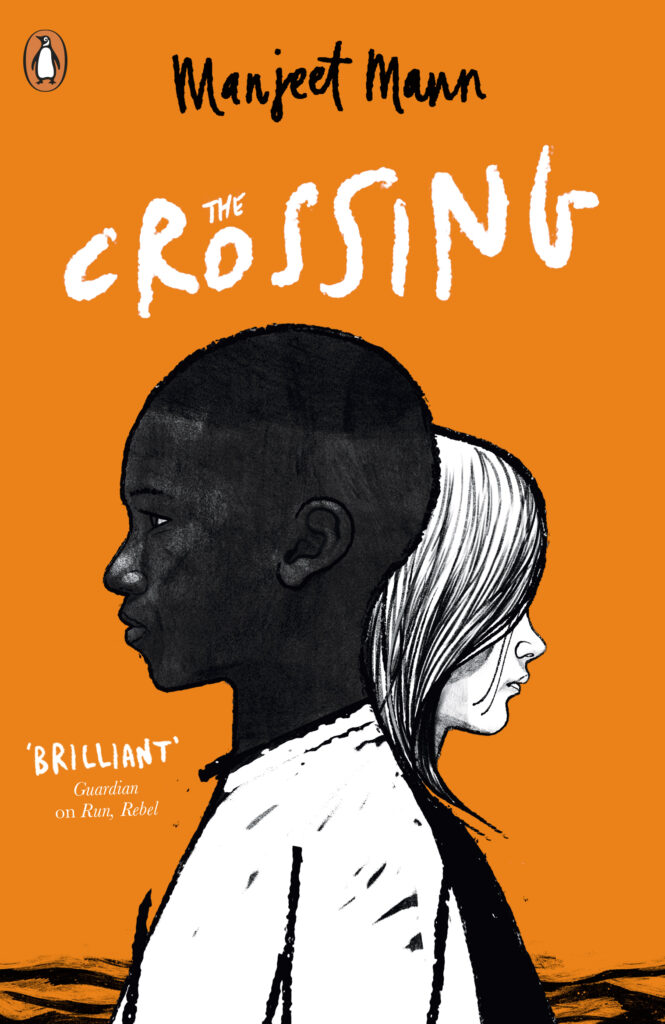 Get your copy of The Crossing by Manjeet Mann here.