25+ books by Asian authors released in 2022
From YA books that are heavily inspired by Asian folklores to biographies and translated works.
Who says Asians can only do math and science?! Many Asians, especially first-generation immigrants, often get told to squash their dreams of pursuing arts. Hence, for years, there has been almost no Asian representations at all in the media. This year, Asians are completely killing it in the book scene, and we can't even begin to express how proud we are of each and every one of these titles.
Today, we are presenting our guide to Asian books, from YA books that are heavily inspired by Asian folklores to biographies and translated works. We start with a fun middle grade book, the only MG title in this list.

Zachary Ying and the Dragon Emperor by Xiran Jay Zhao
Inspired by Yu-Gi-Oh!, Zachary Ying and the Dragon Emperor follows Zachary who has to host the spirit of the First Emperor of China for a vital mission. With the emperor botching his attempt to possess Zack's body and binding to his AR gaming headset instead, Zack must journey across China to steal magical artifacts and defeat figures from history and myth.
Yu-Gi-Oh!, meaning Game King, is a Japanese manga series that followsa boy named Yugi Mutou, who solves the ancient Millennium Puzzle. Yugi awakens a gambling spirit within his body that solves his conflicts using various games. The manga series has spawned a media franchise, with the most famous one being a trading card game. And now, moving to stories inspired by Japanese folklores, we have …

Rebel Skies by Ann Sei Lin
Kurara has never known any other life than being a servant on board the Midori, but when her party trick of making paper come to life turns out to be a power treasured across the empire, she joins a skyship and its motley crew to become a Crafter. Kurara learns to hunt shikigami – wild paper spirits who are sought after by the Princess. But are these creatures just powerful slaves, or are they beings with their own souls? We had the honour of chatting with Ann Sei Lin on paper magic being featured quite a bit in Asian mythology and culture, from Shintoism to Taoisim to Buddhism.
There are many Japanese references here, with Midori meaning green and shikigami a type of conjured beings that can possess and manipulate people on their masters' orders. And of course there's the famous origami. As the most iconic origami is crane, we now move on to the following title …

Six Crimson Cranes by Elizabeth Lim
An East-Asian inspired retelling of The Six Swans fairytale, Six Crimson Cranes follows Shiori'anma, the only princess of Kiata, as she loses control over her forbidden magic on the morning of her betrothal ceremony. The magic catches the attention of Raikama, her stepmother, and Shiori'anma's brothers get turned into cranes. Shiori searches for her brothers, and uncovers a dark conspiracy to seize the throne. Only Shiori can set the kingdom to rights, but to do so she must place her trust in a paper bird, a mercurial dragon, as well as the very boy she fought so hard not to marry.
Cranes are highly symbolic in both Chinese and Japanese culture and represent longevity and immortality because of its fabled life span of a thousand years. In Japanese legend, a person who folds one thousand origami cranes (senbazuru; literally "1000 cranes") will be granted a wish by the gods.

A Thousand Steps into Night by Traci Chee
In the realm of Awara, where gods, monsters, and humans exist side by side, Miuko is an ordinary girl resigned to a safe, if uneventful, existence as an innkeeper's daughter. But when Miuko is cursed and begins to transform into a demon with a deadly touch, she embarks on a quest to reverse the curse and return to her normal life. Aided by
a thieving magpie spirit and continuously thwarted by a demon prince, Miuko must outfox tricksters, escape demon hunters, and negotiate with feral gods if she wants to make it home again.
With her transformation comes power and freedom she never even dreamed of, and she'll have to decide if saving her soul is worth trying to cram herself back into an ordinary life that no longer fits her… and perhaps never did.
Moving on from Japanese folklore, we have the following Korean folk-inspired book:

The Girl Who Fell Beneath the Sea by Axie Oh
The Girl Who Fell Beneath the Sea is a feminist retelling of the Tale of Shim Cheong. The Tale of Shim Cheong, originally a pansori, i.e. a type of storytelling featuring a singer and a drummer, follows a girl who throws herself into the Indang Sea as a sacrifice so that her blind father can regain his eyesight.
In The Girl Who Fell Beneath the Sea, Mina throws herself in the sea to save her brother's beloved. Swept away to the Spirit Realm, Mina finds the Sea God, trapped in an enchanted sleep. With the help of a mysterious young man and a motley crew of demons, gods and spirits, Mina sets out to wake him and bring an end to the storms once and for all. But she doesn't have much time: a human cannot live long in the land of the spirits. And there are those who would do anything to keep the Sea God from waking…
Afterwards, we have the Chinese folklore-inspired stories: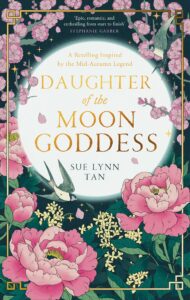 Daughter of the Moon Goddess by Sue Lynn Tan
Inspired by the story of Chang'e and Houyi, Daughter of the Moon Goddess tells of the story of Xingyin, who grew up on the moon and is unaware that her mother is being exiled for stealing the Celestial Emperor's elixir of immortality. When her existence is discovered, Xingyin is forced to flee her home. Disguising her identity, she seizes an opportunity to train in the Crown Prince's service, learning to master archery and magic. But when treachery looms and forbidden magic threatens the kingdom, she must challenge the ruthless Celestial Emperor for her dream.
The story of Chang'e and Houyi is very well known among Chinese, and it is retold every Mid Autumn Festival, which is also known as the Moon Festival. The festival is held on the 15th day of the 8th month of the Chinese lunar calendar, as it is believed the Moon is at its brightest and fullest size. Other subtle asian triats include jade and Chinese tea. Speaking of Chinese tea, we have …

A Magic Steeped in Poison by Judy Lin
The poison tea that Ning unknowingly brewed has killed her mother, and now threatens to also take her sister. When Ning hears of a competition to find the kingdom's greatest shennong-shi, she travels to the imperial city to compete. The winner will receive a favor from the princess, which may be Ning's only chance to save her sister's life.
Shennong-shi, usually translated as "Divine Farmer", was a mythological Chinese ruler who has become a deity in Chinese folk religion. He has been thought to have taught the ancient Chinese not only their practices of agriculture, but also the use of herbal drugs.

A Portrait of the Thief by Grace D. Li
(subtle) asian traits: Old Summer Palace, Chinese zodiac
Grace D. Li's debut novel follows Will Chen, a Chinese American art history student at Harvard, who has always learnt about the West taking Chinese culture .When a Chinese corporation offers him a (highly illegal) chance to reclaim five priceless sculptures, it's surprisingly easy to say yes. Will's crew, fellow students chosen out of his boundless optimism for their skills and loyalty, aren't exactly experienced criminals. Each student has their own complicated relationship with China and the identities they've cultivated as Chinese Americans.
We chatted with Grace on how "young, ambitious, adrift Chinese Americans might pull something like this off". And in another tale where the ambitious Chinese diaspora can pull off great feat, we have …

Babel by R.F. Kuang
Rebecca Kuang penned the award-winning Poppy War trilogy and she's back with Babel.
In 1828, Robin Swift, orphaned by cholera in Canton, is brought to London by the mysterious Professor Lovell. There, he trains for years in Latin, Ancient Greek, and Chinese, all in preparation for the day he'll enroll in Oxford University's prestigious Royal Institute of Translation — also known as Babel.
Babel's research in foreign languages serves the Empire's quest to colonize everything it encounters. For Robin, a Chinese boy raised in Britain, serving Babel inevitably means betraying his motherland.
Turning to another speculative historical noir, we have …

Foul Lady Fortune by Chloe Gong
Rosalind Lang cannot die. Now, desperate for redemption from her traitorous past, she uses her abilities as a spy for her country. Code name: Fortune. Rosalind's new orders are to infiltrate foreign society and identify the culprits behind the terror plot before more of her people are killed. To reduce suspicion, however, she must pose as the wife of another Nationalist spy, Orion Hong. But Orion has an agenda of his own, and Rosalind has secrets that she wants to keep buried…
Foul Lady Fortune is a speculative historical noir surrounding the events of Imperial Japan's expansion into China in the 1930s.
Set in the same time period, we have a title that is less of a YA read…

Peach Blossom Spring by Melissa Fu
It is 1938 in China and, as a young wife, Meilin's future is bright. But with the Japanese army approaching, Meilin and her four year old son, Renshu, are forced to flee their home. Relying on little but their wits, they must travel through a ravaged country, seeking refuge.
Years later, Renshu has settled in America as Henry Dao. Though his daughter is desperate to understand her heritage, he refuses to talk about his childhood. How can he keep his family safe in this new land when the weight of his history threatens to drag them down? Yet how can Lily learn who she is if she can never know her family's story?
And now we move on to some light contemporary reads. Joking, go grab some tissues because The Silence that Binds Us will destroy you.

The Silence That Binds Us by Joanna Ho
(subtle) asian traits: history of San Francisco Chinatown, model minority, Taiwanese cuisine
Maybelline Chen isn't the Chinese Taiwanese American daughter her mother expects her to be. Her brother, Danny, on the other hand, has just been admitted to Princeton. But Danny secretly struggles with depression, and when he dies by suicide, racist accusations are hurled against May's parents for putting too much "pressure" on him. May's father tells her to keep her head down. Instead, May challenges these ugly stereotypes through her writing. Yet the consequences of speaking out run much deeper than anyone could foresee. We had the honour of chatting with Joanna on first-gen families, discrimination, grief in The Silence That Binds Us.

All My Rage by Sabaa Tahir
Sabaa Tahir, author of the Ember in the Ashes series, returns with a contemporary story that tells of Misbah's dream to start a motel in the United States after an arranged marriage, and her son Sal's attempts to save the motel spiralling out of control. Subtle asian traits include Pakistani arranged marriages and Pakistani cuisine.
Here's an excerpt from our interview with Sabaa Tahir: "I was afraid to make [faith] a big part of the book. I'm a Muslim in America. I was 18 when 9/11 happened. I have felt very keenly the Islamophobia and hatred for people of my faith for the past 20 years. At the same time, the contemporary books I read that incorporate a faith system—Islam or other faiths—always felt either unforgiving or saccharine. I wanted to write about how faith can comfort and condemn, how it can be sheltering and it can be terrifying. I really wanted to write about how faith can be many things at once, and part of growing up is figuring out what faith means to us as individuals."

Ellie Pillai is Brown by Christine Pillainayagam
Most days, Ellie Pillai is somewhere between invisible, and not very cool – and usually she's okay with that. But suddenly, Ellie feels different. Maybe it's the new boy at school (who also happens to be going out with her best friend), or maybe it's her new drama teacher, the one who seems to have noticed she exists. Suddenly, her misfit style, her skin colour, and getting lost in the music in her head don't seem so bad after all…
Check out this guest post written by Christine Pillainayagam on how "reading music felt as alien to [her] as speaking Tamil – [her] parents first language, which [she] could neither speak, nor understand."

Seoulmates by Susan Lee
Hannah Cho's boyfriend and all her friends are newly obsessed with K-pop and K-dramas, and Hannah is not. After years of trying to embrace the American part and shunning the Korean side of her Korean American identity to fit in, Hannah finds that's exactly what now has her on the outs. Jacob Kim, Hannah's former best friend, is back in town, and can tell Hannah everything about K-drama – he stars in one – but can he and Hannah figure out what went wrong when they last parted and navigate the new feelings developing between them?
We had the honour of chatting with Susan Lee on her journey to embrace her own "Koreanness" and the classic K-drama trope of the "Second Lead Syndrome", where the audience falls in love with the second lead, who does not get chosen.
And here we have some honorable mentions — these are titles that are written by Asian authors, but their stories aren't necessarily the most influenced by the Asian folklore and culture. They have various degrees of Asian representations but are still a must-read nonetheless.

Only A Monster by Vanessa Len
Everything in Joan's life seems to be falling into place — she loves her nerdy job at the historic Holland House, and her super cute co-worker Nick asks her on a date.Then a Good Samaritan attempt gone wrong sends Joan spinning through time, and her life quickly begins to unravel. Her family aren't just eccentric: they're monsters, with terrifying, hidden powers. And Nick isn't just a cute boy: he's a legendary monster slayer, who will do anything to bring them down.
We chatted with Vanessa on growing up and seeing the only Asian character on screen being beaten up by the hero.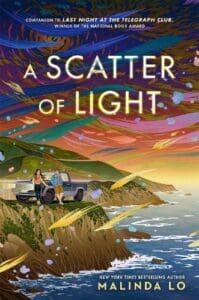 A Scatter of Light by Malinda Lo
Aria Tang West thought she'd be spending one last summer on Martha's Vineyard with her friends before starting MIT in the fall. Aria's parents, a writer and opera singer with plans of their own, send Aria to stay with her artist grandmother, Joan West, in Northern California. Although Aria has never been attracted to girls before, she finds herself drawn to Joan's gardener, Steph Nichols, an aspiring musician a few years older than Aria. The only problem? Steph isn't single; she lives with her girlfriend, Lisa. But the chemistry between Aria and Steph seems undeniable, and this will be a summer that will turn her world upside down.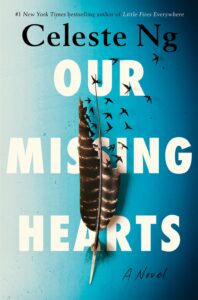 Our Missing Hearts by Celeste Ng
Twelve-year-old Bird Gardner knows not to ask too many questions about his mother and her poems, especially when authorities are now allowed to re-locate children of Asian origin.
But when he receives a mysterious letter containing only a cryptic drawing, he is drawn into a quest to find her. His journey will take him through the many folktales she poured into his head as a child, into an underground resistance network of librarians, into the lives of the many children who have been taken, and finally to New York, where a new act of defiance may be the beginning of much needed change.

Crimson Reign by Amelie Wen Zhao
Book 3 of the Blood Heir trilogy was released earlier this year. To avoid spoilers, we are telling you what book 1 is about: Princess Anastacya Mikhailov of Cyrilia has lived her life in safety, hidden behind palace walls. But when she is framed for her father's brutal murder, she must leave behind everything she has ever known to find his killer and prove her innocence. And there is only one person corrupt enough to help her – Ramson Quicktongue. A cunning, silver-tongued crime lord of the Cyrilian underworld, Ramson has his own sinister plans – though he might have met his match in Ana. Because in this story, the princess might be the most dangerous player of them all. Here's a guest post written by Amelie Wen Zhao for us on creating a morally grey character.

Violet Made of Thorns by Gina Chen
Violet is a prophet and a liar, influencing the court as Seer with her cleverly phrased – and not always true – divinations. After the king asks her to falsely prophesy Prince Cyrus's love story for an upcoming ball, Violet awakens a dreaded curse about the prince's future bride. Her wits may protect her in the cutthroat court, but they can't protect her against fate – nor the doomed attraction growing between her and the prince…

The Darkening by Sunya Mara
Prince Dalca was born for one purpose: to protect his home from the Storm, a deadly force that surrounds his city and curses everyone it touches. Vesper Vale is the daughter of failed revolutionaries. Since the Queen sentenced her mother to death by the Storm, she and her father have been on the run. So when the queen's soldiers – led by Prince Dalca – catch up to Vesper's father, she will do whatever it takes to save him from sharing her mother's cruel fate. But when Vesper learns that there's more to the story of her mother's death, she has little choice: trust the devious prince with her family's secrets, or follow her mother's footsteps into the Storm …
After all of these fiction titles, we now present two biographies from two of the most beloved Asian actors, Simu Liu and Constance Wu.

We Were Dreamers by Simu Liu
Before being Marvel's first Asian superhero, ShangChi, Simu Liu starred in the hit Canadian comedy show Kim's Convenience. Where Kim's Convenience sheds light on the life and family dynamics of immigrants, We Were Dreamers tells Simu's own story. Even if we aren't all famous actors, this is a heartfelt story about feeling disconnected from parents who have different culture, language and values; one that many of us can relate to.

Making a Scene by Constance Wu
Being the star of Fresh Off the Boat and Crazy Rich Asians, Constance Wu quickly became the face of Asian Americans. This came, however, with great pressure, and high scrutiny. In Making a Scene, a subtle nod to both her career and speaking out as an Asian woman, Constance tells hilarious and raw stories about growing up, scraping by as a struggling actress and confronting the society. She has done several TV interviews about this book, and you can watch her speaking at the Atlantic Festival here.
Here, we move to some translated works. We aren't giving translated works enough praise but here are two titles to get you started.

Before Your Memory Fades by Toshikazu Kawaguchi
The third novel in the international bestselling Before the Coffee Gets Cold series, this follows four new customers in a cafe where customers can travel back in time.
A daughter who begrudges her deceased parents for leaving her orphaned, a comedian who aches for his beloved and their shared dreams, a younger sister whose grief has become all-consuming, and a young man who realizes his love for his childhood friend too late —
Turning from this wholesome and heart-warming read, we now have the freakiest title…

Life Ceremony by Sayaka Murata
Written by Sayaka Murata, author of the international bestseller Convenience Store Woman, Life Ceremony is a wild ride(, which should be clear from the cover of the book itself).
An engaged couple falls out over the husband's dislike of clothes ; a young girl finds herself deeply enamoured with the curtain in her childhood bedroom; people honour their dead by eating them and then procreating. Published in English for the first time, this edition also includes the story that first brought Sayaka Murata international acclaim: 'A Clean Marriage', which tells the story of a happily asexual couple who must submit to some radical medical procedures if they are to conceive a longed-for child.
We hope this inspires you to pick up some of the books from the list.