This post is sponsored by Bloomsbury UK.
Following Syrian teen and aspiring pharmacist, Salama, as she finds herself torn between her loyalty to her country, her determination to survive and her love for a boy she was supposed to meet before war ravaged her beloved country, As Long as the Lemon Trees Grow by Zoulfa Katouh was unquestionably one of the most beautiful and devastating reads to come out of 2022. Gut wrenching, powerful stunningly written, As Long as the Lemon Trees Grow is a read that, nearly a year after its hardback release, has proved itself to be truly impossible to forget.
To celebrate the release of the gorgeous new paperback edition for As Long as the Lemon Trees Grow, today we're sharing ten emotional reads that are guaranteed to have you simultaneously weeping into their pages and falling in love with their stories.
---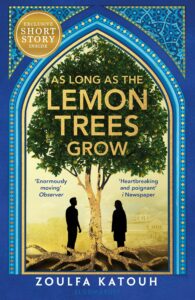 As Long as the Lemon Trees Grow by Zoulfa Katouh
Salama Kassab was a pharmacy student when the cries for freedom broke out in Syria. She still had her parents and her big brother; she still had her home. She had a normal teenager's life.
Now Salama volunteers at a hospital in Homs, helping the wounded who flood through the doors daily. Secretly, though, she is desperate to find a way out of her beloved country before her sister-in-law, Layla, gives birth. So desperate, that she has manifested a physical embodiment of her fear in the form of her imagined companion, Khawf, who haunts her every move in an effort to keep her safe.
But even with Khawf pressing her to leave, Salama is torn between her loyalty to her country and her conviction to survive. Salama must contend with bullets and bombs, military assaults, and her shifting sense of morality before she might finally breathe free. And when she crosses paths with the boy she was supposed to meet one fateful day, she starts to doubt her resolve in leaving home at all.
Soon, Salama must learn to see the events around her for what they truly are—not a war, but a revolution—and decide how she, too, will cry for Syria's freedom.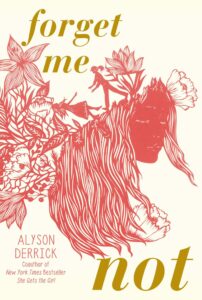 Forget Me Not by Alyson Derrick
What would you do if you forgot the love of your life ever even existed?
Stevie and Nora had a love. A secret, epic, once-in-a-lifetime kind of love. They also had a plan: to leave their small, ultra-conservative town and families behind after graduation and move to California, where they could finally stop hiding that love.
But then Stevie has a terrible fall. And when she comes to, she can remember nothing of the last two years—not California, not coming to terms with her sexuality, not even Nora. Suddenly, Stevie finds herself in a life she doesn't quite understand, one where she's estranged from her parents, drifting away from her friends, lying about the hours she works, dating a boy she can't remember crushing on, and headed towards a future that isn't at all what her fifteen-year-old self would have envisioned.
And Nora finds herself…forgotten. Can the two beat the odds a second time and find their way back together when "together" itself is just a lost memory?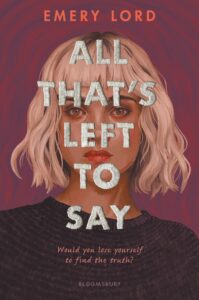 All That's Left to Say by Emery Lord
On prom night, Hannah MacLaren sits in the headmaster's office in her fanciest dress, soaked to the bone. She is in huge trouble after pulling the fire alarm right as the prom was about to be crowned. But Hannah had her reasons . . .
One year ago, her cousin Sophie, who was also her best friend and the person she loved most in the world, died of an overdose. Drowning in grief, Hannah became obsessed with one Who gave Sophie those pills? Who is refusing to give her family the closure they deserve?
Then she concocted a enroll at her cousin's fancy private school with a new look and a mouthful of lies, and finally uncover the truth.
But Hannah didn't expect all the lines to blur. She didn't expect Sophie's friends to be so complicated. She didn't expect to fall for her longtime enemy. Now, she must choose to either let herself really mourn Sophie and move on, or see her search through to its explosive end–even if it means destroying herself.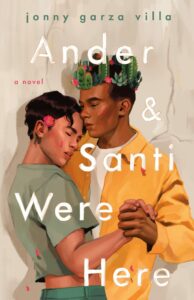 Ander & Santi Were Here by Jonny Garza Villa
The Santos Vista neighborhood of San Antonio, Texas, is all Ander Martínez has ever known. The smell of pan dulce. The mixture of Spanish and English filling the streets. And, especially their job at their family's taquería. It's the place that has inspired Ander as a muralist, and, as they get ready to leave for art school, it's all of these things that give them hesitancy. That give them the thought, are they ready to leave it all behind?
To keep Ander from becoming complacent during their gap year, their family "fires" them so they can transition from restaurant life to focusing on their murals and prepare for college. That is, until they meet Santiago López Alvarado, the hot new waiter. Falling for each other becomes as natural as breathing. Through Santi's eyes, Ander starts to understand who they are and want to be as an artist, and Ander becomes Santi's first steps toward making Santos Vista and the United States feel like home.
Until ICE agents come for Santi, and Ander realizes how fragile that sense of home is. How love can only hold on so long when the whole world is against them. And when, eventually, the world starts to win.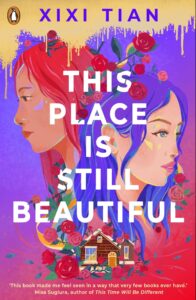 This Place is Still Beautiful by Xixi Tian
Despite having had near-identical upbringings, sisters Annalie and Margaret agree on only one thing: that they have nothing in common. Nineteen-year-old Margaret is driven, ambitious, and keenly aware of social justice issues. She couldn't wait to leave their oppressive small-town home and take flight in New York. Meanwhile sweet, popular, seventeen-year-old Annalie couldn't think of anything worse – she loves their town, and feels safe coasting along in its confines.
That is, until she arrives home one day to find a gut-punching racial slur painted on their garage door.
Outraged, Margaret flies home, expecting to find her family up in arms. Instead, she's amazed to hear they want to forget about it. Their mom is worried about what it might stir up, and Annalie just wants to have a 'normal' summer – which Margaret is determined to ruin, apparently.
Back under each other's skins, things between Margaret and Annalie get steadily worse – and not even the distraction of first love (for Annalie), or lost love (for Margaret) can bring them together.
Until finally, a crushing secret threatens to tear them apart forever.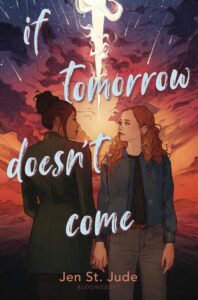 If Tomorrow Doesn't Come by Jen St. Jude
Avery Byrne has secrets. She's queer; she's in love with her best friend, Cass; and she's suffering from undiagnosed clinical depression. But on the morning Avery plans to jump into the river near her college campus, the world discovers there are only nine days left to an asteroid is headed for Earth, and no one can stop it.
Trying to spare her family and Cass additional pain, Avery does her best to make it through just nine more days. As time runs out and secrets slowly come to light, Avery would do anything to save the ones she loves. But most importantly, she learns to save herself. Speak her truth. Seek the support she needs. Find hope again in the tomorrows she has left.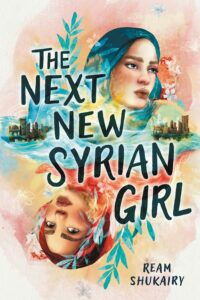 The Next New Syrian Girl by Ream Shukairy
Khadija Shami is a Syrian American high school senior raised on boxing and football. Saddled with a monstrous ego and a fierce mother to test it, she dreams of escaping her sheltered life to travel the world with her best friend.
Leene Tahir is a Syrian refugee, doing her best to adjust to the wildly unfamiliar society of a suburban Detroit high school while battling panic attacks and family pressures.
When their worlds collide the result is catastrophic. To Khadija, Leene embodies the tame, dutiful Syrian ideal she's long rebelled against. And to Leene, Khadija is the strong-willed, closed-off American who makes her doubt her place in the world.
But as Khadija digs up Leene's past, a startling and life-changing discovery forces the two of them closer together. As the girls secretly race to unravel the truth, a friendship slowly and hesitantly begins blooming. Doubts are cast aside as they realize they have more in common than they each expected. What they find takes them on a journey all the way to Jordan, challenging what each knows about the other and herself.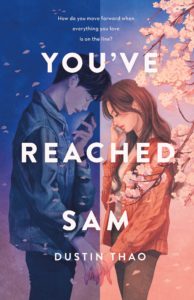 You've Reached Sam by Dustin Thao
Seventeen-year-old Julie has her future all planned out—move out of her small town with her boyfriend Sam, attend college in the city, spend a summer in Japan. But then Sam dies. And everything changes.
Heartbroken, Julie skips his funeral, throws out his things, and tries everything to forget him and the tragic way he died. But a message Sam left behind in her yearbook forces back memories. Desperate to hear his voice one more time, Julie calls Sam's cellphone just to listen to his voicemail.
And Sam picks up the phone.
In a miraculous turn of events, Julie's been given a second chance at goodbye. The connection is temporary. But hearing Sam's voice makes her fall for him all over again, and with each call it becomes harder to let him go. However, keeping her otherworldly calls with Sam a secret isn't easy, especially when Julie witnesses the suffering Sam's family is going through. Unable to stand by the sidelines and watch their shared loved ones in pain, Julie is torn between spilling the truth about her calls with Sam and risking their connection and losing him forever.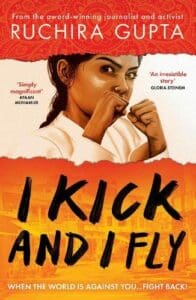 I Kick and I Fly by Ruchira Gupta
On the outskirts of the Red Light District in Bihar, India, fourteen-year-old Heera is living on borrowed time until her father sells her into the sex trade to help feed their family and repay his loans. It is, as she's been told, the fate of the women in her community to end up here. But watching her cousin, Mira Di, live this life day in and day out is hard enough. To live it feels like the worst fate imaginable. And after a run-in with a bully leads to her expulsion from school, it feels closer than ever.
But when a local hostel owner shows up at Heera's home with the money to repay her family's debt, Heera begins to learn that fate can change. Destiny can be disrupted. Heroics can be contagious.
It's at the local hostel for at risk girls that Heera is given a transformative opportunity: learning kung fu with the other girls. Through the practice of martial arts, she starts to understand that her body isn't a an object to be commodified and preyed upon, but a vessel through which she can protect herself and those around her. And when Heera discovers the whereabouts of her missing friend, Rosy, through a kung fu pen pal in the US, she makes the decision to embark on a daring rescue mission to New York in an attempt to save her.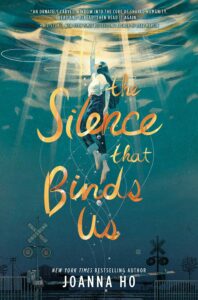 The Silence that Binds Us by Joanna Ho
Maybelline Chen isn't the Chinese Taiwanese American daughter her mother expects her to be. May prefers hoodies over dresses and wants to become a writer. When asked, her mom can't come up with one specific reason for why she's proud of her only daughter. May's beloved brother, Danny, on the other hand, has just been admitted to Princeton. But Danny secretly struggles with depression, and when he dies by suicide, May's world is shattered.
In the aftermath, racist accusations are hurled against May's parents for putting too much "pressure" on him. May's father tells her to keep her head down. Instead, May challenges these ugly stereotypes through her writing. Yet the consequences of speaking out run much deeper than anyone could foresee. Who gets to tell our stories, and who gets silenced? It's up to May to take back the narrative.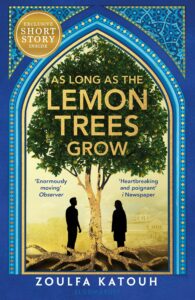 Get your copy of As Long As The Lemon Trees Grow by Zoulfa Katouh here.