Jonny Garza Villa on their beautiful new YA novel, Ander & Santi Were Here
"What I wanted, from the start, was a story where queerness was not the trauma or the plot or a point of contention in the story"
Tender and poignant, Jonny Garza Villa's newest YA novel, Ander & Santi Were Here is an unapologetically queer, Latinx love story that explores immigration and the fear that comes with alongside having an undocumented loved one, with all the wit, humour, compassion and heart Jonny excels in. Ander & Santi Were Here is a story of family, culture, passion, injustice and identity that will leave you believing in the power of love in all its various forms more than ever before. To celebrate the release of their powerful and moving new book, we're delighted to have had the chance to talk to Jonny all about it.
---
Hi Jonny! I am so thrilled to have you on the site again today, this time to chat all about your stunning new novel, Ander & Santi Were Here. Before we get started, for readers just hearing about Ander & Santi Were Here, how would you best describe it to them?
Thrilled to be back! I think, first and foremost, Ander & Santi Were Here is a story of love—romantic, platonic, familial, of community (especially San Antonio, Texas), and of yourself and your worth and what you give to the world—centering Ander, a non-binary muralist taking a gap year before heading off for college, who falls for the newest waiter at their family's taquería. Cuteness and trauma ensues.
This is the first time we're chatting since the release of your debut novel, Fifteen Hundred Miles from the Sun, in 2021. How has post debut life been treating you?
I think realizing that, like, writing is fully my job is something my brain has mostly been able to comprehend now. What hasn't, though, is those little moments where I still catch my books lined up on my shelf and think, "This is the coolest thing in the world." which is a sentiment I hope never goes away. I think the same whenever I get to go to book festivals in Charleston and Santa Monica and Corpus Christi and right here at home in San Antonio and get to talk to readers and am receiving a Pura Belpré Honor for the very first book I've ever written. In short, I feel very blessed to be here.
View this post on Instagram
Can you tell us a little about your inspirations and how story of Ander & Santi Were Here came about?
A book that largely takes place in a taquería had always been in the mental shelf of ideas post-writing my first book and realizing this is a thing I could accomplish. But what really had me sit myself down and say, "This is going to be book two," started in January 2020 with the publication of American Dirt, and wanting to write a book that could cover a serious topic like immigration but also be written by and for my community. And as 2020 kept going, the inspirations kept coming: the pandemic shutting down the world and I couldn't go to my favorite taquería; an election year where the livelihood of brown people and especially the idea of who Mexican people are in the United States was at stake; a year that saw the Black Lives Matter movement; the year Gentefied and I'm No Longer Here came on Netflix. All of these things and the way it influenced how I saw the outside world had a part in what Ander & Santi Were Here became.
Ander & Santi Were Here is unapologetically queer and Latinx, something that isn't all that common to see in fiction and the media in general. How does it feel knowing you're able to put this representation both into the world and the hands of readers, many of whom won't have seen their full selves within the pages of a book before now?
What I wanted, from the start, was a story where queerness was not the trauma or the plot or a point of contention in the story and, again, one that was written for my community—fellow Mexicans and Chicanes—in mind first. I wanted a story where Ander has been raised by a family and a community that embrace them, that use the right pronouns in English and in Spanish, that drag the hell out of them when needed, but love them unconditionally and show how that forms a young person who is passionate and loving back and confident. I also wanted to, through this same decision, step away from the idea that we need a queer main character who is, from page one, either our ideal standard of queerness and a role model for all or we are seeing them being put through it horribly. I wanted not queer ideal or queer trauma but queer normalcy and for readers to just get to vibe with Ander for a while and get to know who they are and maybe see how they can take the quiet and lovely moments in their own lives and see the beauty in them.
I won't lie, Ander & Santi Were Here broke me a couple of times whilst reading (in all the best ways). What was your experience writing it like?
The best outcome I could've hoped for! I've been telling this little tidbit of behind the scenes info to readers while on tour, but originally Ander & Santi Were Here was not going to be what we would define as a romance (i.e., there wasn't going to be a HEA/HFN ending). One, I felt like the most realistic outcome of this story, when considering real life, isn't one that ends romantically or gets a happily ever after. And, two, I sort of thought of myself as entering my "Adam Silvera era." I realized very quickly that wasn't me, so, of course, this book is by definition a romance, but having to consider exactly what that would mean, how I get to the most appropriate ending for these two young people and especially Santi, and doing so without glamorizing the potential of a world to just stop hating immigrants, wasn't easy. But as someone who writes what I might call highly emotional books, leaning on the cute parts and the hand holding scenes are my key to pushing through it. Ensuring that light and love are always there.
View this post on Instagram
Ander & Santi Were Here features some 10/10, mouth-watering, hunger inducing taquería content. Do you have a go-to taquería order or a must try recommendation?
Right now I'm very into asada con rajas y queso, which is basically, like, flank steak with chiles, mostly jalapeño and bell pepper, and covered in cheese, and then drenched in salsa verde. Also, as a Texan, I have to say that you can never go wrong with breakfast tacos. But if it's after a late night, I'm actually very much a milanesa torta person.
If Ander and Santi and Julián and Mat from you debut novel, Fifteen Hundred Miles from the Sun, were to meet, do you think they'd get on and what do you think they'd do together?
I think they'd all get along. Ander is someone Jules would've looked up to and maybe idealized, as a person who's always been allowed to be themself, and their extrovertedness would compliment Mat's. But I also think they would get along very well with Santi; Mat as someone who is very compassionate as a person and Jules would probably kick a soccer ball around and do some serious cooking with him. Lots of eating and lots of adventuring.
Finally, do you currently have any projects in the works and if so, is there anything you can share with us?
Yes, so my third young adult novel, Canto Contigo, comes out (as of now) April 2024. Another contemporary with a dash of magical realism, it's in part my grief novel dedicated to my grandfather who lived with Parkinson's for many years and was a mariachi, and in part a rivals-to-lovers story that I describe as all about the epic highs and lows of high school mariachi starring a main character who fully believes himself to be the main character and God's gift to mariachi and who moves to San Antonio his final year of high school, fully expecting to be given the lead vocalist spot of his new group. What he gets instead is a current lead who has no plans on giving up his spot and who has a very familiar looking (and very kissable) face.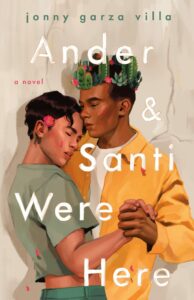 Get your copy of Ander & Santi Were Here by Jonny Garza Villa here.