Every year we're left reeling from the most outrageous looks from the Met Gala. It's a lot to take in—every celebrity on the planet showing up in an unlikely ensemble, turning heads on the red carpet. This year's theme was Camp—defined by Susan Sontag and further explained by The New York Times as, "Sensibility that is plain to see but hard for most of us to explain: an intentional over-the-top-ness, a slightly (or extremely) "off" quality, bad taste as a vehicle for good art."
Perhaps the most exciting part of 2019's Met Gala is its co-chairs. Lady Gaga, Harry Styles, Serena Williams, Alessandro Michele, and Anna Wintour have all lent a hand in making one of fashion's biggest nights shine.
But like most loyal fans, we were left wondering—what will Harry Styles wear? Known for cranking out his most flamboyant suits during his last world tour, all eyes were on him. It's no surprise we adored every aspect of his perfectly made outfit—here's why.
1. That flawless manicure.
While Styles has been known to get a manicure or two, this time he went all out. He showed off black and teal nails, along with each finger revealing his signature rings.
2. Sheer, sheer, sheer.
The former boybander has always had an affinity for revealing clothing and this time, he didn't disappoint. It brought us back to the good ol' days when we grew accustomed to Styles' usual unbuttoned, chest-out look. Not to mention, we get a peek of all his eccentric tattoos.
Here's a video of Harry Styles' back, just in case y'all wanted that too. Xoxo. #MetGala pic.twitter.com/27OSdZo71k

— MTV (@MTV) May 6, 2019
3. Frills, lace, and everything in between.
The frills and lace—probably the most beautiful part of Styles' getup. The detail and intricacy are to die for, staying true to the pop star's passion for traditionally feminine trends.
4. High-waisted pants are the only way to go.
Along with the sheer, frilly Gucci top, came sleek high-waisted trousers. The HS1 era allowed Styles to steer away from his usual skinny jean phase and we're grateful for it. No one can pull it off better than him.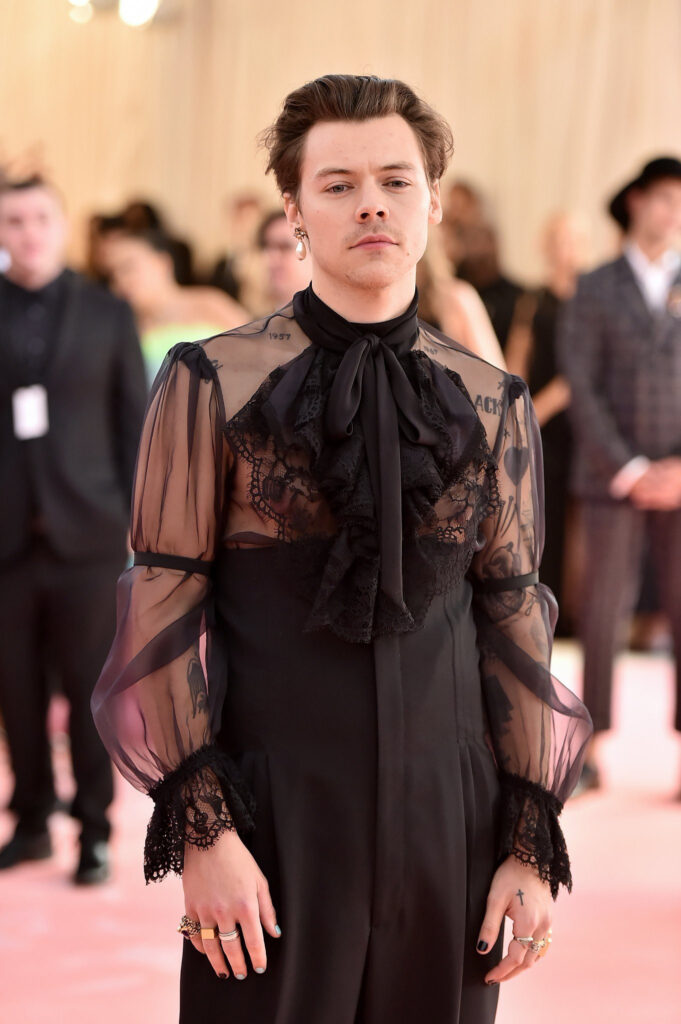 5. One more thing about the pants: pleated?
Never really thought we'd get excited about pleated pants but here we are. Enough said.
6. Boots. High-heeled boots. 
Styles is no stranger to the out-of-the-box boot. Perhaps that was his first step into adventurous fashion choices. We'll never forget his iconic gold, sparkly boots. But after getting a glimpse at these black high-heeled booties, they might be our new favorite.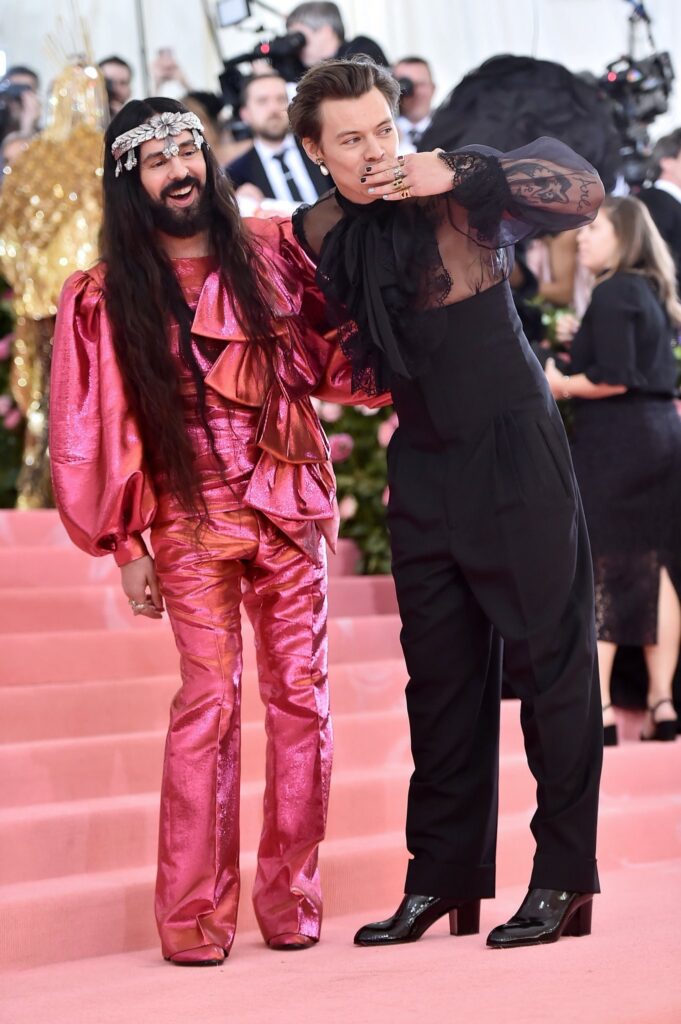 7. Boy with a pearl earring.
Now we all remember when Styles dared to wear a cross earring during a One Direction performance in 2013—the internet collectively lost their minds. Sadly, it was only a mere clip-on. But Styles has taken the plunge and finally pierced his ear, showing it off by donning a lone pearl earring, giving Johannes Vermeer's painting a run for its money.
Girl with a. Harry Styles —
Pearl Earring — Met Gala,
Johannes Vermeer, 2019
1665 ca.#MetGala pic.twitter.com/COEpYBpVFt

— tokyo narita (@liltrovble) May 6, 2019
8. That signature self-confidence.
We can't conclude this list without getting a little sappy. Styles has come a long way from the impressionable young teen in his early One Direction days. He went from worrying about social media haters to becoming one of Gucci's new faces. He emanates an aura of self-love we can only hope to obtain. We've thoroughly enjoyed watching Styles' epic transformation—his Met Gala debut is barely the beginning.
Featured image source: Getty Images