Can you believe it's been already a year since Harry Styles released 'Lights Up', the lead single from his record-breaking critically acclaimed sophomore album Fine Line? And that he also dropped a music video that definitely needed warning? And that he did that out of nowhere, without any teaser or prior announcement? And that all of this happened at 6 am for our unlucky European selves??? Well, to be honest, the answer to the latter is sadly yes. We are used to being mistreated 💔
October 2019 officially marked the beginning of Harry's new era and of course, he had to go and do it in the Harriest way possible.
While all around the world some mysterious black and white posters with the caption "DO YOU KNOW WHO YOU ARE?" – in addition to the acronym "TPWK", which had appeared on his tour merchandise and was slowly becoming Harry's brand, and the logo of his music label, Columbia Records – started popping up in the streets, Styles came online and broke Twitter, the Internet and us all by unexpectedly tweeting just one word.
Do

— Harry Styles. (@Harry_Styles) October 5, 2019
Later, he's stated that he didn't even remember doing that: "Can I be really honest? I was half asleep and I don't remember sending it. I was half asleep, I woke up, was like 'Oh I'm going to do a thing for the song coming out.' And then I went back to sleep and when I woke up my manager was like 'What are you doing?', I was like 'I don't know. I'm sorry.' So yeah, I don't exactly remember doing it, but it felt harmless."
Harmless he said as if he didn't almost end our existences with one single syllable. That, paired with the posters, also gained a new meaning. The amount of "DO WHAT" tweets that fans started to flood his mentions with was so big that it got trending no. 1 worldwide.
A few days later, on World Mental Health Day, after encouraging a fan to prioritise their mental health over his rumoured upcoming – lmao we really thought – tour ("Go to therapy, it's important. I'll wait for you."), he launched the doyouknowwhoyouare.com website where fans could, and still can get personalized compliments and positive messages that would make them feel loved and appreciated. Once again, such a Harry thing to do! ❤️
And then, on October 11th, Styles finally released the first single that started the Fine Line era. Out of the blue, it only took him three posts on Instagram and four words – "LIGHTS UP. Out now." – to literally make all his fans drown (in their tears) as he was in one of said pictures.
The thoughtful pop R&B-leaning ballad, loaded with psychedelic grooves, is a bit of a departure from Styles' debut single 'Sign Of The Times', the over six minutes soft rock ballad which followed an unexpectedly early '70s sound. It's more radio-friendly and way shorter, but it still impressed everyone and received great public acclaim nonetheless: it counts over 375 million streams on Spotify and among many other countries, it was certified Platinum in the US and Gold in the UK.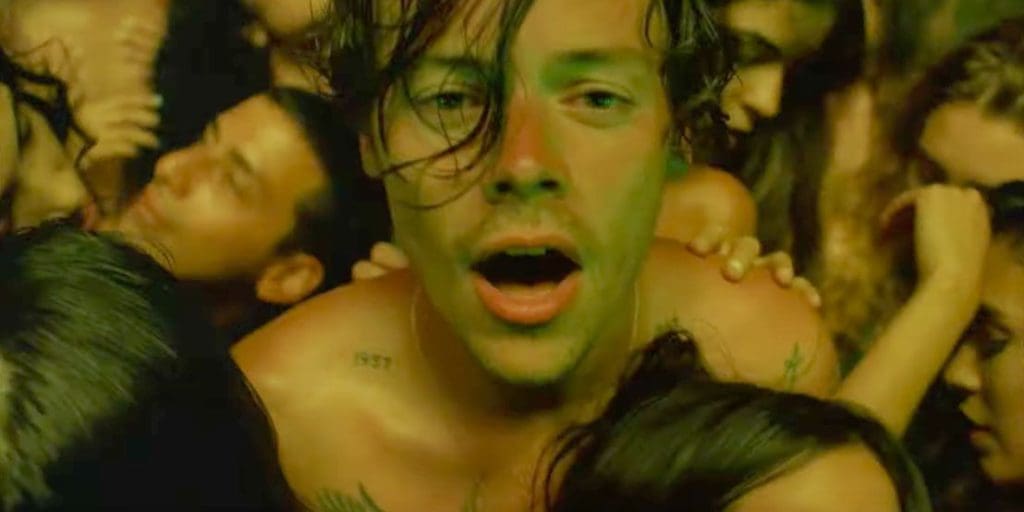 Following his go-big-or-go-home way of life, Harry also dropped the dreamy music video on the same day, after which even those who maybe knew it, definitely forgot who they were. Having achieved 2 million likes and almost 74 million views on Youtube, it features a shirtless Styles dancing and snuggling with a bunch of people, wearing a sequin suit on the shoreline of a dark beach, looking at himself in the mirror in what appears to be a luxury lonely room, and riding on the back of a motorcycle while sitting backwards, with his arms outstretched while singing "Never coming back down"… sounds pretty much like freedom to me.
Also, as our favorite curly singer was keen to inform us, in the video clip it was not oil on his body, but "aloe vera actually, it was a lot more healing than that."
There's been a lot of speculation about this track, about the timing of its release, coinciding with the National Coming Out Day, the meaning behind the video and the soulful lyrics but at the end of the day, music is up to interpretation, as it should, and Harry himself always tries not to influence anyone.
"For me, the song is about freedom and self-reflection and self-discovery, a couple things that I'd kind of thought about and wrestled with over the last couple of years and I think this song is about me accepting those things. It's a very positive song to me."
The chorus of the song ends with the question "Do You Know Who You Are?", something everyone has asked themselves at one point in life and apparently H is no exception. But, as Harry let us know at the 'Fine Line One Night Only' in London, after those blessed fans who won at life screamed said lyrics to him, he does now.
He knows who he is and that's the only thing that matters.