I can't believe it's been already a year since Louis Tomlinson released his much anticipated and awaited debut album Walls on 31 January 2020, unknowingly saving last year even before everything fell apart. It feels like only yesterday Louis was announcing it through a video posted on his social media where he said he was "really relieved to finally be here" and thanked everyone for their patience.
Buzzing to finally say that my debut album Walls will be out on 31st January 2020! https://t.co/SjNtpDIKX2 pic.twitter.com/0E0msfg78e

— Louis Tomlinson (@Louis_Tomlinson) October 23, 2019
As if he had anything to thank us for! It might have taken a bit longer than expected, yes, but the record has proved so many times and in so many ways to be totally worth any wait throughout this whole year.
It reached No. 1 on iTunes in over 50 countries on the first day of release (topping the iTunes Worldwide Album Chart as well), it debuted at No. 9 on the Billboard 200 chart becoming the first new Arista album to hit the top 10 in nearly nine years; in October it hit No. 1 on iTunes in the US, in the UK and over 20 countries eight months after its release.

In July, almost 6 months after landing at No. 4, it was the UK's third-biggest debut album of the year based on the number of copies sold only on physical formats (CD and cassette); overall, at the end of the year, it ranked as the sixth biggest debut album of 2020 in the UK and the fourth in Ireland.
Walls also made it to The 2020 Top 40 Record Store Chart, featuring the best-selling albums in the UK's independent record shops. Legend behavior!
The record recently surpassed 350 million streams on Spotify few days after the comeback of the "This is Louis Tomlinson" playlist, which thanks to Louies was one of the fastest playlists to reach over 100k likes/follows in just 24 hours.
I mean, a wise man didn't lie when he (more than) once said: "This is truly incredible. No major label, no radio, yet here we are. The feeling of support I get from you all everytime I do something is unbelievable. Forever thankful! And they never see us coming!"
The first single off the album, 'Two Of Us', was released in March 2019 and it's a raw, beautiful, heartfelt song dedicated to Louis' late beloved mum Johannah he's always been intensely close to. It has helped not only him but also a lot of fans grieve, making him feel even more appreciated and motivated every single time they thank him.
Then, after taking a bit of time off to focus on his family and having the opportunity to reflect on his life and choices, Tommo realized what success meant to him: making music he loves and making fans proud to say they're his fans.
Which we are, we've always been, and we'll always be by the way.
He turned a page and the other four singles from Walls cemented this new perspective: the indie-pop delight 'Kill My Mind' – which is Louis' favorite in terms of sound – came out in September 2019, followed by the "Britpop-tinged" 'We Made It' in October, the touching uplifting 'Don't Let It Break Your Heart' in November (good old days when we used to get new music so often!) and finally in January 2020 by the string-led gem 'Walls', title track "about overcoming some of your problems and learning from your mistakes" which is Louis' favorite in terms of lyrics.
In an interview with Far Out Magazine Tomlinson stated that his album was influenced by such indie rock and Britpop bands as Oasis ("gotta be for me the best band" he said) and Arctic Monkeys that he grew up listening to. Lyrically, which is also the dearest aspect to him, he mentioned Alex Turner, Amy Winehouse, and Mike Skinner as acts he takes inspiration from.
The themes of the album range from love, family, relationships and heartbreak to reminiscing youth days, self-doubt, strength, bravery.
As Louis said to Billboard about this topic, "In general, I'm just wearing my heart on my sleeve, and being honest. As a lyricist, I always try to be as honest as possible. Once fans have heard the album, they will see a slightly different side of me. [we did, ndr]
I'm always striving for the most organic, live, real sounds as possible."
Walls was met with many good reviews: just to mention some, Rob Sheffield from Rolling Stone called Tomlinson's album '"excellent" and "worth the wait" and praised him for "putting a lot of heart and soul into it". Neil Yeung of AllMusic was similarly positive, highlighting its maturity and naturalness and praising Tomlinson's "genuinely heart-warming and enjoyable authenticity". Mike Nied of Idolator called the album "a strong debut", that proves he "has more to say now than ever before".
Louis was also featured on Times Square billboards from Spotify and YouTube, which he stopped by to admire sharing even that moment with us.
Huge thank you to @Spotify for the billboard in Times Square ! Buzzing to finally have #Walls out there https://t.co/ogexTW1zmz pic.twitter.com/hWxZqDN7f7

— Louis Tomlinson (@Louis_Tomlinson) January 31, 2020
This is incredible, thanks so much for this @YouTubeMusic ! All of this support has been unreal https://t.co/iLmc5lMTTE pic.twitter.com/Nplt8KcWQR

— Louis Tomlinson (@Louis_Tomlinson) January 31, 2020
Walls era also blessed us with so much content: Louis performed live on The Tonight Show with Jimmy Fallon, on the Today Show and did an acoustic set and signing at Rough Trade. He kept doing album signings in the UK, to give as many Louies as possible the chance to meet him and chat about the album. He even asked unanswerable questions like "what's your least favorite song off Walls?" and he requested an answer anyways "because I'm asking". Duh.
We were supposed to get way more, thanks to Tomlinson's first solo world tour but after a little taste from two dates he initially embarked on, the pandemic forced him to postpone to better times; it's sad for us but sadder for Louis because, more than anything, he was so excited to finally tour again.
"My biggest goal is to get out on the road as soon as possible. I'm just looking towards that now. I miss it."

Sadly, we have to wait to be able to attend his already sold-out tour (he had to upgrade some of the venues due to high demand, which went sold out as well) and we don't know when it will happen but in December Louis found a way to put on a show for his Louies and raise money for charities and his own touring crew, ending 2020 on a positive upbeat note despite the situation.
As promised, it was a proper concert: the whole band, the stage, the strobe lighting, the visuals, the setlist – everything was studied to give fans the full experience and make us feel like we were there with him.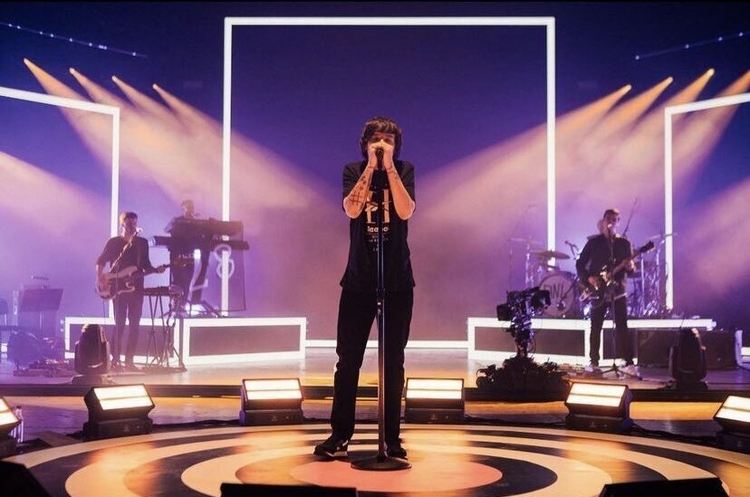 Without surprising anyone, "Louis Tomlinson Live from London" was the biggest male solo artist live stream of the year, topping all other male solo artists in 2020, globally selling over 160,000 tickets worldwide and raising million dollars. The power he has!
LT2 is on his way: Tomlinson has been writing a lot lately and even though he suggested us to just "enjoy the moment" because it's still "very early in the process", we all know we won't and are already freaking out over it! I mean, if "Copy Of A Copy Of A Copy" is a teaser of what comes next, how could we not???
Speaking of, will Louis release it for the anniversary? Will he tweet? Will he record a video where he thanks his Louies for the umpteenth time? Stay tuned to find out! For now, making sure his fans get as involved as possible in everything he does, he used some amazing fan arts to update the Spotify canvases of his songs. To appreciate them, go stream Walls! There will also be an official streaming party at 4pm GMT and I know you don't want to miss it!
Whatever he has in store for us, we can be sure we're gonna love it just as much as we loved, and love, Walls.
So, thank you Louis Tomlinson for blessing us with such a masterpiece of an album one year ago. Congratulations for everything you've achieved, I hope you're at least half as proud of it – and of YOU – as your Louies are. Here's to the future! ❤️