One month before Christmas and Louis Tomlinson has already given us the best gift ever: he just announced a special worldwide live-streamed show that will take place in a secret London location on December 12th!
So excited to announce that I'm getting my band and crew together to put on a special show for you all that will be live streamed on December 12. The show will support 5 important causes very close to my heart. Tickets on sale tomorrow at 4pm GMT https://t.co/Sy2tX1NpNj

— Louis Tomlinson (@Louis_Tomlinson) November 24, 2020
As all his Louies already know, he was supposed to currently be on his first worldwide tour as a solo artist; he even got to play two dates before the global pandemic forced him to postpone to better times. It was hard to accept for us and even more so for Louis, who's always said that live performances are his favourite part of being a singer and that the feeling of being on stage and interacting with the crowd was what he had missed the most during last years.
"My master plan, when I realised I was going to do a solo career, was always my first tour. It's something I've been looking forward to for the best part of five years now. I got so close, I got a taste for it, and it's affected me like everyone else, but I'm forever an optimist. You know what, maybe because I've had real dark moments in my life, they've given me scope for optimism. In the grand scheme of things, of what I've experienced, these everyday problems…they don't seem so bad." he said to the Telegraph.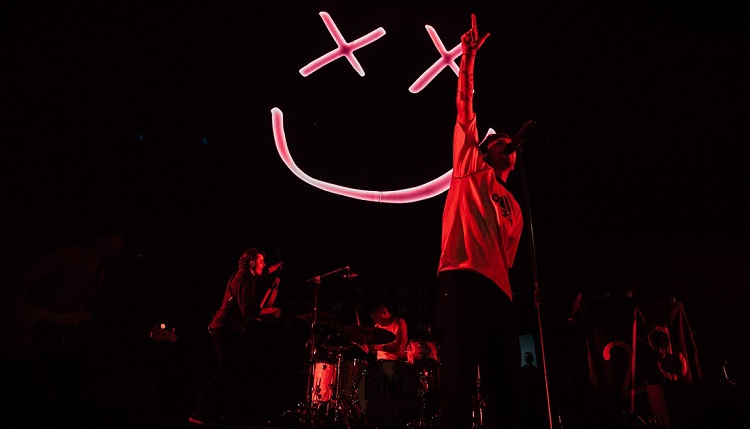 He doesn't want anyone to feel bad or sorry for him though, "that's the last thing I want."
Despite everything he has been through, both on a personal and professional level, he never gave up, he never let anything take away his bright smile and he never lost his glass-half-full attitude. An attitude that he tries to pass on to his stans as well, through his words, lyrics and actions. He is constantly checking on us even though he is not a big fan of social media, and he's always willing to make people happy, any way he can.
And this is the umpteenth way he found to give us a smile in spite of the situation and to help support good causes.
"I was absolutely gutted to have to postpone my world tour this year as I was really looking forward to seeing all the fans. Performing for a live crowd is the most important thing to me, this live stream is a step back into that world and is something I can't wait to film. I want to put on a real show for the fans, with scale and production, creating something special to end 2020 on a positive upbeat note and raise money for charities that are especially close to my heart. I also want to give my touring crew work, and raise some vital money for them, as without my crew the show literally couldn't go on."
It will be a proper, strictly live, concert, involving Louis' full band, and, taking into consideration time zones, it will be available to watch for 28 (I know right???) hours, so everyone can watch – and re-watch, let's be honest – whenever they want or can. The setlist will feature songs from Louis' album 'Walls' – back in January it reached No. 1 on iTunes in over 40 countries (and again in October, eight months after its release), it debuted at No. 9 on the Billboard 200 chart and at No. 4 in the UK; almost 6 months later, it became the UK's third-biggest debut album of the year based on the number of copies sold only on physical formats), alongside some covers, some One Direction songs and apparently few surprises. *breathe and keep calm*
Tickets will go on sale from 4 pm on November 25th (get them at louis-tomlinson.com/live if you haven't yet!) and Louis personally reassured us that, contrary to what someone was saying, they will be unlimited so that everyone can get one!
No limitations correct!

— Louis Tomlinson (@Louis_Tomlinson) November 24, 2020
All profits will support five important causes Louis himself defined close to his heart: FareShare, the UK's largest charity fighting hunger and food waste that saves good food that can't be sold in shops from going to waste and redistributes it through a network of 11,000 frontline organisations; Crew Nation, a charitable fund created to help support live music crews who were supposed to be working on shows planned for 2020; Bluebell Wood Children's Hospice, a charity that supports children and young adults with life-shortening and life-threatening conditions, both at their homes and at the hospice; Stagehand, a charity that provides grants to out-of-work technicians and production staff throughout this crisis. And, of course, last but not least his own touring crew that's been out of work since March. Exactly as if it was a real concert, new merchandise is also being released for the occasion and all profits will go to the above four charities and Louis' touring crew.
Unfortunately, we have to wait for Louis to finally get on the road again next year – hopefully – and to be able to attend his already sold-out tour (he had to upgrade some of the venues due to high demand, which went sold out as well). Meanwhile, we can't miss this opportunity to do some good to people in need, supporting them, and to ourselves, giving us the time of our lives for a night.
See you all there folks, can't wait!