Today is National Watermelon Day 🍉 but to Harry Styles' fanbase it's Watermelon Sugar Day! Or week more like.
Since the official 'Watermelon Sugar' music video was released in May to cheer us up a bit during quarantine — it was "dedicated to touching", something we had to temporarily give up due to social distancing — the track keeps doing amazing on charts and radio. Returning at No. 1 on iTunes US, it reached 500 million streams on Spotify (it's his second single to accomplish this, after the iconic 'Sign of The Times' and joined by 'Adore you' yesterday). Rising to No. 1 on this week's Billboard Pop Songs airplay chart, it peaked at No. 1 at US Pop radio, making Styles the only male soloist with two No. 1 hits on US Pop radio in 2020.
And it may even let Harry achieve his first No. 1 on The Billboard Hot 100 this Friday. It would be his first single to do so, and I am sure it would make him very happy and proud. That's why his loyal fans are coming together to make it happen. Streaming parties, giveaways, fan funds…anything that might help.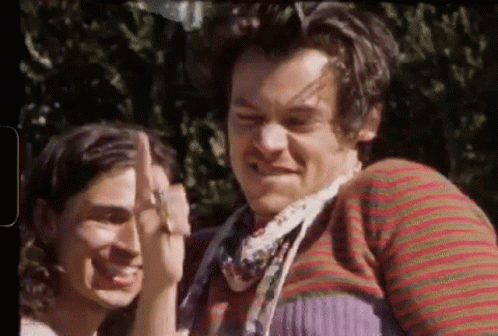 Styles' team is playing their part as well: They released the behind-the-scenes of the music video few days ago, blessing us with unseen footage of Harry dancing in a crop top and standing unbothered on a watermelon. They also dropped some limited edition merch available for three days only, and they discounted the digital copies of the track to only $0.69 (both on the official website and Amazon Music).
Celebrate #NationalWatermelonDay with limited edition items now available in the Official Store: https://t.co/piKmnae49y pic.twitter.com/4qRI5VGbZQ

— HSHQ (@HSHQ) August 3, 2020
The website ijustwannatasteit.com was also updated, and it showed only a picture of Harry from the Fine Line cover photoshoot… We all wondered how he was planning to end us all this time and the answer is: with a video of (psychedelic) lost tour visuals –  and that "lost" is not hurting me, not at all 💔 – we got a glimpse of at the Capital Jingle Bell Ball back in December when everything was so much easier!
His family, his friends, his crew, and his label keep showing support to his art and hard work, and it's really nice and refreshing to see. Everyone wants Harry to add this important and well-deserved milestone to the list of his countless accomplishments as a solo artist — and that's on being a legend!
Happy #NationalWatermelonDay! To celebrate, let's all watch the Watermelon Sugar music video together at 2PM PT/5PM ET! pic.twitter.com/mX3XJQmBL9

— Columbia Records (@ColumbiaRecords) August 3, 2020
If you're from the US, #BuyWatermelonSugar if you can; if you can't, #StreamWatermelonSugar on Spotify, Apple Music and YouTube. If you're not from the US, you can ask someone who is from the US to help you or you could just read these interesting tips 😜
https://twitter.com/stylezpromo/status/1290191273547030528
Let's help H and 'Watermelon Sugar' (fly) High 🎵 as they deserve!