Louis Tomlinson's amazing debut album Walls just turned 1 few days ago and, also thanks to all the excitement and celebrations, it has seen a great boost in terms of streams and sales recently. Many songs from the record have made it to various countries' Viral 50 playlists on Spotify; in particular, 'Defenceless', which was the 15th fastest rising track two days ago, made it – as I am writing, hoping it will increase more – to 25 individual countries' Viral 50 playlists and debuted on the global Viral 50 chart as the top new entry… Louis really wasn't lying when, addressing his Louies, he said "you're all legends" I guess!
And, to prove me right, some update accounts just came up with another idea to ride that wave and keep promoting the song: Project Defenceless!
https://twitter.com/TeamLouisNews/status/1357084072690991104
It involves many platforms, to spread the word as much as possible; if you're able to, you can obviously buy 'Defenceless' on iTunes or Amazon Music (gifts don't count towards charts!) but if you're not for whatever reason, don't feel bad because you have so many other ways to join!
You can stream the tune on any platform (AppleMusic, Tidal, YouTube, etc…) but especially on Spotify, to help it move up in the viral charts so a bigger audience can get to listen to it (and fall in love right away since it's pure ART); there are focused playlists already made but you can make one if you prefer, just remember there are few tips to make it more effective 😉 While streaming, don't forget to Shazam the song and to share the link on your social media so it can bless your locals and reach more people!
Some tips on how you can make the best playlists. You can also check out our thread on Spotify and all of its metrics in depth (it's pinned to our profile!) pic.twitter.com/GKVdRaKYGF

— Walls x LT Promo (Info + Action) (@LTxPromo) January 4, 2021
You can request the track at your favorite radio stations (phone, emails and special forms are recommended, since tweets could be seen as spam).
You can take part to two TikTok challenges, one involving your beloved pets and another involving a customized version of the Jenga game, both of course while playing 'Defenceless' in the background!
For any doubt or curiosity, you can reach out to @TeamLouisNews, @LTxPromo, @louiesforlouis, @LouisTeamFrance, @dailyltomlinson and other lovely update accounts. There's also a special fanpack where you can find further information and original posters, flyers, stickers they made for the occasion!
Here's your link to #ProjectDefenceless' fanpack! Inside you can find posters, flyers, stickers and some super important info on what's yet to come – Stationhead Streaming Parties & a super special tiktok challenge!

— Louies for Louis (@louiesforlouis) February 4, 2021
About the song, Tomlinson has said: "I'm trying to be vulnerable and I'm trying to be honest. I'm trying to write as many different feelings as I can. One day you might be feeling great, youthful, and amazing, and the next day you might be feeling a little bit down in the dumps. I wanted to capture that."
And he did that excellently, as usual. That's why 'Defenceless' – just like the rest of his music – deserves so much better; that's why Louies, as the dedicated creative fandom they are, once again put their brilliant minds to work and came up with the beautiful Project  Defenceless to shower Louis and his art with all the love and support they deserve.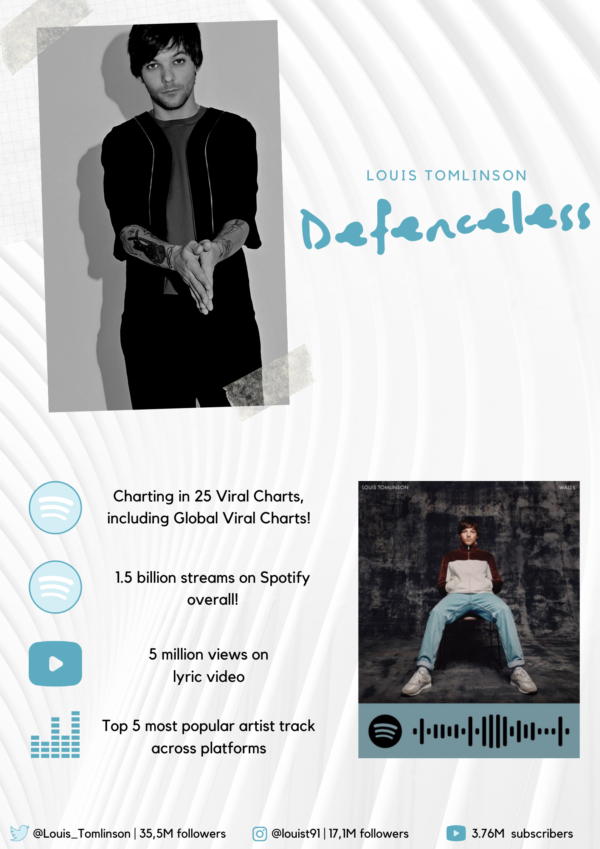 Louis himself already acknowledged what his fans are doing (he really sees and knows EVERYTHING) and came online just to let us know he thinks we're incredible. And coming from the most incredible human being out there that's a big compliment, don't you think?
I see what you're doing with defenceless! You are all incredible!

— Louis Tomlinson (@Louis_Tomlinson) February 4, 2021
I mean, not that we needed any further reason since Louis singing "Just wanna be loved by youUuUuU" 🎵 is already worth of literally ANYTHING. Not to mention the power of lyrics like "We're sleepin' on our problems like we'll solve them in our dreams, we wake up early morning and they're still under the sheets".
But now, in addition, we can't miss the chance to prove our Tommo that once again "it's teamwork" between him and us; in a matter of hours, the song has (so far but the situation changes every minute!) already hit No. 1 on the iTunes Top Songs Chart in 28 (yeah, I know right!) countries, is charting in many others and has entered the iTunes Worldwide ranking at No. 3.
Louies from all over the world, you're doing amazing!
So let's keep up the good work! Buckle up and get ready to join and support Project Defenceless, you won't regret it!