RANKED: The 35 best Bath & Body Works fall candles 2021
It's the best time of the year — the Bath & Body Works 2021 fall candle collection is here!
Nothing says goodbye summer, hello fall like the release of the 2021 Bath & Body Works fall candle scents. And after the year we've had, some candle-induced relaxation is highly necessary.
Bath & Body Works' iconic three-wick candles have got to be some of the store's best-sellers of all time, and this year there are a few new scents as well.
All of these candles retail for $24.50 each, but keep an eye out for their occasional $10-off sales to stock up!
Notes: Crisp Red Apple, Golden Nectar, Warm Clove Spice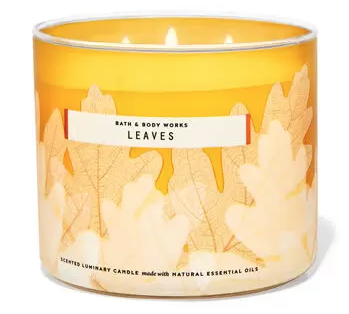 This is and will always be my number one Bath & Body Works fall candle scent. Leaves is the perfect autumn candle: Apple and nectar give it just a touch of sweetness while clove gives it depth. (It's also Zoe Sugg's favorite, and you know you can trust her.)
Notes: Fresh Cranberry, Spiced Pumpkin, Crisp Apple, Rich Clove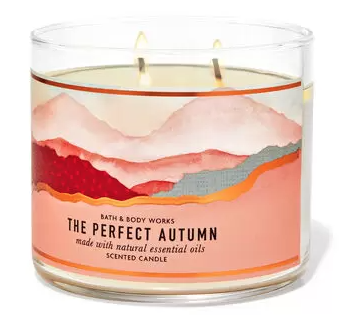 The Perfect Autumn's strongest note is cranberry, but not in a sickly sweet kind of way. Bath & Body Works describes it as a combination of their Frosted Cranberry and Sweet Cinnamon Pumpkin scents. I love it!
Notes: Fresh Sage, Juniper Berry, Aromatic Eucalyptus, Fresh Woods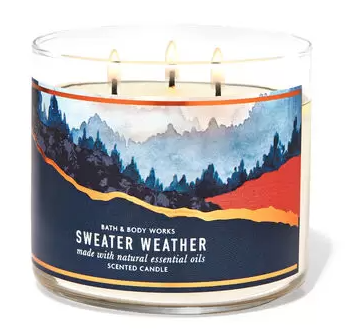 If you're looking for a lighter, fresher scent in your fall candle, Sweater Weather is the one for you. Someone once described this scent as the way your car smells after a car wash, and that about sums it up. Clean and a bit masculine. The eucalyptus is my favorite note, and this candle will also smell seasonally appropriate going into the holiday season.
Notes: Fresh Bergamot, Heirloom Mahogany, Soft Musk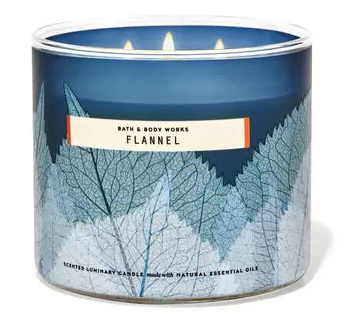 Cozy vibes: activated. Just the name of this scent is enough to get you in the autumn mood. Flannel is another one of Bath & Body Works' more masculine fall scents, but who doesn't want their house to smell like a hot guy in October? The description reads, "This is what chilly fall nights smell like." Yessss.
Notes: Crisp Fall Breeze, White Oak, Golden Amber Wood, Saffron, Soft Sandalwood
*ONLINE EXCLUSIVE*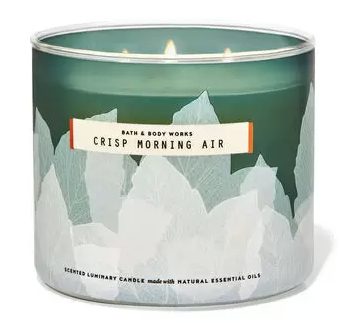 Crisp Morning Air is a real nature lover's candle, with a woodsy, outdoorsy scent (hence the leaves art and green color). Don't write this off as a Fresh Linen copy; it's got more depth and warmth for fall.
Notes: Dark Walnut, English Lavender, White Amber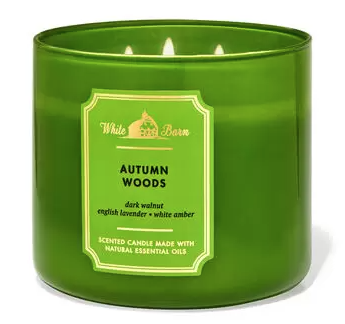 I know it's hard to keep all these names straight. Autumn Woods is another classic Bath & Body Works fall scent packaged for White Barn this year. A little edgier, with walnut and lavender — not your typical autumnal scent. Buy this one if you're a Diptyque fan on a budget.
Notes: Crisp Mountain Air, Fresh Lavender, a Touch of Musk
*NEW FOR 2021*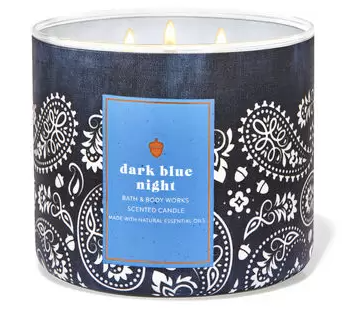 A touch of musk, you say? Mixed with lavender? Dark Blue Night brings that amazing balance of coolness and warmth that's just so autumnal and relaxing.
Notes: Pink Lady Apple, Sparkling Champagne, Jasmine Honey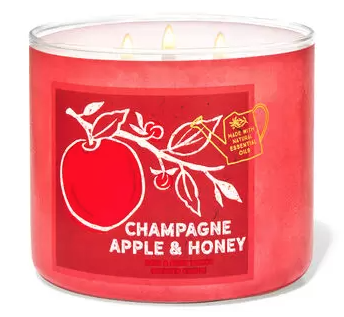 Champagne Apple & Honey had its trial run as body care in 2019, and it became so popular that the brilliant people at B&BW decided to turn it into a candle for 2020 and now 2021. Boy, are we glad they did. I'm a sucker for champagne scents around New Years, but paired with apple and honey, it becomes perfect for fall.
Notes: Tart Cranberry, Cinnamon Bark, Forest Cedar, Golden Amber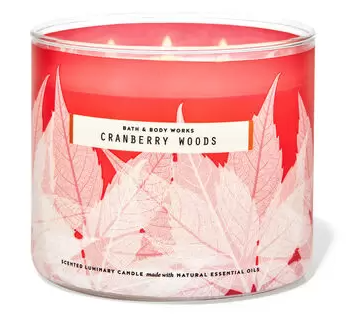 Cranberry-scented anything always scares me off, but Cranberry Woods is perfectly balanced by cinnamon, cedar, and amber. I enjoyed it all last fall, and now I'm hooked. It's a combination of fruity and woodsy that just screams crisp fall afternoon.
Notes: Warm Cinnamon, Fresh Ground Clove, Vanilla Cream, Brown Sugar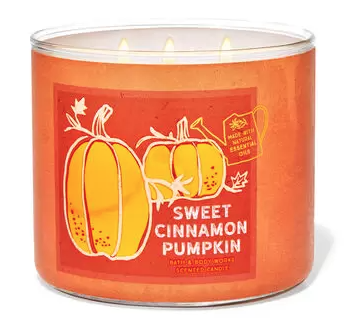 I had Sweet Cinnamon Pumpkin hand soap in my powder room last fall, and every single person who used it remarked on how incredible it smelled. Despite the name, this scent doesn't actually have any notes of pumpkin, but it does have delicious cinnamon, clove, vanilla, and brown sugar. Plus, year after year, it always has the cutest jar design!
Notes: Sweet Almond Blossom, Vanilla Orchid, Sandalwood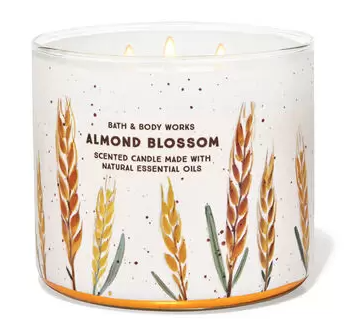 Another one that's not your typical autumnal scent, but the combination of notes makes it perfect for the season. Almond Blossom is sweet and nutty, and Bath & Body Works die-hards have been begging the company to make it a year-round staple — it's that good.
Notes: Red Delicious Apple, Fall Pumpkin, Fresh Ground Cinnamon, Clove Buds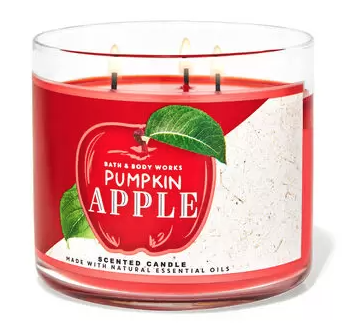 Here's the true pumpkin scent you were looking for, combined with apples to make the perfect autumn candle. Pumpkin Apple throws in some cinnamon and cloves, too! This is a great kitchen candle.
Notes: Gingered White Pumpkin, Caramel Glaze, Warm Blended Spices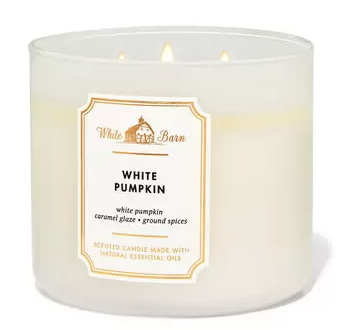 White Pumpkin is such a VIBE. I'll admit it's on the sweeter side, but I just love the look of the candle jar surrounded by tiny white pumpkins. Sue me?
Notes: Bright Citrus, Warm Cedarwood, Fresh Mint
*NEW FOR 2021*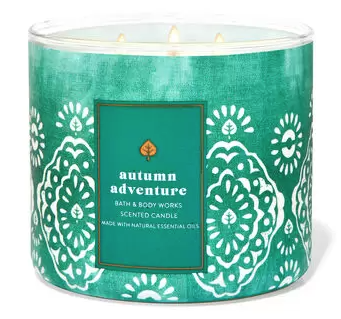 Let's go on an Autumn Adventure already! The unusual addition of mint gives the classic scents of fall a crisp touch.
Notes: White Birch Bark, Madagascar Vanilla, Warm Sandalwood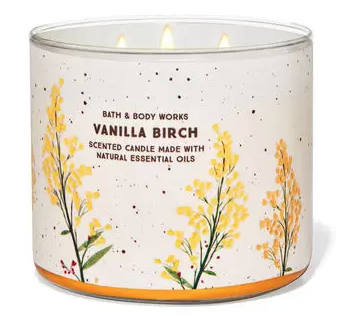 Woodsy, yet sweet! Vanilla Birch is not an overwhelming scent, in case you like a more subtle autumn candle for your home.
Notes: Spiced Pumpkin, Forest Pine Branch, Fresh Fall Air
*ONLINE EXCLUSIVE*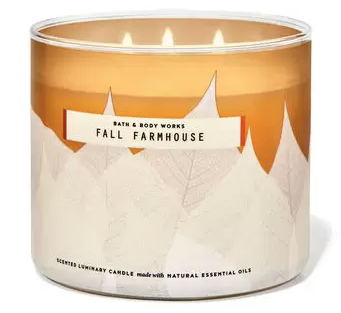 First of all, I love the name of this scent and I love the jar design. Bath & Body Works describes Fall Farmhouse as, "Hayrides. Corn mazes. Scarecrows. It's officially fall at the farmhouse." Joanna Gaines, is that you?
Notes: Citrus Zest, Woodland Sage, Red Delicious Apples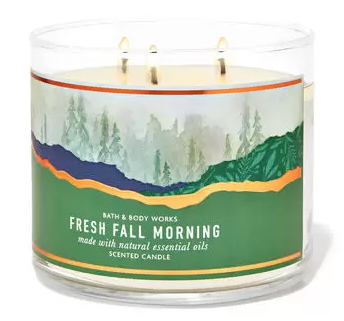 Fresh Fall Morning has a touch of autumnal citrus blended with sage and apples; scent-wise, it's a tad more on the masculine side.
Notes: Toasted Marshmallow, Smoldering Woods, Fire Roasted Vanilla, Crystallized Amber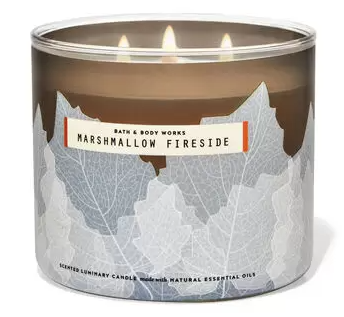 Transport yourself to the feeling of being beside a roaring campfire, toasting marshmallows with friends and family. Marshmallow Fireside is a smoky, sweet scent.
Notes: Fresh Air, Wild Blackberries, Soft Violet, a Cloud of Comforting Vanilla
*NEW FOR 2021*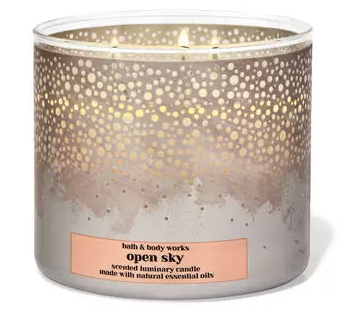 As if I wasn't obsessed enough with the luminary jar design, Open Sky sold me on the "cloud of comforting vanilla." It's like B&BW knew we've been having a tough time.
Notes: Luscious Caramel, Ground Cinnamon, Rich Brown Sugar, Creamy Vanilla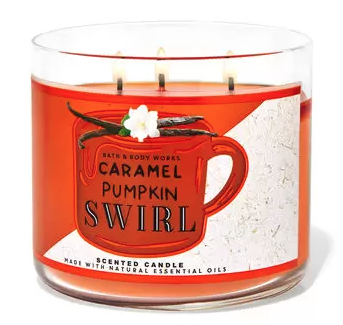 Just picture lighting Caramel Pumpkin Swirl in the mornings while you sip your coffee. You just have the fight the temptation to melt it down and pour it in your cup.
Notes: Tahitian Vanilla, Pumpkin Spice, Homemade Marshmallow, Drizzled Caramel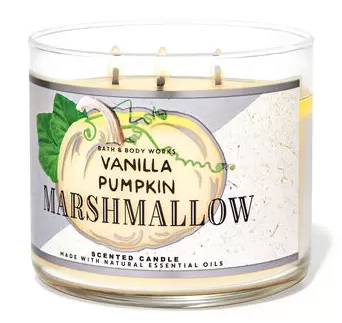 I would've thought this one was too sweet, but Vanilla Pumpkin Marshmallow is like a slice of warm pumpkin loaf and not as overwhelming as it sounds!
Notes: Cinnamon, Clove Bud, Nutmeg
*ONLINE EXCLUSIVE*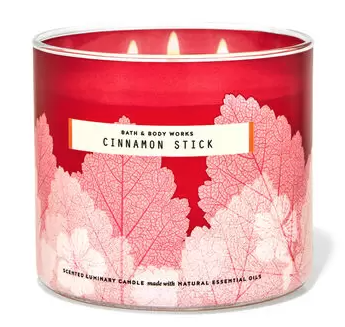 This candle isn't pretending to be anything it's not. Cinnamon Stick smells like, well, a cinnamon stick. And if that's not autumnal, then what is?
Notes: Rich Mahogany, Black Teakwood, Dark Oak, Frosted Lavender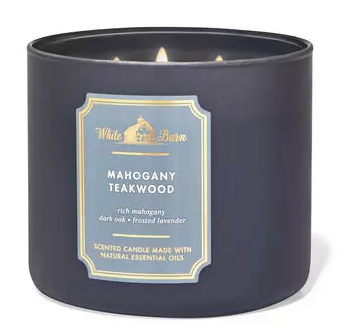 Mahogany Teakwood is a timeless fan favorite, with 180+ five-star reviews. Another one that's been moved over to White Barn this year. It's more on the dark, musky cologne side.
Notes: Smooth Lavender, Warm Vanilla, Comforting Sandalwood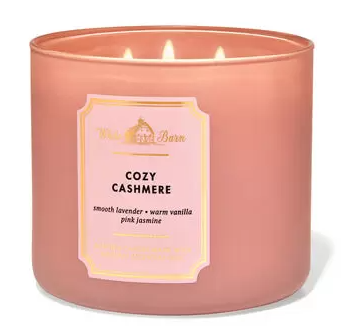 Sandalwood always smells expensive to me, and Cozy Cashmere is like a pricy sweater without the cost. This scent also isn't exclusively fall and will easily carry you into the winter months.
Notes: Fresh Picked Apple, Autumn Berries, Clove Buds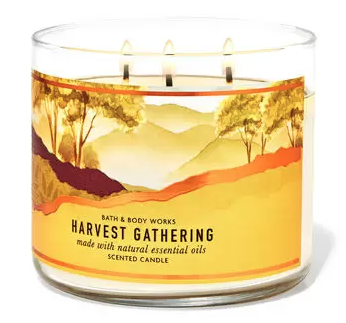 Half fruity, half spicy — Harvest Gathering is the quintessential fall candle. Just maybe a tad on the boring side.
Notes: Rich Pomegranate, Freshly Picked Apples, Sweet Black Plums
*NEW FOR 2021*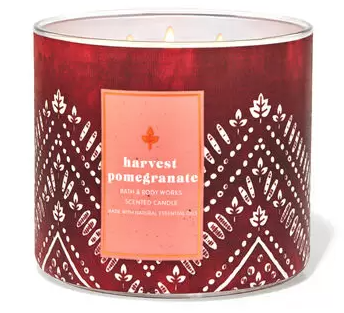 Hello, Thanksgiving table! Harvest Pomegranate is fruity, warm, and sweet.
Notes: Clove Buds, Ground Cinnamon, A Pinch of Nutmeg, Fresh Pumpkin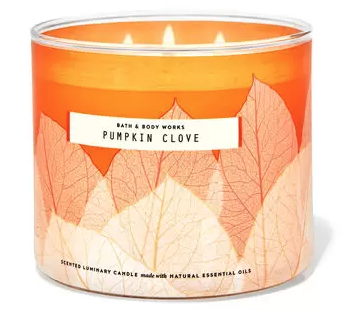 If you are a pumpkin spice latte lover, boy, have I got the candle for you. Pumpkin Clove is here to give you that Starbucks feeling all season long.
Notes: Red Mahogany Woods, Golden Delicious Apple, Pink Peppercorn, Fresh Lavender Sprigs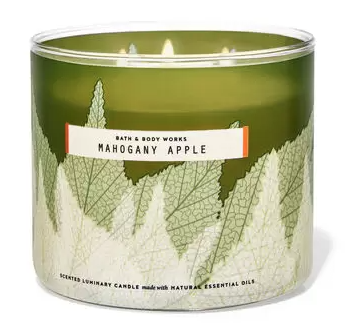 More of a green apple fan than red? Mahogany Apple even has a green jar to set the mood. Fresh apple and lavender is offset by masculine woody mahogany and peppercorns.
Notes: Crisp Autumn Air, White Driftwood, a Hint of Green Apple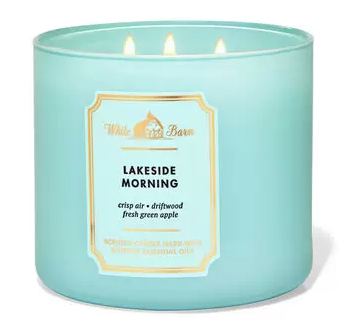 Maybe autumn smells more like fresh mountain air to you. Lakeside Morning is like that deep breath you take when you open your cabin door with a mug of coffee in your hand after a rainy night. Plus, how beautiful is the color of the jar?!
Notes: Maple Syrup, Golden Waffles, Pumpkin Spice, Brown Sugar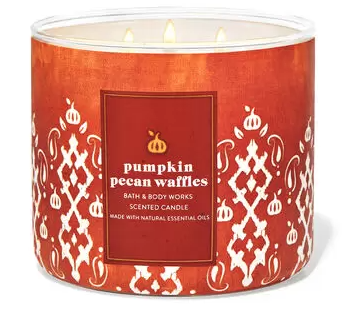 These "food" candles are always just a bit too sickly sweet for me. But Pumpkin Pecan Waffles does sound good enough to eat (please don't).
Notes: Baked Granny Smith Apple, Melted Brown Sugar, Flaky Homemade Crust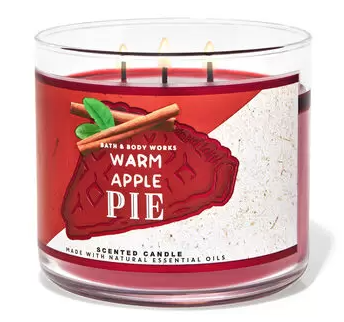 Smells too fake. Do yourself a favor and buy a real apple pie instead of Warm Apple Pie.
Notes: Smoked Cedar, Fresh Clove Bud, Warm Embers
*ONLINE EXCLUSIVE*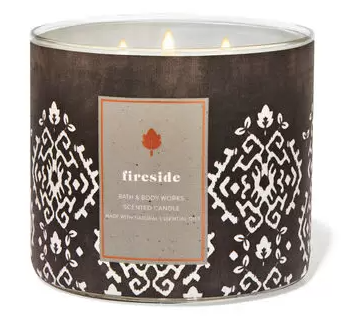 Is Fireside reminiscent of a warm, cozy winter night — or an ashtray? It's for you to decide, except it's an online-only candle, so you can't smell it first. Yikes.
Notes: Wild Blueberries, Griddle Fresh Pancakes, Warm Maple Syrup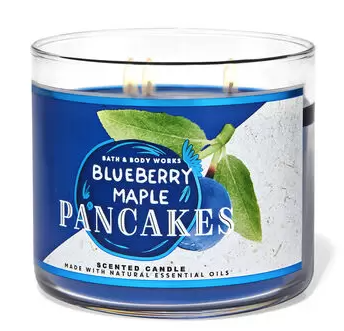 I don't know what's more alarming, the notes or the electric blue color. Reviewers love this scent, but I just can't.
Notes: Sweet Banana, Golden Nutmeg, Cinnamon Sugar Muffin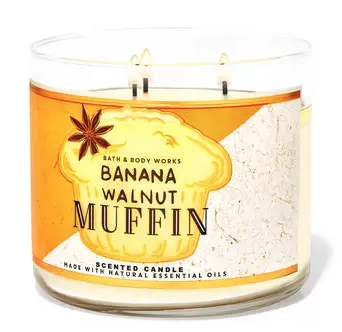 I'M SORRY, but just reading the notes gives me a headache. And I don't find anything about banana muffins particularly autumnal.
Notes: Creamy Pumpkin, Vanilla Crème, Fresh Ground Nutmeg, Graham Cracker Crust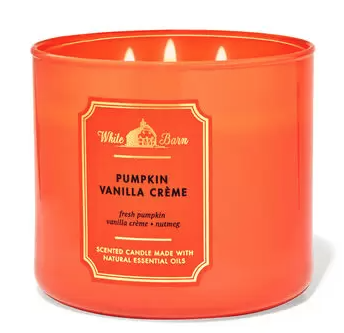 This usual fan-favorite is being trashed this year! Is it just a bad batch, or has the formula changed? Definitely safer to sniff your own Pumpkin Vanilla Creme candle and purchase in-store.
The entire Bath & Body Works fall 2021 collection can be found here.