RANKED: The 31 best Bath & Body Works fall candles 2020
It's the best time of the year — the Bath & Body Works 2020 fall candle collection is here!
This post contains affiliate links, which means United By Pop receives a percentage if you make a purchase using these links. Thank you for supporting the brands that support this blog.
Nothing says goodbye summer, hello fall like the release of the 2020 Bath & Body Works fall candle scents. And after the year we've had, some candle-induced relaxation is highly necessary.
Bath & Body Works' iconic 3-wick candles have got to be some of the store's best-sellers of all time, and this year there are a few new scents as well. I donned my mask and visited my local store so I could sniff them all for you, and now you can confidently save yourself a trip to the store and safely order your fall candles online.
All of these candles retail for $24.50 each, but keep an eye out for their occasional $10-off sales to stock up!
Notes: Crisp Red Apple, Golden Nectar, Warm Clove Spice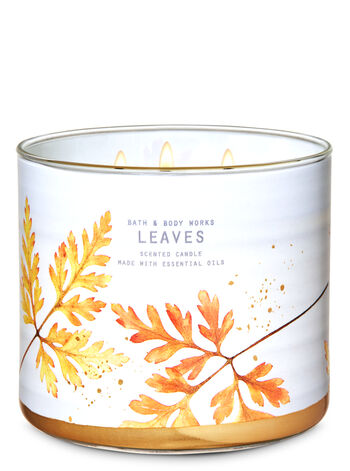 This is and will always be my number one Bath & Body Works fall candle scent. Leaves is the perfect autumn candle: Apple and nectar give it just a touch of sweetness while clove gives it depth. (It's also Zoe Sugg's favorite, and you know you can trust her.)
Notes: Fresh Cranberry, Spiced Pumpkin, Crisp Apple, Rich Clove
The new 2020 art for The Perfect Autumn sets the tone for this fall candle. The strongest note is cranberry, but not in a sickly sweet kind of way. Bath & Body Works describes it as a combination of their Frosted Cranberry and Sweet Cinnamon Pumpkin scents.
Notes: Fresh Sage, Juniper Berry, Aromatic Eucalyptus, Fresh Woods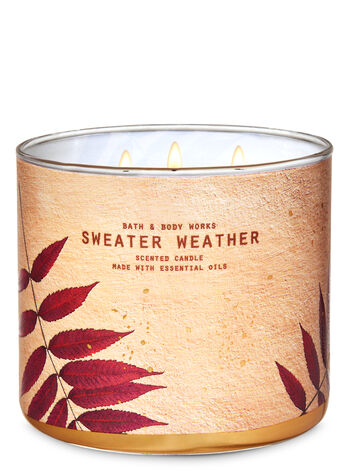 If you're looking for a lighter, fresher scent in your fall candle, Sweater Weather is the one for you. Someone once described this scent as the way your car smells after a car wash, and that about sums it up. Clean and a bit masculine. The eucalyptus is my favorite note, and this candle will also smell seasonally appropriate into the holiday season.
Notes: Fresh Bergamot, Heirloom Mahogany, Soft Musk
Cozy vibes: activated. Just the name of this scent is enough to get you in the autumn mood. Flannel is another one of Bath & Body Works' more masculine fall scents, but who doesn't want their house to smell like a hot guy in October? The description reads, "This is what chilly fall nights smell like." Yessss.
Notes: Crisp Fall Breeze, White Oak, Golden Amber Wood, Saffron, Soft Sandalwood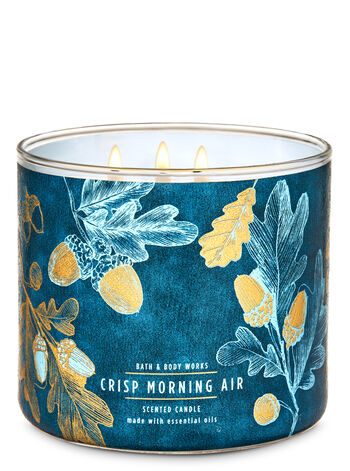 How cute is the 2020 design for this scent! Crisp Morning Air is a real nature lover's candle, with a woodsy, outdoorsy scent (hence the leaves and acorns art). Don't write this off as a Fresh Linen copy; it's got more depth and warmth for fall.
Notes: Bright Red Gala Apple, Juicy Fig, Eucalyptus Leaf, Fir Balsam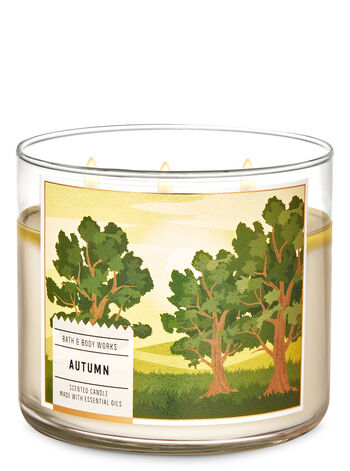 Apple? Check. Fig? Check. Eucalyptus? Check. Balsam? Check. The quintessential fall scented candle? Check! They wouldn't name this candle Autumn without making sure it was absolutely perfect for the season. This one is fresh, fruity, and bright.
Notes: Dark Walnut, English Lavender, White Amber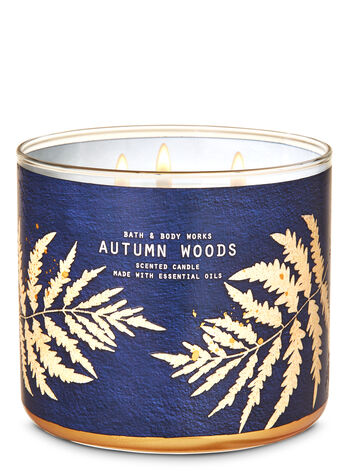 I know it's hard to keep all these names straight. Autumn Woods is another classic Bath & Body Works fall scent repackaged for 2020. A little edgier, with walnut and lavender — not your typical autumnal scent. Buy this one if you're a Diptyque fan on a budget.
Notes: Autumn Leaves, Warm Cinnamon, Crisp Gala Apples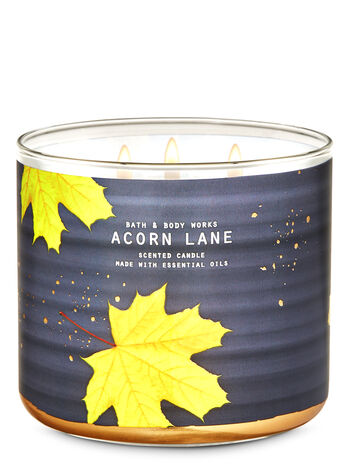 If leaves, cinnamon, and apples sound like the combination for the perfect fall candle, well, you're right. Acorn Lane (how great is that name?) is inspired by a downtown autumn stroll. This is a newer Bath & Body Works fragrance, and hopefully here to stay!
Notes: Pink Lady Apple, Sparkling Champagne, Jasmine Honey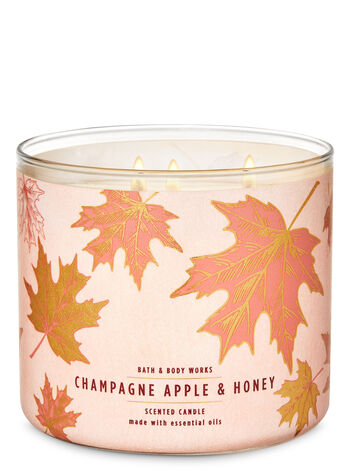 Champagne Apple & Honey had its trial run as body care last year, and it became so popular that the brilliant people at B&BW decided to turn it into a candle for 2020. And boy, are we glad they did. I'm a sucker for champagne scents around New Years, but paired with apple and honey, it becomes perfect for fall. If you have a friend with an autumn birthday, this would make a great gift!
Notes: Tart Cranberry, Cinnamon Bark, Forest Cedar, Golden Amber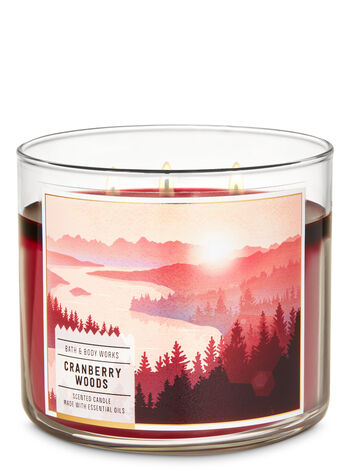 Cranberry-scented anything always scares me off, but Cranberry Woods is perfectly balanced by cinnamon, cedar, and amber. It's a combination of fruity and woodsy that just screams crisp fall afternoon. And this candle has another National Parks-style design that I love.
Notes: Golden Honeycrisp, Apple Blossom, Fresh Sugarcane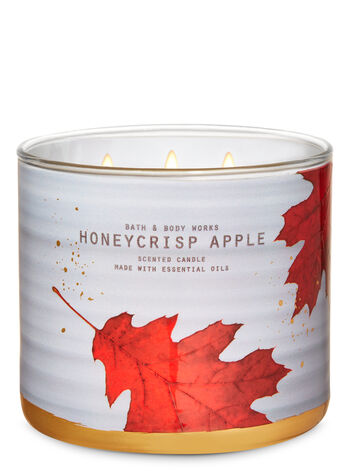 Sometimes you just want that quintessential fall apple fragrance in your candle. Sometimes you can't stop picturing Zac Efron biting into a honeycrisp apple at the Angry Orchard apple orchard. Either way, Honeycrisp Apple is another great Bath & Body Works candle scent for fall. I'm hungry just thinking about it.
Notes: Warm Cinnamon, Fresh Ground Clove, Vanilla Cream, Brown Sugar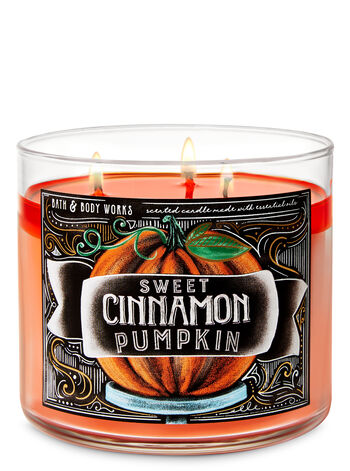 I had Sweet Cinnamon Pumpkin hand soap in my powder room last fall, and every single person who used it remarked on how incredible it smelled. So, needless to say, it's equally as wonderful in candle form. Despite the name, this scent doesn't actually have any notes of pumpkin. But it does have delicious cinnamon, clove, vanilla, and brown sugar. Mmmm.
Notes: Sweet Almond Blossom, Vanilla Orchid, Sandalwood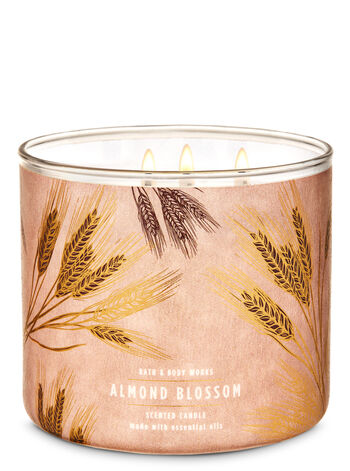 Another one that's not your typical autumnal scent, but the combination of notes makes it perfect for the season. Almond Blossom is sweet and nutty, and Bath & Body Works die-hards have been begging the company to make it a year-round staple — it's that good.
Notes: Red Delicious Apple, Fall Pumpkin, Fresh Ground Cinnamon, Clove Buds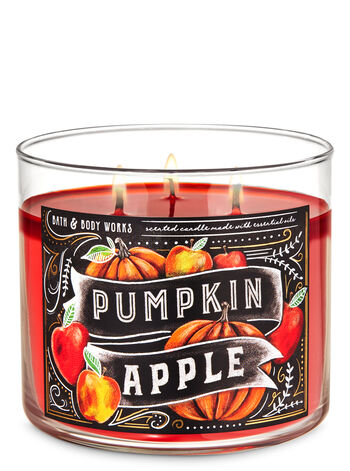 Here's the true pumpkin scent you were looking for, combined with apples to make the perfect autumn candle. Pumpkin Apple throws in some cinnamon and cloves, too! This is a great kitchen candle.
Notes: White Birch Bark, Madagascar Vanilla, Warm Sandalwood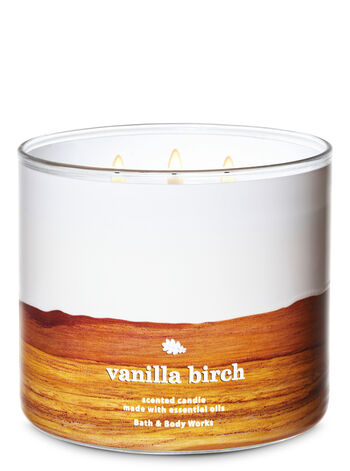 Woodsy, yet sweet! Vanilla Birch is not an overwhelming scent, in case you like a more subtle autumn candle for your home.
Notes: Spiced Pumpkin, Forest Pine Branch, Fresh Fall Air
First of all, I love the name of this scent and I love the luminary jar design. Bath & Body Works describes Fall Farmhouse as, "Hay rides. Corn mazes. Scarecrows. It's officially fall at the farmhouse." Plus, it already has 56 five-star reviews. I'm sold.
Notes: Citrus Zest, Woodland Sage, Red Delicious Apples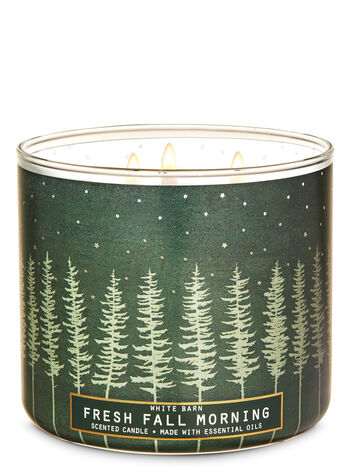 Another luminary jar design to fall in love with. Fresh Fall Morning has a touch of autumnal citrus blended with sage and apples; scent-wise, it's a tad more on the masculine side.
Notes: Cinnamon Sugar, Warm Apple Butter, Clove Buds, Brown Sugar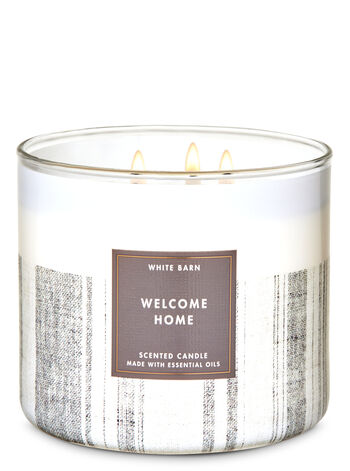 Cozy, warm, and sweet. Welcome Home smells like cinnamon sugar pretzels are baking in your oven. This could be a realtor's favorite.
Notes: White Pumpkin, a Bundle of Clove Buds, Glowing Embers
Bath & Body Works says Pumpkin Bonfire is "a toasty take on a fall classic." Similar to Marshmallow Fireside but with pumpkin instead.
Notes: Palo Santo Wood, Warm Amber, Soft Musk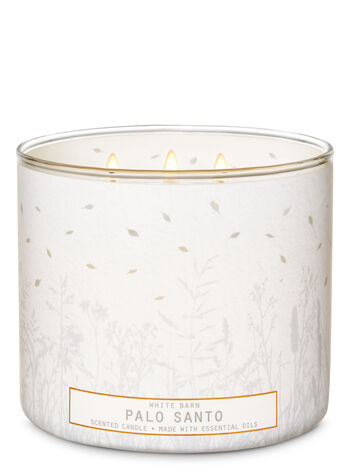 Want to cleanse the 2020 energy from your house? This fragrance is based off of the "holy wood" used for smudging sticks. The Palo Santo candle is the definition of good vibes only.
Notes: Rich Mahogany, Black Teakwood, Dark Oak, Frosted Lavender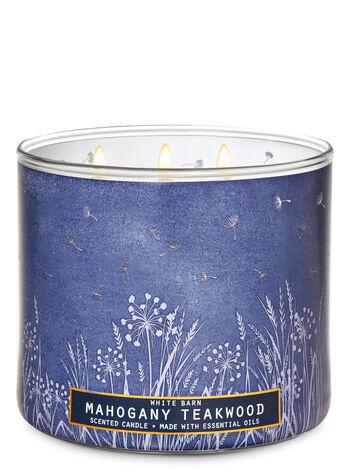 Mahogany Teakwood is a timeless fan favorite, with 180+ five-star reviews. It's more on the dark, musky cologne side.
Notes: Smooth Lavender, Warm Vanilla, Comforting Sandalwood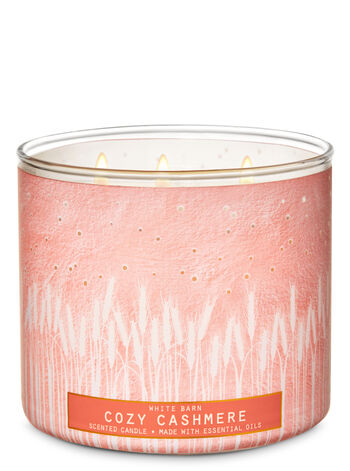 Sandalwood always smells expensive to me, and Cozy Cashmere is like a pricy sweater without the cost. This scent also isn't exclusively fall and will easily carry with you into the winter months.
Notes: Fresh Picked Apple, Autumn Berries, Clove Buds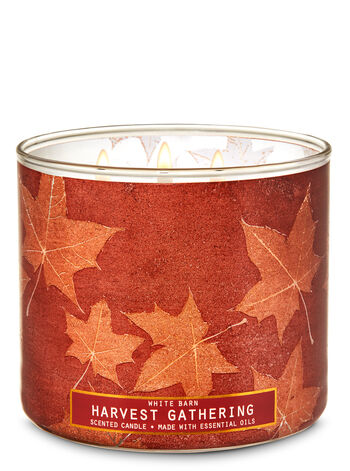 Half fruity, half spicy — Harvest Gathering is the quintessential fall candle.
Notes: Warm Caramel, Granny Smith Apple, Ground Clove
Melt down a caramel apple and put it in a jar, and you have Cider Lane. If you like your fall candles on the sweeter side, this is a great pick.
Notes: Bourbon Glazed Apples, Maple Sugar, Creamy Vanilla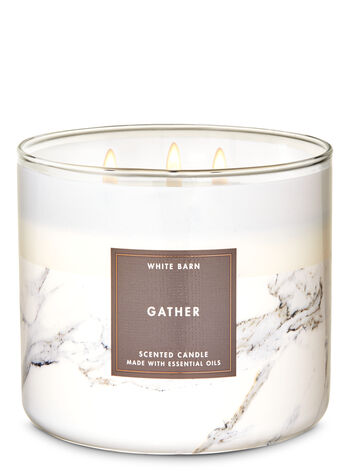 How much are we loving this black and white marble jar design?  Gather smells like baking on Thanksgiving Day. Promise me you'll reuse this jar once you've burned through the candle.
Notes: Juicy Mandarin Orange, Golden Sunflower, Creamy Suede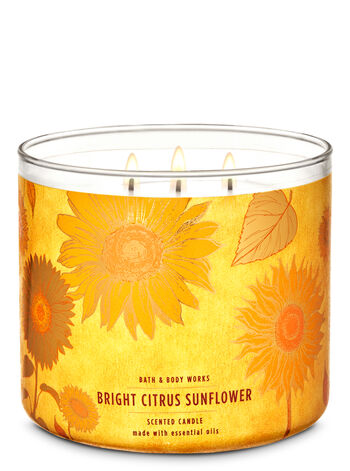 If you can't visit a sunflower field this season, bring the field to you with this candle. Bright Citrus Sunflower is like sunshine, warmth, and oranges.
Notes: Clove Buds, Ground Cinnamon, A Pinch of Nutmeg, Fresh Pumpkin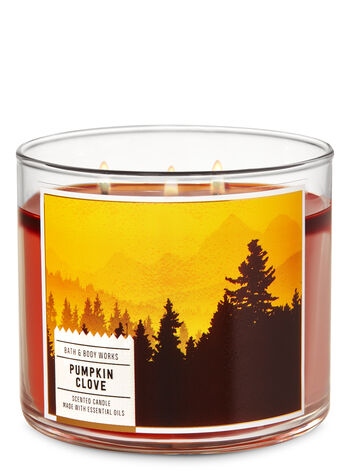 If you are a pumpkin spice latte lover, boy, have I got the candle for you. Pumpkin Clove is here to give you that Starbucks feeling all season long.
Notes: Red Mahogany Woods, Golden Delicious Apple, Pink Peppercorn, Fresh Lavender Sprigs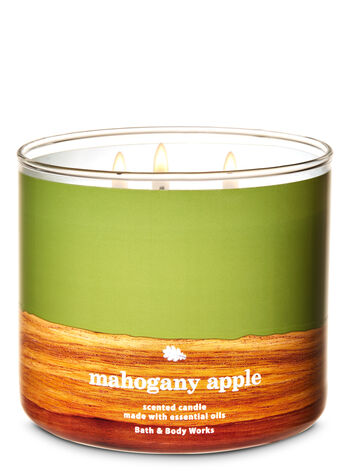 More of a green apple fan than red? Mahogany Apple even has a green jar to set the mood. Fresh apple and lavender is offset by masculine woody mahogany and peppercorns.
Notes: Crisp Autumn Air, White Driftwood, a Hint of Green Apple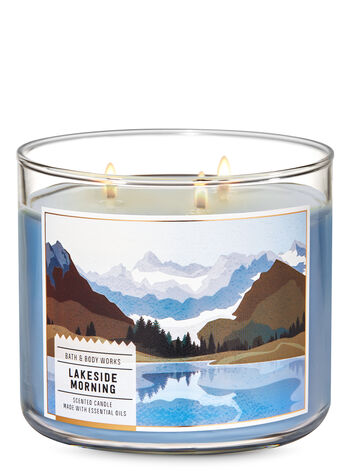 Maybe autumn smells more like fresh mountain air to you. Lakeside Morning is like that deep breath you take when you open your cabin door with a mug of coffee in your hand after a rainy night.
Notes: Fresh Farmstand Apples, Lavender Leaves, Cinnamon Bark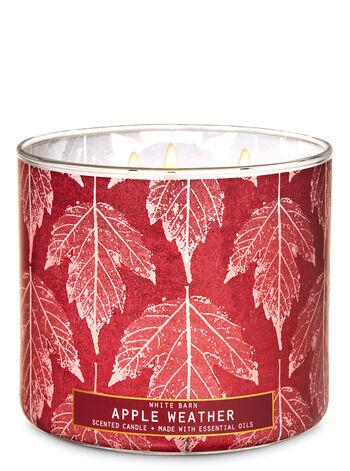 You had me at apples and cinnamon, but the touch of lavender makes this a candle to remember. Apple is definitely the standout fragrance in Apple Weather (no surprise there), and this candle will transport you straight to an orchard in October.
Notes: Lavender Blossom, Creamy Vanilla, White Woods, Sugared Musk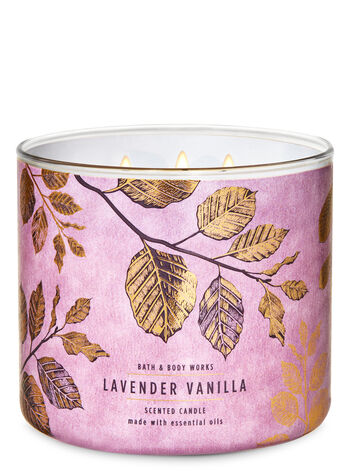 Not what you immediately think of when you think "fall," but Lavender Vanilla actually works well for the season. Plus, lavender is great for sleep and relaxation, and the jar design is adorable.
All of Bath & Body Works fall 3-wick candles can be found here.