City of Bones, the first book leading to the glorious Shadowhunter world created by Cassandra Clare, was published in the UK 15 years ago. To celebrate this milestone, Walker Books, publisher of The Mortal Instruments series in the UK, is releasing a stunning 15th anniversary edition.
Let's take a trip down the memory lane and judge all the gorgeous covers published throughout the years: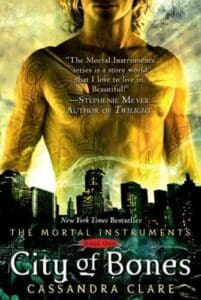 Original cover (US 2007)
Most fans of The Mortal Instruments have this original cover in their collection. By now, the spines of almost everyone's copy of this version of City of Bones are falling apart, considering how often we re-read it all the time. The covers in this version are basically: a close-up of someone's body for the first 3 books, or a close-up of two people's bodies for the later 3 books. Classic YA style but not the prettiest.
Movie Tie-In Edition (2013) 
In 2013, the City of Bones movie finally hit cinemas. While the movie adaptation did not receive the highest ratings, the tie-in cover looks amazing. Don't get us wrong, we love Lily Collins and Jamie Campbell Bower but this cover just looks perfect without a close-up of their … faces? bodies?
Simon and Schuster (2015) / Walker (2019)
This version is definitely an upgrade from the original version. No more close-up of abs. Plus, the spines of all 6 books together create a stunning artwork of all our favourite Shadowhunters standing together in New York.
Walker UK new edition (2015)
No more humans on the cover! This version of The Mortal Instruments feels they come straight from a subscription box. They also feels more adult than YA. The attention to detail in each cover is definitely the selling point of this version, as you can see Jace and Clary hidden in the angle wings here.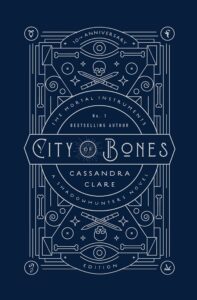 Walker 10th anniversary edition (2017)
This edition has a very nice geometric design but it is not exactly screaming City of Bones. Sure it has some skulls and bones scattered on the cover, as well as some runes, but the entire theme of fallen angels / shadowhunters is not really captured in this cover.
Walker 15th anniversary edition (2022)
Y'all. We have this edition and this picture is not doing this glorious edition of City of Bones justice at all. With all the runes, plus the purple and the gold theme, this cover is giving shadowhunters and all Cassie fans a royal treatment and it is what we deserve.
We are now giving you a chance to win a copy of the City of Bones 15th anniversary edition. To enter, simply follow the instructions in the tweet below:
To celebrate the 15th anniversary of the release of @cassieclare's The Mortal Instruments, we're giving away two copies of the stunning 15th anniversary edition! 🤩

To enter:

FOLLOW @unitedbybks
RT this tweet

UK only 🇬🇧T&Cs: @WalkerBooksYA https://t.co/PXXBcQjKYI

— United By Books (@unitedbybks) July 25, 2022
Terms and Conditions
1. No purchase necessary. A purchase will not increase your chances of winning.
2. This giveaway is open to residents of the United Kingdom only.
3. This giveaway opens Monday, 25th July at 10:00 and closes on Monday, 8th August at 22:00
4. Two (2) winners will be selected at random from all applicable entries. The prize consists of one (1) copy of the 15th anniversary edition of City of Bones by Cassandra Clare. Prize has no cash value and no alternative prize is available.
5. Winners will be contacted via Twitter direct message by @unitedbypop after the giveaway closes. Winners must provide United By Pop and Walker Books with their full name and mailing address to receive their prize. If winner fails to do so within 24 hours of being contacted, winner forfeits their prize and a new winner will be selected.
6. United By Pop is not responsible for prizes that are lost or damaged in the post. Prizes may take up to 90 days to arrive.