Susan Lee on her New York summer YA rom-com, The Name Drop
"It's okay to try things. To make mistakes. To change paths."
This post is sponsored by Harper360.
Exploring privilege, familial expectations, the treatment of women in the workplace, all set to the back drop of a sweltering New York summer, Susan Lee's newest YA novel, The Name Drop, is an adorable, drama filled teen romance perfect for readers looking for a story with a classic rom-com movie feel. To celebrate its release, we're so excited to have had the chance to chat to Susan Lee about everything from career paths to reading recommendations.
---
Hi Susan! I'm so excited to get to chat to you again today to celebrate the release of your new YA romance, The Name Drop. For readers who might just be hearing about it, how would you best describe it to them in once sentence?
The Name Drop is a YA rom-com about 2 kids caught in a case of mistaken identity that leads to a summer of trading places, finding yourself, and falling in love.
Can you tell us a little about the inspirations behind Elijah and Jessica's story?
The overall inspiration was to really put the message out there that it's okay to pivot in life, to not do what everyone expects of you in finding your own way, and encouraging people to make choices that feel right for themselves. I was in a bit of a tumultuous time in my own life and when I finally stopped worrying about what anyone else thought and redefined what success looked like for me, I ended up a lot happier and healthier!
In the author's note for The Name Drop, you discuss having explored numerous job fields before publishing your debut. Do you have any advice for readers who might relate to Elijah's struggle to decide on a career path?
You don't have to have it all figured out. It's okay to try things. To make mistakes. To change paths. That's the message, especially for professional paths, that I'd love for young people like Elijah to know.
View this post on Instagram
Both Jessica and Elijah have such endearing and strong voices. Did you find writing one perspective easier or more challenging than the other?
I am such a sucker for writing dual POV because the voices are STRONG in my head! Ha! I think the hardest part was to make Elijah authentic in coming from a very privileged background without allowing him to sound too unrelatable.
Jumping off my last question: what was your favourite part about writing The Name Drop and spending time with Jessica and Elijah during their big summer?
I loved setting the story in New York. I lived there for 11 years and only moved away a few years ago. Writing about 2 people falling in love during their first visits to New York made me feel so at home during the process.
2023 has already filled our TBR's with some incredible new YA romances. For readers desperate for more after loving The Name Drop, have you read and loved any you'd like to recommend?
I loved "Highly Suspicious and Unfairly Cute" by Talia Hibbert, "Seven Percent of Ro Devereux" by Ellen O'Clover, and "Forget Me Not" by Alyson Derrick.
Finally, are you currently working on anything new and if so, is there anything you can share with us about it?
I'm finishing up my first draft of my next YA rom-com titled The Romance Rivalry. It's about 2 rival romance book reviewers who challenge each other to a dating competition, using tropes to find love. I have been LOVING writing this one. It's so funny and such a love letter to the Romance genre and it's very committed readers. The most meta book I've ever written, for sure. 🙂 It comes out Summer 2025.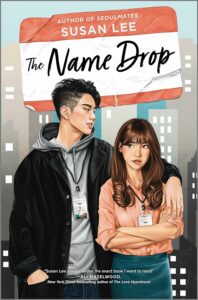 Get your copy of The Name Drop by Susan Lee here.