"International phenomenon Angie Thomas revisits Garden Heights seventeen years before the events of The Hate U Give in this searing and poignant exploration of Black boyhood and manhood.
If there's one thing seventeen-year-old Maverick Carter knows, it's that a real man takes care of his family. As the son of a former gang legend, Mav does that the only way he knows how: dealing for the King Lords. With this money he can help his mom, who works two jobs while his dad's in prison.
Life's not perfect, but with a fly girlfriend and a cousin who always has his back, Mav's got everything under control.
Until, that is, Maverick finds out he's a father.
Suddenly he has a baby, Seven, who depends on him for everything. But it's not so easy to sling dope, finish school, and raise a child. So when he's offered the chance to go straight, he takes it. In a world where he's expected to amount to nothing, maybe Mav can prove he's different.
When King Lord blood runs through your veins, though, you can't just walk away. Loyalty, revenge, and responsibility threaten to tear Mav apart, especially after the brutal murder of a loved one. He'll have to figure out for himself what it really means to be a man."
---
In Concrete Rose, Angie Thomas offers us a rarely published point of view: that of a Black teenage father. Maverick Carter, who's own dad is in jail, finds out he's a father one minute, and has a son thrust upon him in the next. We follow him as he not only deals with fatherhood, but also coming of age, school, friends, first jobs, first love, and gang life.
An interesting dynamic forms between Maverick, his son (first King Jr., but renamed Seven), and his Mother – an unconventional household trying to raise a baby they only just found out was a relation. There's also King, Maverick's best friend; Aisha, Seven's mother and King's on-and-off girlfriend; Dre, Maverick's cousin who has a wife and baby of his own; Mr Wyatt, Maverick's neighbour who takes a chance in hiring him at the grocery store; and of course: Lisa, his girlfriend who's family thinks Maverick is beneath them.
As Concrete Rose is a prequel to The Hate U Give and set in the 1990s, we already know what happens to several of these characters in the present day – but Thomas writes in such a way that there are still plenty of twists, turns, and surprises for the reader. She uses our prior knowledge to her advantage with certain nods to Starr's story, however Concrete Rose could definitely be read by someone who has never read The Hate U Give, and it works perfectly as a stand alone novel.
Maverick is in deep with the King Lords at the beginning, a position inherited from his father, as are most of his neighbourhood and support system. Concrete Rose definitely approaches this in a nuanced way, as Thomas did in her previous two novels, looking at why someone would be in a gang, and why they would stay: community, support, and fear. However, the narrative ultimately follows Maverick's journey towards leaving gang life — something that we know is going to happen from The Hate U Give.
Thomas is also very good at showing us sympathetic characters in difficult positions, from those that side with our protagonist, to his rivals. Every character feels like a real one, their actions for believable reasons.  However she also comments on many topics and issues through each of these characters: from racism, poverty, and ghettoization to postnatal depression, grief, and absent parents.
Concrete Rose is yet another fantastic YA novel from Angie Thomas. It's entertaining, enlightening, and emotional, and a great companion to The Hate U Give. I'm sure it will tempt many readers to revisit The Hate U Give, with a new understanding and appreciation for Starr's dad – and eager to look for those references and easter eggs they may have missed the first time around.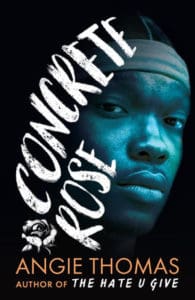 Buy your copy of Concrete Rose here: Amazon, Waterstones, Hive