Pick a teen rom com and we'll give you a YA book to read
These 12 movies and YA novels are the perfect choices this valentine's day
From To All The Boys I've Loved Before to 10 Things I Hate About You: if you like teen rom coms then we've got a perfect book recommendation for you. Likewise, if you're a YA romance fan you might just find your next favourite rom com right here!
If you like "Love Simon" try…
Felix Ever After by Kacen Callender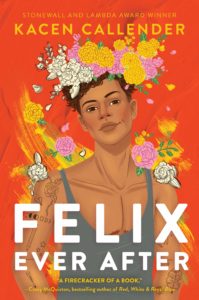 Felix Love has never been in love—and, yes, he's painfully aware of the irony. He desperately wants to know what it's like and why it seems so easy for everyone but him to find someone. What's worse is that, even though he is proud of his identity, Felix also secretly fears that he's one marginalization too many—Black, queer, and transgender—to ever get his own happily-ever-after.
When an anonymous student begins sending him transphobic messages—after publicly posting Felix's deadname alongside images of him before he transitioned—Felix comes up with a plan for revenge. What he didn't count on: his catfish scenario landing him in a quasi–love triangle….
But as he navigates his complicated feelings, Felix begins a journey of questioning and self-discovery that helps redefine his most important relationship: how he feels about himself.
Felix Ever After is an honest and layered story about identity, falling in love, and recognizing the love you deserve.
Why they're similar:  LGBT+ themes, coming out, first love, blackmail, online harassment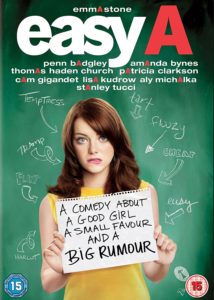 If you like "Easy A" try…
Moxie by Jennifer Mathieu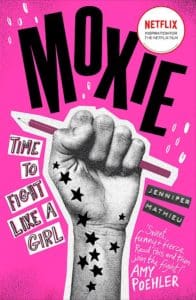 Vivian Carter is fed up. Fed up with her small-town Texas high school that thinks the football team can do no wrong. Fed up with sexist dress codes and hallway harassment. But most of all, Viv Carter is fed up with always following the rules.
Viv's mom was a punk rock Riot Grrrl in the '90s, so now Viv takes a page from her mother's past and creates a feminist zine that she distributes anonymously to her classmates. She's just blowing off steam, but other girls respond. Pretty soon Viv is forging friendships with other young women across the divides of cliques and popularity rankings, and she realizes that what she has started is nothing short of a girl revolution.
Why they're similar: feminist themes, small town setting, fighting the system, cute romance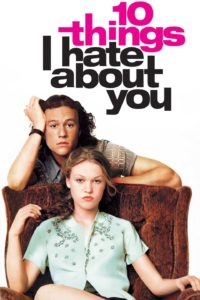 If you like "10 Things I Hate About You" try…
Tell Me How You Really Feel by Aminah Mae Safi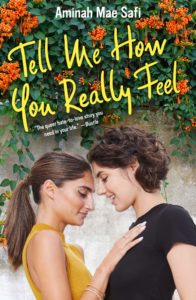 Sana Khan is a cheerleader and a straight A student. She's the classic (somewhat obnoxious) overachiever determined to win.
Rachel Recht is a wannabe director who's obsesssed with movies and ready to make her own masterpiece. As she's casting her senior film project, she knows she's found the perfect lead – Sana.
There's only one problem. Rachel hates Sana. Rachel was the first girl Sana ever asked out, but Rachel thought it was a cruel prank and has detested Sana ever since.
Told in alternative viewpoints and inspired by classic romantic comedies, this engaging and edgy YA novel follows two strongwilled young women falling for each other despite themselves.
Why they're similar: hate to love romance, competitive characters, miscommunication, falling in love by accident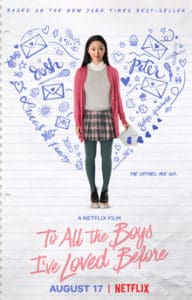 If you like "To All the Boys I've Loved Before" try…
Date Me, Bryson Keller by Kevin van Whye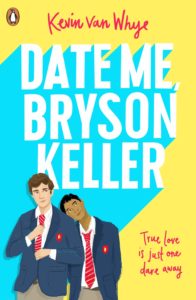 Everyone knows about the dare: Each week, Bryson Keller must date someone new–the first person to ask him out on Monday morning. Few think Bryson can do it. He may be the king of Fairvale Academy, but he's never really dated before.
Until a boy asks him out, and everything changes.
Kai Sheridan didn't expect Bryson to say yes. So when Bryson agrees to secretly go out with him, Kai is thrown for a loop. But as the days go by, he discovers there's more to Bryson beneath the surface, and dating him begins to feel less like an act and more like the real thing. Kai knows how the story of a gay boy liking someone straight ends. With his heart on the line, he's awkwardly trying to navigate senior year at school, at home, and in the closet, all while grappling with the fact that this "relationship" will last only five days. After all, Bryson Keller is popular, good-looking, and straight . . . right?
Kevin van Whye delivers an uplifting and poignant coming-out love story that will have readers rooting for these two teens to share their hearts with the world–and with each other.
Why they're similar: protagonist who's never dated, first love, fake dating and secret dating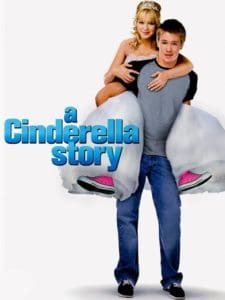 If you like "Cinderella Story" try…
Geekerella by Ashley Poston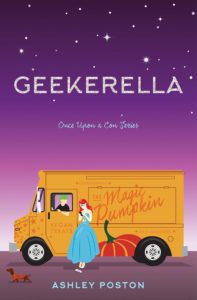 Part romance, part love letter to nerd culture, and all totally adorbs, Geekerella is a fairy tale for anyone who believes in the magic of fandom. Geek girl Elle Wittimer lives and breathes Starfield, the classic sci-fi series she grew up watching with her late father. So when she sees a cosplay contest for a new Starfield movie, she has to enter. The prize? An invitation to the ExcelsiCon Cosplay Ball, and a meet-and-greet with the actor slated to play Federation Prince Carmindor in the reboot. With savings from her gig at the Magic Pumpkin food truck (and her dad's old costume), Elle's determined to win…unless her stepsisters get there first.
Teen actor Darien Freeman used to live for cons—before he was famous. Now they're nothing but autographs and awkward meet-and-greets. Playing Carmindor is all he's ever wanted, but the Starfield fandom has written him off as just another dumb heartthrob. As ExcelsiCon draws near, Darien feels more and more like a fake—until he meets a girl who shows him otherwise.
Why they're similar: modern Cinderella retellings, nerdy girl/popular guy dynamic, hidden identities, text relationship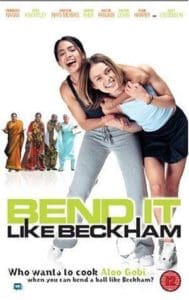 If you like "Bend it Like Beckham" try…
The Henna Wars by Adiba Jaigirdar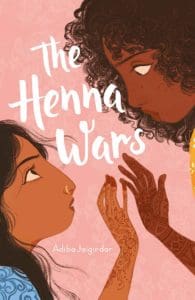 When Dimple Met Rishi meets Simon vs. the Homo Sapiens Agenda in this rom com about two teen girls with rival henna businesses.
When Nishat comes out to her parents, they say she can be anyone she wants—as long as she isn't herself. Because Muslim girls aren't lesbians. Nishat doesn't want to hide who she is, but she also doesn't want to lose her relationship with her family. And her life only gets harder once a childhood friend walks back into her life.
Flávia is beautiful and charismatic and Nishat falls for her instantly. But when a school competition invites students to create their own businesses, both Flávia and Nishat choose to do henna, even though Flávia is appropriating Nishat's culture. Amidst sabotage and school stress, their lives get more tangled—but Nishat can't quite get rid of her crush on Flávia, and realizes there might be more to her than she realized.
Why they're similar: complex family dynamics, rivalry, focus on a female/female relationship, shared passions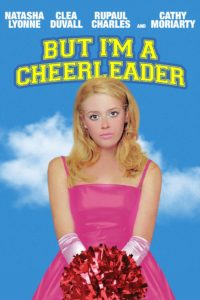 If you like "But I'm A Cheerleader" try…
Camp by LC Rosen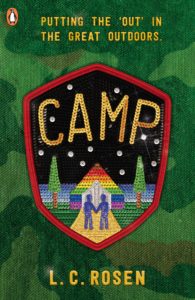 Sixteen-year-old Randy Kapplehoff loves spending the summer at Camp Outland, a camp for queer teens. It's where he met his best friends. It's where he takes to the stage in the big musical. And it's where he fell for Hudson Aaronson-Lim – who's only into straight-acting guys and barely knows not-at-all-straight-acting Randy even exists.
This year, though, it's going to be different. Randy has reinvented himself as 'Del' – buff, masculine, and on the market. Even if it means giving up show tunes, nail polish, and his unicorn bedsheets, he's determined to get Hudson to fall for him.
But as he and Hudson grow closer, Randy has to ask himself how much is he willing to change for love. And is it really love anyway, if Hudson doesn't know who he truly is?
Why they're similar: all LGBT casts, set at camp, self discovery, comedy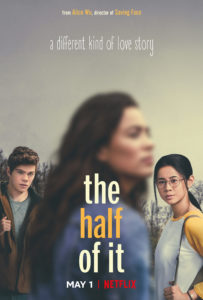 If you like "The Half Of It" try…
The Weight ofthe Stars by K Ancrum
Ryann Bird dreams of traveling across the stars. But a career in space isn't an option for a girl who lives in a trailer park on the wrong side of town. So Ryann becomes her circumstances and settles for acting out and skipping school to hang out with her delinquent friends.
One day she meets Alexandria: a furious loner who spurns Ryann's offer of friendship. After a horrific accident leaves Alexandria with a broken arm, the two misfits are brought together despite themselves—and Ryann learns her secret: Alexandria's mother is an astronaut who volunteered for a one-way trip to the edge of the solar system.
Every night without fail, Alexandria waits to catch radio signals from her mother. And its up to Ryann to lift her onto the roof day after day until the silence between them grows into friendship, and eventually something more . . .
In K. Ancrum's signature poetic style, this slow-burn romance will have you savoring every page.
Why they're similar: female/female romance, protagonist who wants to get of out of their home town, unlikely friendships, understated tone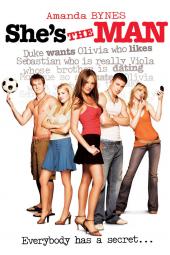 If you like "She's The Man" try…
Chaotic Good by Whitney Gardner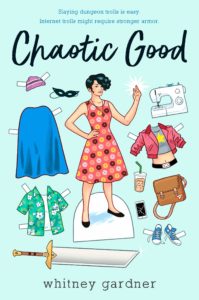 Cameron's cosplay–dressing like a fictional character–is finally starting to earn her attention–attention she hopes to use to get into the CalTech costume department for college. But when she wins a major competition, she inadvertently sets off a firestorm of angry comments from male fans.
When Cameron's family moves the summer before her senior year, she hopes to complete her costume portfolio in peace and quiet away from the abuse. Unfortunately, the only comic shop in town–her main destination for character reference–is staffed by a dudebro owner who challenges every woman who comes into the shop.
At her twin brother's suggestion, Cameron borrows a set of his clothes and uses her costuming expertise to waltz into the shop as Boy Cameron, where she's shocked at how easily she's accepted into the nerd inner sanctum. Soon, Cameron finds herself drafted into a D&D campaign alongside the jerky shop-owner Brody, friendly (almost flirtatiously so) clerk Wyatt, handsome Lincoln, and her bro Cooper, dragged along for good measure.
But as her "secret identity" gets more and more entrenched, Cameron's portfolio falls by the wayside–and her feelings for Lincoln threaten to make a complicated situation even more precarious.
Why they're similar: female protagonist disguised as a boy, secret identities, feminist themes, explorations of (accidental) queerness, shared passions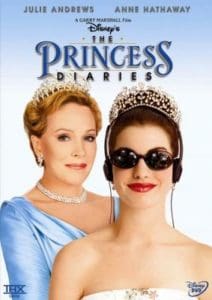 If you like "The Princess Diaries" try…
You Have a Match by Emma Lord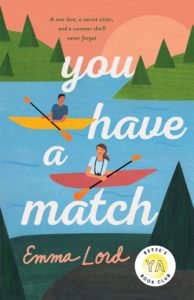 A new love, a secret sister, and a summer she'll never forget.
When Abby signs up for a DNA service, it's mainly to give her friend and secret love interest, Leo, a nudge. After all, she knows who she is already: Avid photographer. Injury-prone tree climber. Best friend to Leo and Connie…although ever since the B.E.I. (Big Embarrassing Incident) with Leo, things have been awkward on that front.
But she didn't know she's a younger sister.
When the DNA service reveals Abby has a secret sister, shimmery-haired Instagram star Savannah Tully, it's hard to believe they're from the same planet, never mind the same parents — especially considering Savannah, queen of green smoothies, is only a year and a half older than Abby herself.
The logical course of action? Meet up at summer camp (obviously) and figure out why Abby's parents gave Savvy up for adoption. But there are complications: Savvy is a rigid rule-follower and total narc. Leo is the camp's co-chef, putting Abby's growing feelings for him on blast. And her parents have a secret that threatens to unravel everything.
But part of life is showing up, leaning in, and learning to fit all your awkward pieces together. Because sometimes, the hardest things can also be the best ones.
Why they're similar: long lost family, secrets, finding out who you are, friendship and family dynamics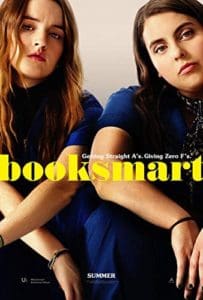 If you like "Booksmart" try…
Lets Talk About Love by Claire Kann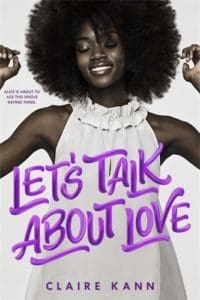 Alice had her whole summer planned. Non-stop all-you-can-eat buffets while marathoning her favorite TV shows (best friends totally included) with the smallest dash of adulting–working at the library to pay her share of the rent. The only thing missing from her perfect plan? Her girlfriend (who ended things when Alice confessed she's asexual). Alice is done with dating–no thank you, do not pass go, stick a fork in her, done.
But then Alice meets Takumi and she can't stop thinking about him or the rom com-grade romance feels she did not ask for (uncertainty, butterflies, and swoons, oh my!).
When her blissful summer takes an unexpected turn, and Takumi becomes her knight with a shiny library employee badge (close enough), Alice has to decide if she's willing to risk their friendship for a love that might not be reciprocated—or understood
Why they're similar: bookish characters, cute romance, friendship focus, LGBT+ themes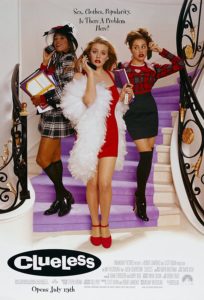 If you like "Clueless" try…
The Falling in Love Montage by Ciara Smyth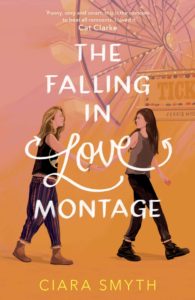 Saoirse doesn't believe in love at first sight or happy endings. If they were real, her mother would still be able to remember her name and not in a care home with early onset dementia. A condition that Saoirse may one day turn out to have inherited. So she's not looking for a relationship. She doesn't see the point in igniting any romantic sparks if she's bound to burn out.
But after a chance encounter at an end-of-term house party, Saoirse is about to break her own rules. For a girl with one blue freckle, an irresistible sense of mischief, and a passion for rom-coms.
Unbothered by Saoirse's no-relationships rulebook, Ruby proposes a loophole: They don't need true love to have one summer of fun, complete with every cliché, rom-com montage-worthy date they can dream up—and a binding agreement to end their romance come fall. It would be the perfect plan, if they weren't forgetting one thing about the Falling in Love Montage: when it's over, the characters actually fall in love… for real.
Why they're similar: protagonist who doesn't believe in love, absent mother, fake/planned romance, falling in love by accident