Neal Shusterman on Gleanings, The Arc of a Scythe, upcoming projects and more
"Because even if we get what we want, there are still going to be consequences…"
To celebrate the release of Gleanings: Stories from the Arc of a Scythe, the newest instalment in his New York Times bestselling Arc of a Scythe series, we're thrilled to have had the opportunity to talk to author Neal Shusterman all about his newest release, upcoming projects and more.
---
Hi Neal! We're so happy to have you on the site today to chat all things Gleanings, the newest addition to your fantastic Arc of a Scythe series. For readers just learning about this series, how would you best describe it to them in five words?
Hmm. I can't do anything in five words—which is why I write books—but I'll try… How about "Thrilling utopian bringers of death?"
Can you tell us a little about what readers can expect from this latest instalment of the Arc of a Scythe series?
Origin stories of some of their favorite characters. (And characters you love to hate) Some dark stories, some funny ones. Stories told from unexpected perspectives, dreams, surrealism, butchered Shakespeare, and a homicidal dog.
The Arc of a Scythe series is brilliantly clever and has such a fascinating concept. What inspired you to write both Gleanings and the series as a whole?
Gleanings came about because I just wasn't ready to leave the world of Scythe yet. There were so many corners of that world I wanted to shed light on. As for the entire series, it was an attempt to flip the idea of dystopia – rather than a story of a world gone wrong, it's about the consequences of the world going right, and actually achieving all the things we want to achieve as a society. Because even if we get what we want, there are still going to be consequences…
View this post on Instagram
You're not the only contributor to Gleanings. What was it like putting parts of this world and story you've created into the hands of other authors?
I love getting the chance to collaborate – it was like inviting them all into my sandbox, and getting to play. Everyone added something fun and unique to the project. Jarrod and Sofía brought an international flare, because Sofía's from Spain, and their story takes place in Barcelona between Scythes Gaudí and Dalí. Mike Payne specializes in anthropomorphized animal stories, so I knew I wanted to work with him in telling a story about pets in the world of Scythe. I love David Yoon's work, and had collaborated with him on a movie pitch—he was so great to work with that I wanted to work on a story with him for Gleanings, and love the result! I've worked with Michelle Knowlden before, but this Inception-esque story really pushed both of us into new, fun territory creatively. And I'm thrilled that my daughter Joelle wrote a piece that is perfect to open the book with!
With the year coming to a close, can you recommend one of your stand out YA reads of 2022 and a 2023 YA release you're highly looking forward to?
A stand-out read of 2022 was ALL MY RAGE by Sabaa Tahir. And I'm looking forward to RETRO, by my son Jarrod and his partner, Sofía – although, I do admit, I'm partial!
Finally, are you currently working on anything new and if so, is there anything you can share with us?
A mid-grade series I'm cowriting with Eric Elfman – the first book is called I AM THE WALRUS, due out in April, then in September, a Holocaust-themed graphic novel I've been working on for ten years, illustrated by Andrés Vera Martinez, entitled COURAGE TO DREAM. Then at the end of 2023, the first book of a brand new Sci-fi series – the title of the first book is ALL BETTER NOW. But you'll have to wait to find out what it's about!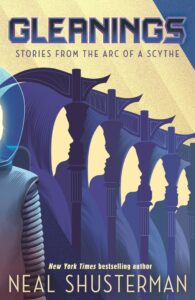 Get your copy of Gleanings by Neal Shusterman here.