Kit Frick on her killer summer YA thriller, The Reunion
"It never gets easier from book to book, but the challenge is part of the fun for me. I can't quit!"
With four YA thrillers to her name, Kit Frick is no stranger to stories filled with murder, secrets and mystery and her fifth and newest title, The Reunion, is no different. To celebrate the release of The Reunion, we chatted with Kit all about her inspirations, recent reads and what exactly goes into writing a killer summer thriller.
---
Hi Kit! It's great to get to chat to you today to celebrate the release of your newest, page-turning YA thriller, The Reunion. For readers just hearing about it, how would you best describe it to them?
Hello and thanks for chatting with me! The Reunion follows four teens attending a doomed family reunion at a posh resort in Cancún, Mexico, where the week ends in murder—and everyone's a suspect. If you like dark family secrets, lots of interpersonal drama, and stories where seemingly-idyllic vacations go horribly awry, The Reunion is probably for you!
The Reunion is a brilliant blend of secrets, lies and murder! Can you tell us a little about your inspirations for the story?
Absolutely. I have a large and wonderful group of girlfriends I travel with annually, and we took a recent trip to a resort in Cancún. There were no murders that I'm aware of! But the resort setting for The Reunion was inspired in large part by that vacation. I'm also obsessed with family secrets, a recurring theme in many of my books, and with shows like The White Lotus and The Resort, where the picture-perfect setting isn't so perfect at all…
All of your thrillers are filled with gripping twists and turns, The Reunion being no exception to this. Do you always plan your twists and endings in advance?
Thanks so much! I do, to a certain extent. I need to know what I'm writing toward, so I typically have the ending in mind before I start, but I never know exactly how all the layers of the mystery will peel back or how the reveals will spool out until I get there.
View this post on Instagram
The Reunion is your 5th YA thriller. What is it about the genre that keeps you returning to it?
I simply love mysteries—the suspense, the secrets, the way the reader is invited to solve the puzzle. I'm an avid reader in the genre, both in YA and books for adults. As a writer, crafting the crime, the suspects, the clues and red herrings, and the reveals is always a tremendous challenge. It never gets easier from book to book, but the challenge is part of the fun for me. I can't quit!
Are there any standout YA thrillers you've read so far this year you've loved or any you're looking forward to being released before the years end?
So far this year, I've read a really diverse and gripping group of YA thrillers including Joelle Wellington's debut Their Twisted Games, Amelia Brunskill's Wolfpack (a thriller in verse!), Angeline Boulley's Warrior Girl Unearthed, and Karen M. McManus's One Of Us Is Back. I've got a bunch on my TBR (always!) including Jessica Goodman's The Legacies and Rebecca Barrow's And Don't Look Back.
Finally, are you currently working on any projects and if so, is there anything you can share with us?
Yes! After The Reunion's release on August 29, I'll next be celebrating the publication of my first novel for adults. The Split is a thriller written in the split-reality style of Sliding Doors (which was incredibly fun to do). It follows a pair of sisters into a family's dark past to excavate the secrets we keep from the people we love and explore how a single choice can have dramatic—and deadly—consequences. It's out February 13, 2024 from Emily Bestler Books/Atria!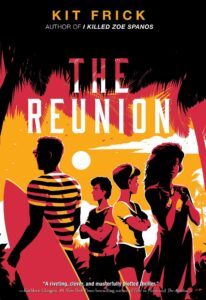 Get your copy of The Reunion by Kit Frick here.