Kit Frick on her gripping new YA thriller, Very Bad People
"In a thriller, the stakes are quite literally life and death, so the genre feels like an extension of the real teen experience."
Page-turning from the first page until the last, Kit Frick's new dark academia YA thriller, Very Bad People, is impossible to put down. To celebrate its release, we sat down with Kit to ask her a few questions about this fabulous new addition to the YA thriller pool.
---
Hi Kit, we're so happy to have you on the site today to celebrate the release of your page-turning new YA thriller, Very Bad People. For readers just hearing about it, can you tell a little about what they can expect from the book?
Hello there, readers!  I'm so excited to be here chatting about Very Bad People. I'll start off by giving you the official elevator pitch, then a few reasons to read it.
In Very Bad People, a teen girl's search for answers about her mother's mysterious death leads to a powerful secret society at her new boarding school—and a dangerous game of revenge that will leave her forever changed.
In terms of what you can expect, if you're a sucker for the following, Very Bad People should be up your alley:
*dark academia
*sister drama
*secret societies
*dark family secrets
*first love
*mysterious letters
*moral quandaries
The plot for Very Bad People had so many intriguing layers to it, can you tell us a little about how it came together from inspiration to publication?
You know those horrifying (and bafflingly frequent) news stories that begin something like, "Mother drives into lake with children in car…"? I wanted to interrogate that kind of traumatic event, the kind that rarely has a satisfying explanation, and explore its impact on one family. I began with the idea of a teen girl revisiting her mother's mysterious death—a drowning incident that she and her sisters survived—several years later, and her hunch that there was a lot more to what happened than meets the eye.
I knew Calliope, my main character, would want to escape her small hometown where she'd been living in a fishbowl after the tragedy, but where would she go? From there, the idea of the boarding school setting, Tipton Academy, and the secret society, Haunt and Rail, began to take shape. What new mysteries would Calliope uncover at her new school? How would it all tie together? Everything flowed from that point.
View this post on Instagram
Having now written multiple fabulous YA thrillers, what do you think it is about the genre you find so drawn towards writing?
Thank you! I've been drawn toward YA since I first started writing fiction because I still feel so closely tuned into my adolescent self. I'm An Old now, but I still feel sixteen most days! In terms of the thriller genre, I've always loved a good mystery. So thrillers with a mystery for me to build—and for readers to solve along with my characters—are a natural fit for me as a writer. I think YA and thrillers pair so nicely because as a teenager, the stakes of even everyday problems can feel like life and death. I know they did for me! In a thriller, the stakes are quite literally life and death, so the genre feels like an extension of the real teen experience.
If all your YA protagonists found themselves in each other's company, who do you think would get on the best and do you think any would clash at all?
Oh that's interesting! Calliope (Very Bad People) would probably get along best with Ellory (Before We Were Sorry, previously titled See All the Stars, my first novel) because they're both quite introspective, and both are coping with loss. I'm not sure the Amanda we meet at the beginning of All Eyes on Us would get along with any of my other protagonists—she's so judgmental!—but like many good leading characters, she grows and changes quite a lot by the end of the story, so I think the Amanda we leave at the end of the novel would be open to friendships with Anna (I Killed Zoe Spanos), Calliope, and Ellory, just as she opens up to Rosalie during the course of the story. Martina (the teen podcast reporter from I Killed Zoe Spanos) would find Calliope's story fascinating—if Calliope would tell it!
Fun fact: two of my protagonists actually meet at the midpoint of Very Bad People! Keep your eyes open for a cameo from one of my prior books!
View this post on Instagram
Do you have any upcoming YA thriller releases you can't wait to get your hands on this year?
Do I ever! I've had the good fortune to read a few early, and I highly recommend (in order of upcoming release) All the Best Liars by Amelia Kahaney, The Agathas by Kathleen Glasgow and Liz Lawson, Dead End Girls by Wendy Heard, Gideon Green in Black and White by Katie Henry, Summer's Edge by Dana Mele, The Counselors by Jessica Goodman, Bad Things Happen Here by Rebecca Barrow, and Who We Were in the Dark by Jessica Taylor.
So many excellent forthcoming YA mysteries and thrillers; get excited, readers!
If you'd found yourself in Calliope's position of being invited into the 'ghosts' secret society, how do you think you'd react and do you think you'd accept the invitation?
I'd be so nervous! I'm such a rule-follower, typically, but I honestly don't think I'd be able to resist the invitation's allure. Especially at Calliope's age, I was so hungry to be part of things—social groups, in-jokes, and especially anything private, secret, and by invitation only. So yeah, I'd accept, no doubt.
Finally, are you currently working on anything new and if so, is there anything you can share with us?
I am! I'm in the midst of drafting my next YA thriller, which should be coming out next year. It hasn't been announced yet, so I can't say a whole lot, but it's a murder mystery you might describe as a YA White Lotus meets a dysfunctional family reunion, set at a luxurious Caribbean resort. I'm having a lot of fun with it, and I'll have more to share soon.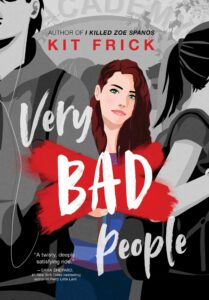 Get your copy of Very Bad People by Kit Frick here.