Gabi Burton on her sensational debut novel, Sing Me to Sleep
"When I started writing Sing Me to Sleep, I knew that I wanted this story to be different from the ones I'd written before."
Compelling, immersive and impossibly gripping, Gabi Burton's debut novel, Sing Me to Sleep, is undoubtedly one of the most exciting new YA fantasies to have come out of 2023 thus far. With seamless world building, jaw dropping twists, a tantalising romance and so much more, Sing Me to Sleep, is set to find its way into countless 'all time favourite' lists (it's definitely landed in ours).
To celebrate the release of her phenomenal debut, we're thrilled to have had the opportunity to chat to Gabi about everything from writing to murder and, of course, Sing Me to Sleep.
---
Hi Gabi, I'm so excited to be able to chat to you today all about your debut novel, Sing Me to Sleep, which has quickly become one of my favourite reads of the year so far! For readers just learning about it, do you have an elevator pitch you can share with us?
Sing Me to Sleep is about Saoirse, a siren hiding in a kingdom where her existence is illegal. By day, she's disguised as a fae in her kingdom's army, by night, she's an assassin for dangerous mercenaries. When Saoirse is forced to accept a job guarding the crown prince, she expects hate him. Instead, she finds herself increasingly drawn to him especially when they're forced to work together to stop a deadly killer plaguing the city. The only problem: Saoirse is that deadly killer.
Sing Me to Sleep is one of the most compelling fantasies I've read in a long time. Can you tell us what inspired the story, its world, and its characters?
The story and the world of Sing Me to Sleep is all based around Saoirse. When I got the idea to write about a Black siren, I started with Saoirse as a main character. I drew on a lot of my own experiences for her character. As a kid, swimming was my favourite sport but I was really resistant to swimming competitively because I was self-conscious about my hair. I wanted to create a character who inherited my love of water, but not my insecurities as a Black girl. Understanding Saoirse's character was the first step of writing Sing Me to Sleep. I knew how I wanted her to feel and what her internal struggles would be. The story and the world developed around her as a character. I asked myself "why does she feel this away?" and "what about the world that she lives in makes her feel like an outsider?" In a way, Saoirse is the literal centre of this universe because I knew what Saoirse's role in this world was before I knew anything else about the world itself.
Sing Me to Sleep is your debut novel. What has your journey from writing to being published looked like?
I've wanted to be a published author since I was six years old. Over the years, I've written lots of stories that will never see the light of day. Growing up, all the books I read had white characters, so all the books I wrote also had white characters. When I started writing Sing Me to Sleep, I knew that I wanted this story to be different from the ones I'd written before. It has an all Black and Brown cast and I made the characters more personal to me. I started writing Sing Me to Sleep in November 2020 for National Novel Writing Month (NaNoWriMo). Midway through, I got COVID and was completely bedridden. I could barely roll over in bed without struggling to breathe. I was really invested in the story I was writing so I started sleeping with my laptop on the other side of the bed so I could wake up, roll over, and write, without having to move around too much. I fortunately recovered from COVID and finished the first draft of Sing Me to Sleep by December. I pretty much did nothing but edit for the next few months and by February, I was looking for a literary agent. From there, it was a whirlwind. I signed with my literary agent in March and sold the book in April. I've been squealing with excitement ever since. This truly is all of my dreams coming true and I couldn't be more excited.
With forbidden romance, an assassin siren, hidden identities, breathtaking twists, and a fully Black and Brown cast, Sing Me to Sleep truly ticks all the boxes for a unique and captivating read, but did you have a favourite aspect to write/create?
At the risk of sounding morbid, the murders were my favourite part to write. Partially because it's when Saoirse is most "free" and I love exploring that. And partially because I had so much fun coming up with the way different emotions taste and feel. Exploring that aspect of her abilities was really interesting and fun during the scenes where she's killing people.
Jumping off that question, is there a specific scene you had the most fun writing or any you found more challenging?
The most fun and most challenging scenes to write are bookended. The very first scene was hands down my favourite. It's the scene that's changed the least from the very first draft to the final version. It's also the scene where I really got into Saoirse's head and motivations. Like I said, I had a pretty clear idea of Saoirse and her character before I started outlining and writing Sing Me to Sleep, but I definitely learned a lot more about her in that first scene and really got a chance to dive into (excuse the pun) her voice for the first time. And, of course, it has a murder which is also really fun.
The most challenging scene to write was definitely the last one. There were a lot of threads to wrap up and a lot I needed to dangle for Book 2. Saoirse and Hayes have gone through a lot by the last chapter, but their character arcs aren't finished—not even close. So, the last scene needed to capture how far they've come, but also address a lot of the problems that have arisen. Even though the information conveyed in the last chapter has stayed pretty consistent, that last interaction between Saoirse and Hayes really shapes their dynamic for Book 2. Getting that right was really difficult and it changed a lot over the course of several, several drafts.
Sirens, fae, witches, humans, no matter what you are, it's safe to say that all beings are complex, so I absolutely adored the fact you decided to create a pretty much exclusively morally grey cast of characters. Was this something you planned before writing or did it come naturally as the characters came to life?
I'm a plotter who thinks up characters before I start plotting. For the most part, I knew my characters and their backstories before I started outlining the book and from the beginning, I knew I wanted a lot of them to be morally grey. I knew I wanted to play around with "bad" acts and how they can be justified—if they can be justified. That said, the more I wrote of this story, the more I learned about each of the characters. So, even though I planned for them to be morally grey, some of them had more shades of grey by the end than they had when I started thinking about them.
I know I won't be the only reader dying for more from Saoirse's story, especially after the way Sing Me to Sleep finished. Is there anything you can tell us about what we can expect from book to keep up going until its release?
Without giving too much away, there will be more lying, more tension between Saoirse and Hayes, more morally grey characters, more Carrik, and more betrayal!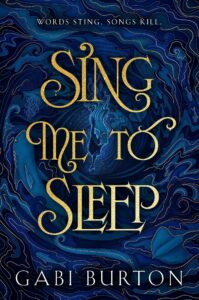 Get your copy of Sing Me to Sleep by Gabi Burton here.