Alisha Rai on her debut YA rom-com, While You Were Dreaming
"I wanted to give them what I never had, which was seeing someone they could relate to on a bookshelf."
This post is sponsored by Harper360.
Exploring the challenges of coming of age whilst fearing for the livelihood of undocumented loved ones, While You Were Dreaming, the debut YA novel from renowned romance author, Alisha Rai, is equal parts an adorable coming-of-age romance and a story of heart wrenching family turmoil. To celebrate the release of this moving and wonderfully nerdy fake-dating rom-com, we had the pleasure of chatting to Alisha herself.
---
Hi Alisha, I'm thrilled to get to chat to you today about your YA debut, While You Were Dreaming. For readers just hearing about this fabulous new book, how would you best describe it to them?
Girl has a crush on boy, girl saves boy's life, girl goes viral, girl panics at going viral because her sister is undocumented, girl gets mistaken for boy's girlfriend, girl falls in love with boy's family—including his brooding older brother. There's themes of immigration, mental healthcare, anxiety, first loves, friendship, and cosplay.
Can you tell us a little about how the inspiration for Sonia's story came about?
I think, like the title suggests, I continue to be heavily influenced by the great romcoms that came before me. The most perfect romantic comedies (films, books, etc.), do an amazing job at packaging serious topics and emotions together with humor and hope.
While You Were Dreaming is your first young adult novel, having previously published a number of excellent adult romance novels. What did you find was the biggest difference in your approach to writing for a young adult audience, as opposed to an adult one?
This book was very much a labor of love for me. I've wanted to write a young adult book ever since my youngest siblings hit their teenage years…I wanted to give them what I never had, which was seeing someone they could relate to on a bookshelf. I'm thrilled that the YA genre has expanded so much over the years that they now see multiple people who look like them on the shelves! I think the biggest difference between writing this book and writing my other books was tapping into a younger voice, and keeping in mind that the struggles a first generation American teen might face today aren't necessarily the same struggles I faced at the same age; however, the flutters of first love and relationship conflicts cross generational borders.
View this post on Instagram
As well as being the daughter of immigrants, living with anxiety and fearing for her undocumented loved one, Sonia's story is also one of first love, friendship turmoil, and general teen antics. How did you go about so seamlessly balancing these two aspects of Sonia's life?
It was actually a pretty easy balance, because most people have to juggle competing struggles and joy, and there can be hope and happiness even in the darkest of times. Hoping and dreaming are essential acts of self-care, and the best tools to get us through those messy periods in our lives.
Sonia's a talented seamstress with a passion for cosplay, is this a passion you share and if you were to cosplay as anyone/anything, who would you choose and why?
I love cosplay, and Halloween is my favorite holiday! I renewed my love for The Mandalorian and all things Pedro Pascal lately, and can't wait to put together our family themed costume this year.
Finally, are you currently working on anything new and if so, is there anything you can share with us?
My last adult book, Partners in Crime, was optioned for a tv series by Warner Brothers and Mindy Kaling, so I'm working on the sequel to that, and it's an enemies to lovers heist! I'm also working on my next YA, but that's still a bit under wraps at the moment.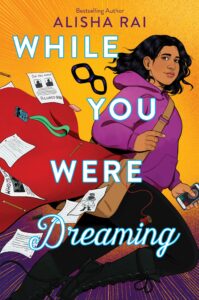 Get your copy of While You Were Dreaming by Alisha Rai here.