Billboard
"He's got this wise-beyond-his-years timelessness about him," raves Tom Hull, aka Kid Harpoon, about Harry Styles in the 2019 Rolling Stone interview. Fleetwood Mac frontwoman and Harry's mentor Stevie Nicks echoes those praises backstage at the Rock and Roll Hall of Fame in 2019. "This beautiful child should have been born in 1948 too because he just fits right in with all of us."
In a world full of trends that come and go, it can be pretty rare to find musicians that can truly create art that withstands the test of time and don't follow what is thought to be safe. Even more rare is said artist creating such work while also being so young.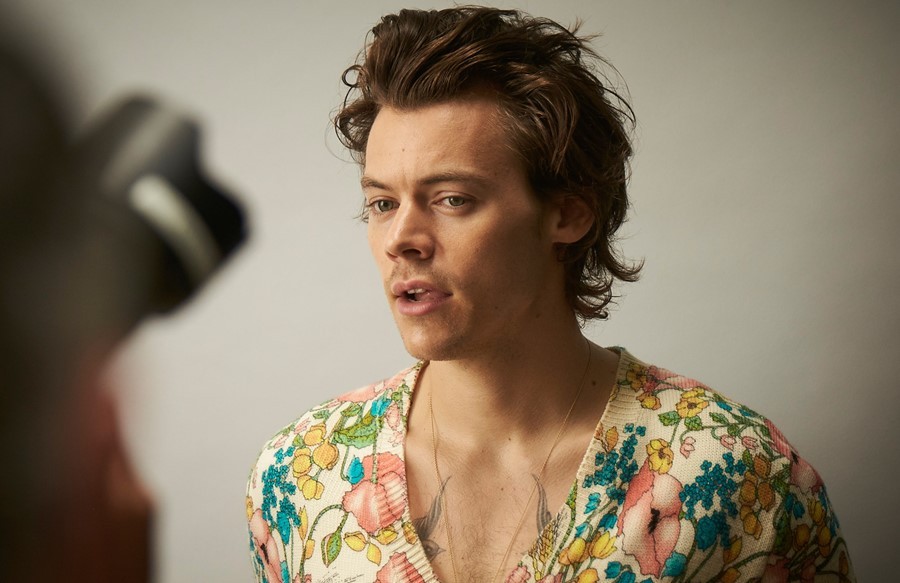 Harry, however, has conquered both. Making a classic rock and roll record for his debut album, taking influence from the music of the 1970's he holds close to his heart, and then diving deeper into that sound for his sophomore album and debuting at No. 1 on the Billboard 200 charts proves that his music will be loved for years to come. However, not only does his music portray his old soul, it is also shown in what he wears and enjoys.
One big example is how Harry wears his Gucci. Being one of the faces of the brand as well as close friends with designer Alessandro Michele, it is certainly to be expected that most of his clothing would have the famous label attached to them. However, one interesting thing to note is that Harry typically never tends to go towards the incredibly flashy pieces or the pieces that have the logo stamped all over. With his loafers, blazers, and button-up shirts, Harry exudes an air of classic style and class well beyond his years in the best possible way. British GQ put it best, stating in an article calling Harry, quite literally, one of the best-dressed men in the world, that "he knows the definition of style: grounding his wardrobe around a bunch of basics and then having some fun with their finishing touches. From velvet double-breasted suits to pastel-coloured flares to ruffled shirts, his outfits never fail to inspire."
Not only does Harry dress himself in a timeless way, the things he enjoys prove that there is an old soul underneath those Gucci jumpers. In an interview with Rob Sheffield for Rolling Stone, Harry revealed more information about the time that he spent in Japan in early 2018. While he was there he "started listening to more jazz and reveled in solitude. Harry then told Rob that he spent his 25th birthday not at a big party in his honor, but at a quiet coffee shop drinking tea and Murakami's The Wind-Up Bird Chronicle for five hours. While he admitted that reading was never his favorite pastime when he was younger, he now devours books. "Harry is the only man I've given [Norweigen Wood] to who actually read it," Harry's creative director Molly Hawkins said.
While Harry is only 26 years old, he has not only managed to steal the hearts of some of the veterans in the music business, he's also gained their respect. He appreciates things that most in his age group don't, something that others have taken notice of, and that will prove valuable for years to come.