It's Suga Day, everyone! Min Genius is turning 28 (29 in Korea), and if there's something that we're thankful for today, it's definitely his talent in making and producing music.
Suga's passion for music started when he was really young, and the rapper has come a long way to achieve everything he has so far, facing a lot of hardships to accomplish his goals. Suga's hard work paid off as now he's making music that speaks to people all around the world.
When we think about Suga and his work, we're not only talking about his role as part of the rap line in BTS and Agust D. Suga is also a producer and has worked with many artists, like IU, Halsey, Heize, Suran, and Epik High.
In honor of his 28th birthday, we'll look back on some of his most successful and meaningful songs.
Daechwita
"Daechwita" is Agust D's lead single from D-2, his second mixtape. Traditionally, 'daechwita' is a music genre that used to be played during processions where the king was present. The rapper used it as an inspiration to compose this diss track described as a 'trap' to haters. In the music video, we're introduced to two Agust Ds: a mad king and a rebel. In the end, the mad king dies, representing the death of the old Agust D.
First Love
The piano was Suga's first contact with music, and "First Love" is an emotional description of his relationship with the instrument. Suga was just a kid when the piano piqued his interest — "I didn't know your significance back then / Back then I was content with just looking at you" — but it took him a while to start playing it. In this song, he mentions how even while spending some time apart from it he always ended up going back to playing the piano — "I will get to meet you again no matter what for / Greet me happily then".
INTRO: Never Mind
This song is part of BTS's album The Most Beautiful Moment In Life, Pt 2. Written by Suga, "INTRO: Never Mind" talks about the group's process of achieving success while people told them to go on a different path or else they'd fail. You can feel the emotion behind each verse and how important the message is for Suga.
"Never mind, never mind
We're too young and immature to give up, you idiot
Never mind
If you feel like you're going to crash then accelerate more, you idiot"
The Last
This track from Agust D's first mixtape is an open letter about the rapper's struggles with mental health, including depression, OCD, and social anxiety. "The Last" is deeply personal and probably the most emotional track from the mixtape. With all the stigma around the theme, it was incredibly brave of him to talk so openly about it.
Suga's Interlude
Halsey had no doubts about choosing Suga to be part of her latest album, Manic. In an interview, the singer mentioned that when she first approached the rapper he was unsure of the collaboration, but she reassured him that it was okay for him to do "his thing" with the song. According to Halsey, Suga fit the sentiment of the album. "Suga's Interlude" represents the love, fears, and doubts they both have about music — and, in the end, accepting those fears.
Besides those great tracks, you need to know these other amazing tunes produced by Suga — or "Prod. SUGA."
Eight
Wine
We Don't Talk Together
Eternal Sunshine
We hope to see much more of Suga's talent in his future songs and productions.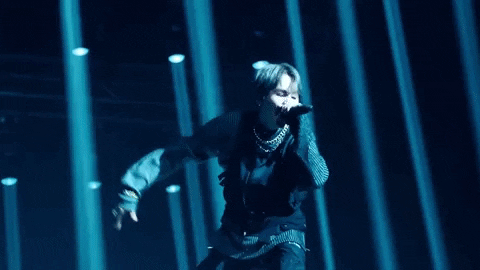 Have a lovely and sweet birthday, Suga!